Anastasia Beverly Hills' New Brow Pen Totally Transformed My Naturally Sparse Brows
Anastasia Beverly Hills' New Brow Pen Totally Transformed My Naturally Sparse Brows

Many people, including myself, hear the words "eyebrow pen" and immediately cringe, remembering those HD block brows that circulated across social media circa 2011. Many years and innovations later, however, the brow-grooming game has improved immensely, with smarter, more elegant products that are not only easier to use, but also help create more natural-looking results. So, when it was announced that Anastasia Beverly Hills (a brand that was founded on brows) had launched a brow pen, even though I had reservations, I was willing to give it a try — intrigued to find out how such a bold and confident brush-tip liner could so delicately and artistically carve out a brow my natural sparse hairs would be envious of.
"I have worked on perfecting this formula and shade range for years," Anastasia Soare, founder and CEO of Anastasia Beverly Hills, told POPSUGAR. "We had a brow pen years ago, but the color science and technology were not advanced enough at the time and we found the shades would oxidize. Fast-forward to now, and we have perfected the formula and created a wide range of shades."
The varying colors are certainly a tremendous thing to note. With nine shades ranging from blond with warm/gold undertones to black with cool undertones, it's a step in the right direction for brow-hair inclusivity. "I wanted to develop options for everyone and to make it easy for the customer to know which shade to reach for," Soare said. "It's very difficult to achieve natural-looking light shades in brow pens and to achieve the right undertones, especially cool undertones, but this brow pen provides very true-to-life color that looks natural."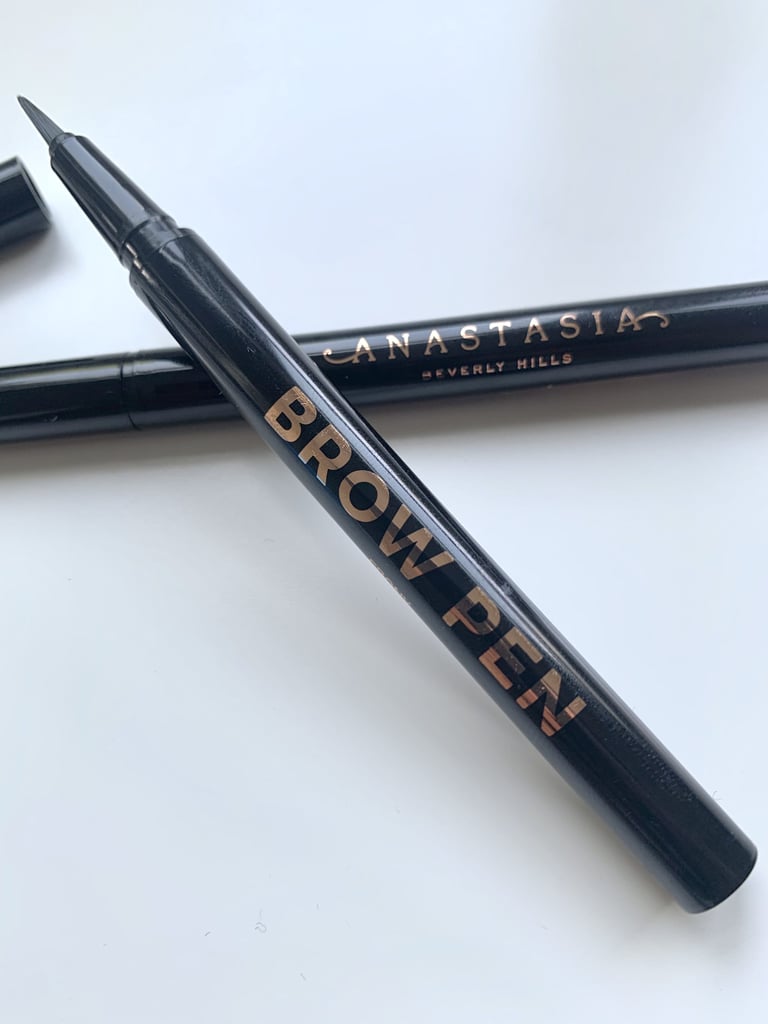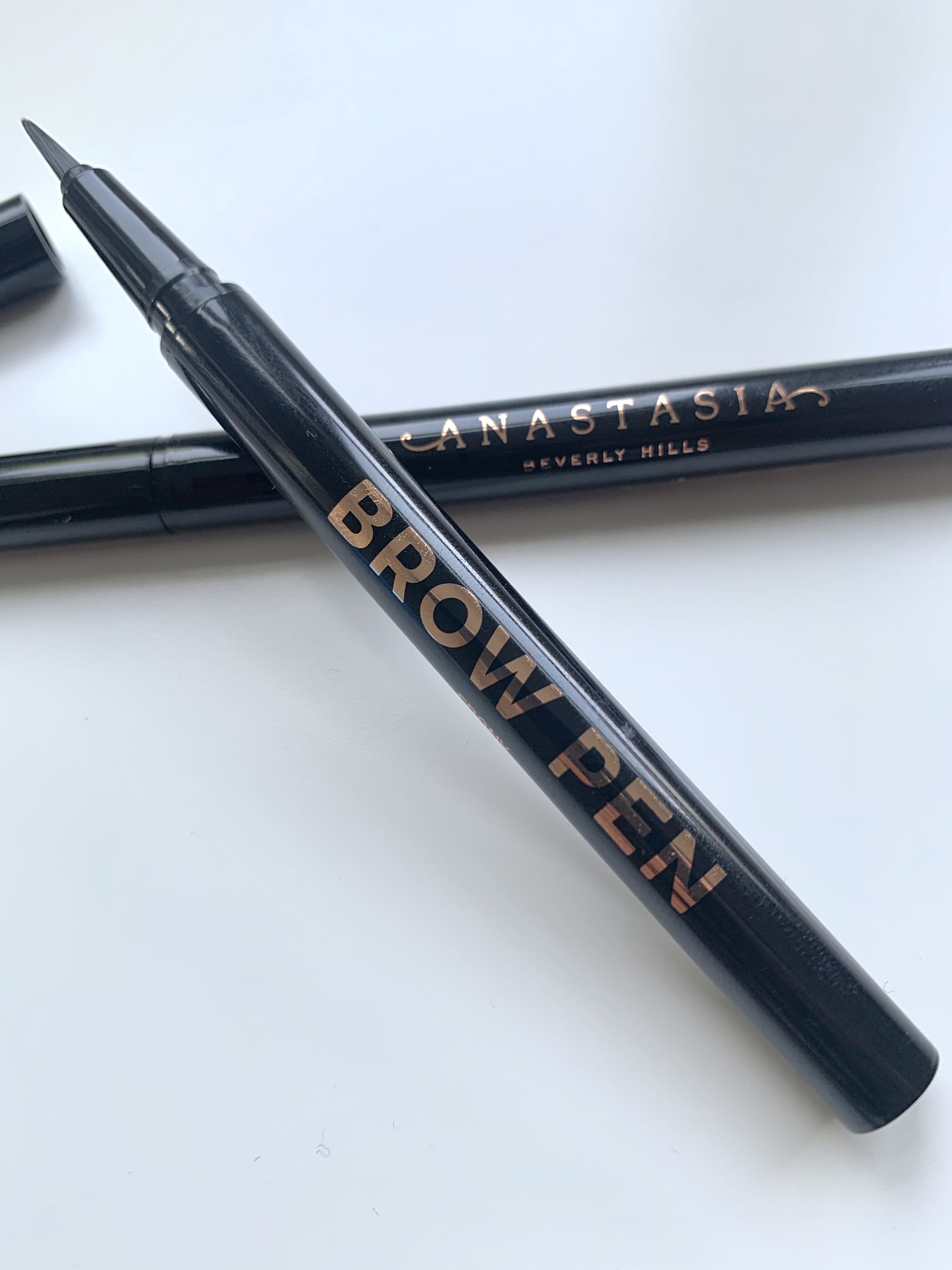 The superfine fibers on the brush tip come to a sharp point, making it perfect for drawing precise, hair-like strokes that can vary in dimension depending on how hard you apply pressure. "The brow pen's formula glides on effortlessly with a feather-light feel and mimics the appearance of natural hair," said Soare, who added that the best way to apply it is to "remember to shake in a downward motion before use. The formula is pigmented, so little pressure is needed, and always apply hair-like strokes in the direction of hair growth for a natural-looking finish. Start applying from the middle of your brow (the arch) to the end — that way you get used to the flow of the ink and how much pressure to use. Then when you get to the front part of the eyebrows, use less pressure for a lighter look."
I have to admit that after using the ABH Brow Pen, my eyebrows experienced a shape they had never been accustomed to before (just take a look at my before and after photo below).
A brief history of my brows: they are very, very, very sparse, and I would go as far to say they're a slight insecurity of mine. Without anything on, my brows are barely visible to the naked eye and so to create a shape, I am constantly filling them in or tinting them professionally. Whilst a semi-permanent eyebrow treatment isn't on the cards for me right now (the joy of lockdown), within minutes, the Anastasia Beverly Hills Brow Pen gave me brows that rivaled some of my professional treatments. Slightly intimidated by the brush-tip at first, I started with a light hand, using gentle strokes at the middle of my brows and working upward to carefully create thin, hair-like lines. Gaining more confidence, I worked the brush-tip into the front of my brows before completing the tail ends. Like an extension of your own hand, the brow pen sits so comfortably and works with you as you move, stroke, and define.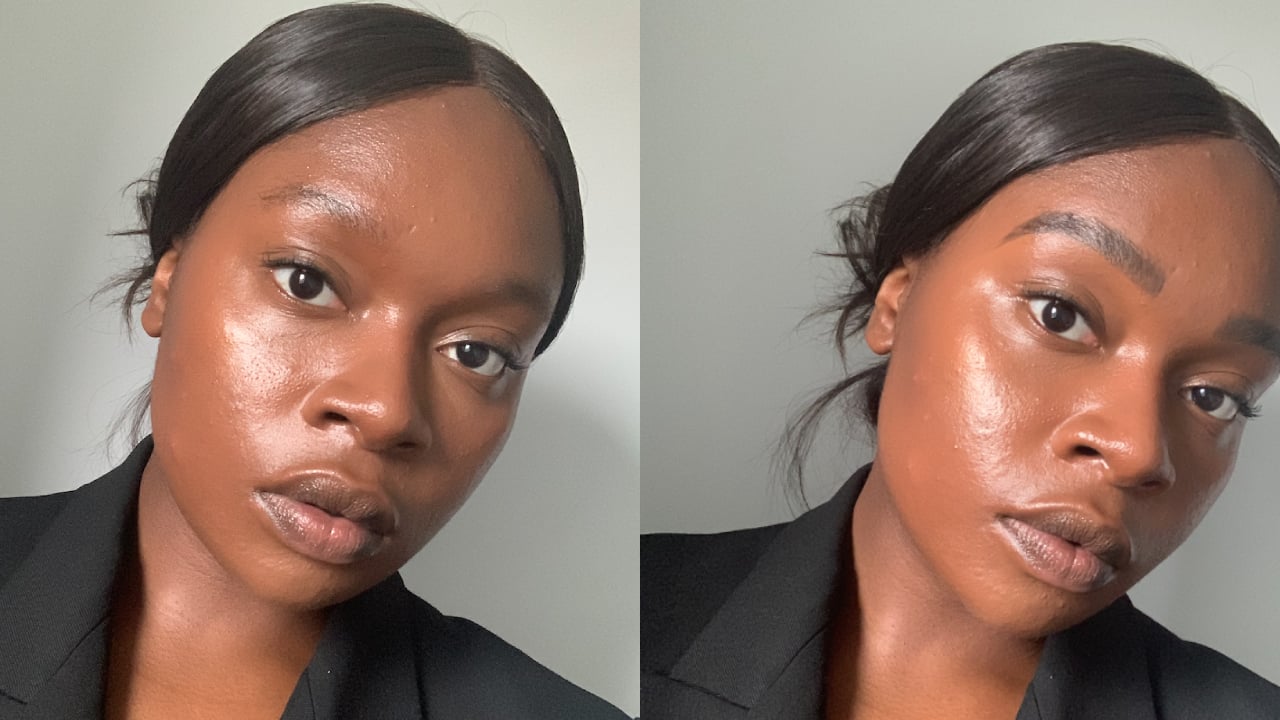 Another selling point is how easy it is to fix and clean up the pigment before it dries down. Using either my finger or cotton pad, I can adjust the stroke or depth of color in seconds before finishing it off with a setting gel (for my own peace of mind). I was pleasantly surprised with the pigment's staying power — it's battled against humid temperatures, constant spritzing of my facial mists, and the consistent subconscious touching of my face whilst working (bad habit I know!). Although, if you're like me and really want to make sure your brows stay looking sharp all day, I would recommend that you lock this baby down with a setting gel for all-day security.
What sets the ABH Brow Pen apart from the rest I've tried is its unique combination of all the different brow products on the market. It has the precision and dimension of a brow pencil, the staying power of a pomade, and the soft finish of a powder, which all together create a truly natural-looking effect. "The Brow Pen acts like an artist pen to deliver the thinnest strokes of hair yet, resulting in fuller, natural-looking brows," said Soare. "I always keep in mind the lifestyle needs of the ABH customer when developing new products, and while I am sure everyone will love the Brow Pen effect, beginners will be especially impressed with the realistic detail, regardless of skill level because it's so easy-to-use."
From someone who likes controlling how makeup applies on the skin without the product running wild, the Anastasia Beverly Hills Brow Pen is a handy tool that turns my non-existent brows into works of art with as little pressure and resistance as possible. It's also easy to apply for those pushed against time, waterproof (but easily melts away with micellar water by the end of the night), mimics the look of brow strokes for a natural looking finish, and adheres to both skin and hair — and I absolutely love the confidence it gave me. Consider this another brow product added into the beauty drawer.
Keep reading to shop the Anastasia Beverly Hills Brow Pen, which launched this month at Sephora.
Source: Read Full Article