Everything You Need To Know About Preventing and Treating \u201cMaskne\u201d
We're almost at the one year mark of the COVID-19 pandemic hitting the United States—that's over ten months of wearing a life-saving (and in many states, mandatory) mask. But with wearing masks constantly for extended periods of time, your skin becomes irritated and broken out. Hello, maskne.
If you think about how much a mask rubs against your face, causing friction and pressure, it's a lot more than you even realize. And, if you're working out in a mask, you're putting your skin under more stress and irritation. Maskne develops from the mask rubbing on the skin, which results in a condition also known as acne mechanica (acne caused by friction or pressure on the skin), Victoria Barbosa, MD, board-certified dermatologist, explains. "Also, sebum and sweat are trapped under the mask, sometimes for several hours a day, creating an environment where bacteria thrive, the skin barrier can break down, and the pores can get clogged. This is a perfect storm for the formation of pimples," Dr. Barbosa says. Of course, if you already have maskne, continuing to wear a mask is going to keep inviting it back.
Ahead, see how dermatologists recommend preventing and treating it.
How can you prevent maskne in the first place?
"It's important to think about prevention," says Rajani Katta, MD, board-certified dermatologist and author of Glow: The Dermatologist's Guide to a Whole Foods Younger Skin Diet. That means being mindful of your mask's material, which should be at the top of your list when looking to prevent maskne. You'll also want to stay on top of washing your mask consistently and limiting how much makeup you wear when you also wear a mask.
Double check your mask materials.
"The first thing that I recommend for my patients is to really think about the fabric of your mask. I recommend using a soft, gentle fabric against your skin," Dr. Katta says (cotton is a great option). Especially if you're hitting the gym, synthetic fabrics like polyester are not the best choice because these retain sweat.
"If you're using a fabric mask, the ideal mask is one that has several layers. This increases the protective ability of the mask, and also allows the inner layer against your skin to be soft and absorbent cotton," Dr. Katta explains.
Wash your masks as frequently as possible.
Washing your masks is the most vital tip when it comes to preventing maskne. It's easy to forget to keep up with cleaning our masks, but it makes all of the difference when attempting to keep your skin clear. "Wash fabric masks frequently with hot water, and dry them completely," Dr. Katta says. The hot water eliminates acne-causing bacteria and other bacteria you don't want hanging around.
You should really wash your mask after every use, Dr. Barbosa says. This might seem like a lot to keep up with, but it lessens the chance for maskne.
And in case you don't have time to keep up with your mask washing, have multiple alternatives ready to go, even if that means a disposable mask. "You wouldn't want to use a sweaty T-shirt without washing it first, and the same applies for a mask," Dr. Katta notes.
Also, skip the heavy makeup when you wear your mask.
After months of staying home in our coziest sweatpants, it's natural to crave getting ready and putting on makeup. "Wear as much eyeshadow, eyeliner, and mascara as you want, but avoid wearing foundations, powders, and blushes under the mask," Dr. Barbosa explains. Wearing a foundation under your mask clogs your pores and can contribute to breakouts, including those stubborn (and also, TBH, painful) acne bumps that form deep beneath the skin's surface.
…I already have maskne everywhere. How can you best treat it?
Besides practicing the prevention tips above, have the right skincare products readily available if maskne appears. But don't just grab the first acne-fighting wash or spot treatment you see at your drugstore—those can be way harsh.
"It's important to choose these carefully, because typical acne products can be very irritating to the skin—if you use those under a mask, it can just increase your risk for further irritation," Dr. Katta explains. Here's how to incorporate your maskne treatment into your everyday skincare routine:
Prep your skin before and after wearing a mask.
Having a consistent skincare routine, complete with cleansing and moisturizing, effectively helps treat maskne.The best way to prevent and treat maskne is by washing your face morning and night to remove dirt, oil, and bacteria, Dr. Barbosa says. Cleansing before you wear a mask removes any acne-causing bacteria that could get trapped in your skin once the mask is on. Cleansing after you wear the mask also removes any bacteria that will inflame your pores.
Then, it's all about rehydrating your skin. "Follow your cleansing with a moisturizer to keep your skin barrier functioning well," Dr. Barbosa adds.
Choose cleansing products based on your skin type.
For Oily Skin: Have a medicated cleanser on hand. "As long as your skin is not too sensitive, I often recommend a cleanser with salicylic acid. This helps prevent the formation of whiteheads and blackheads," Dr. Katta says.
One option to try is La Roche-Posay Effaclar Medicated Gel Acne Face Wash, a cleanser that's specifically formulated for oily and acne-prone skin. It contains 2% salicylic acid to help control excess oil and treat breakouts. You'll also find micro-exfoliating lipo hydroxy acid, which exfoliates and removes dirt and makeup.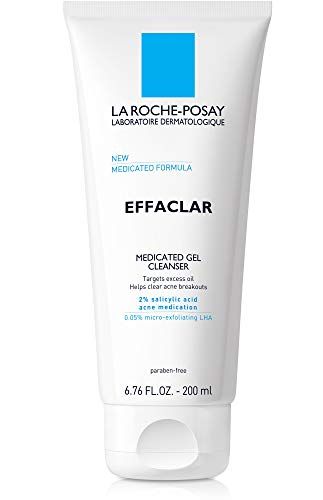 For Dry And Sensitive Skin: Dr. Katta recommends selecting a cleanser that is gentle and non-irritating. This will help not to inflame the acne that you're already experiencing. It also won't cause dryness or make your skin any more irritated.
A gentle cleanser like Alo Enzyme Facial Cleanser eliminates dirt and bacteria that cause skin congestion. Sweating under your mask from a workout? The aloe in the cleanser soothes the skin, and the pineapple enzymes brighten your skin. It also leaves your skin's moisture intact and protected.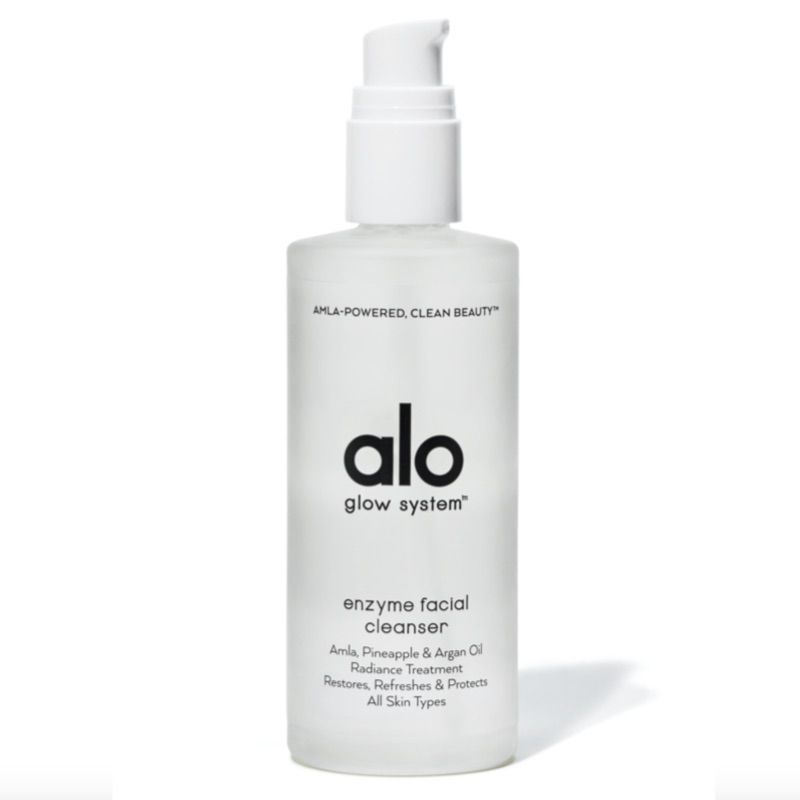 For All Other Skin Types: "Look for cleansers containing benzoyl peroxide or salicylic acid to prevent acne and to control mild flares," Dr. Barbosa says.
For example, the Renee Rouleau AHA/BHA Blemish Control Cleanser, packed with salicylic acid, works to clear acne by cleansing deep into the pores. Algae extract soothes and hydrates the irritated areas on your face caused by maskne.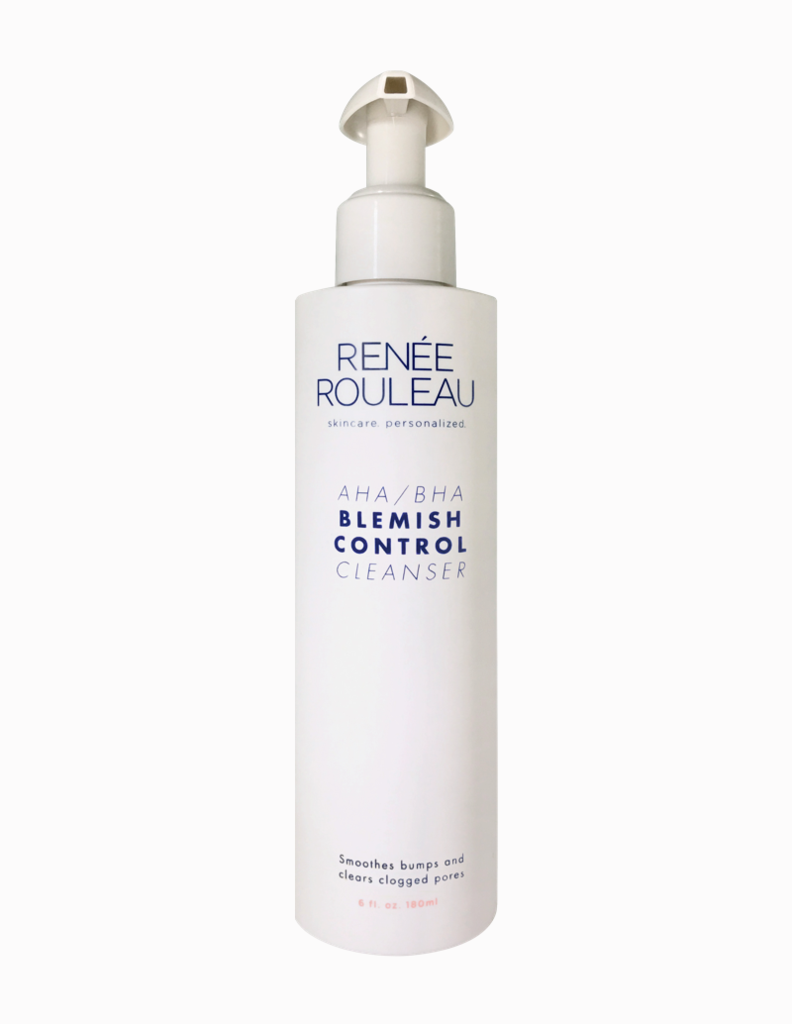 Use A Spot Treatment
Spot treatments are also helpful when treating maskne that's already in existence. Using an acne treatment at bedtime is helpful, mainly because a mask won't cover the product, Dr. Katta says. "Again, this depends on how sensitive your skin is, but one option may be a low concentration of a benzoyl peroxide cream applied over your chin and then washed off in the morning. For people with oily skin whose skin is less sensitive, your dermatologist may recommend a product with retinoids," she adds.
If you don't want to go for a full-on acne treatment prescription, there are options you can pick up at any drugstore. "Adapalene is an effective medication that can be found over-the-counter for people who are breaking out enough that they need a daily leave-on treatment," Dr. Barbosa notes. And of course, if over-the-counter treatments are not working to zap your maskne, then you should seek the advice of a board-certified dermatologist.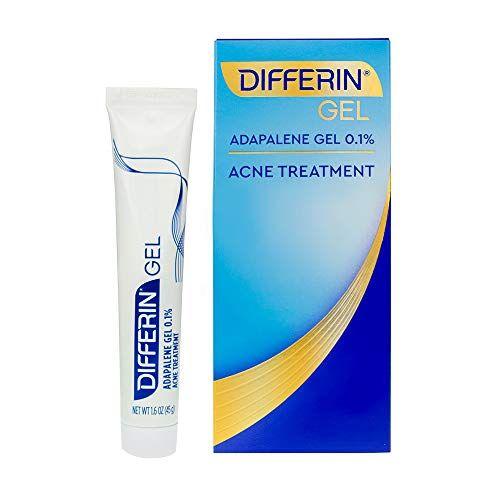 If you don't want to take a trip to your derm's office, this this potent prescription-strength retinoid is your best option. The gel clears the first signs of acne by eliminating the bacteria deep in your pores. It regulates cell turnover and reduces inflammation, which heals the breakouts faster.

Apply this 2% salicylic acid treatment directly to your maskne. The gel contains a brand-specific OmniSome complex that boosts the salicylic acid so that it penetrates deeper into your skin, resulting in unclogged pores.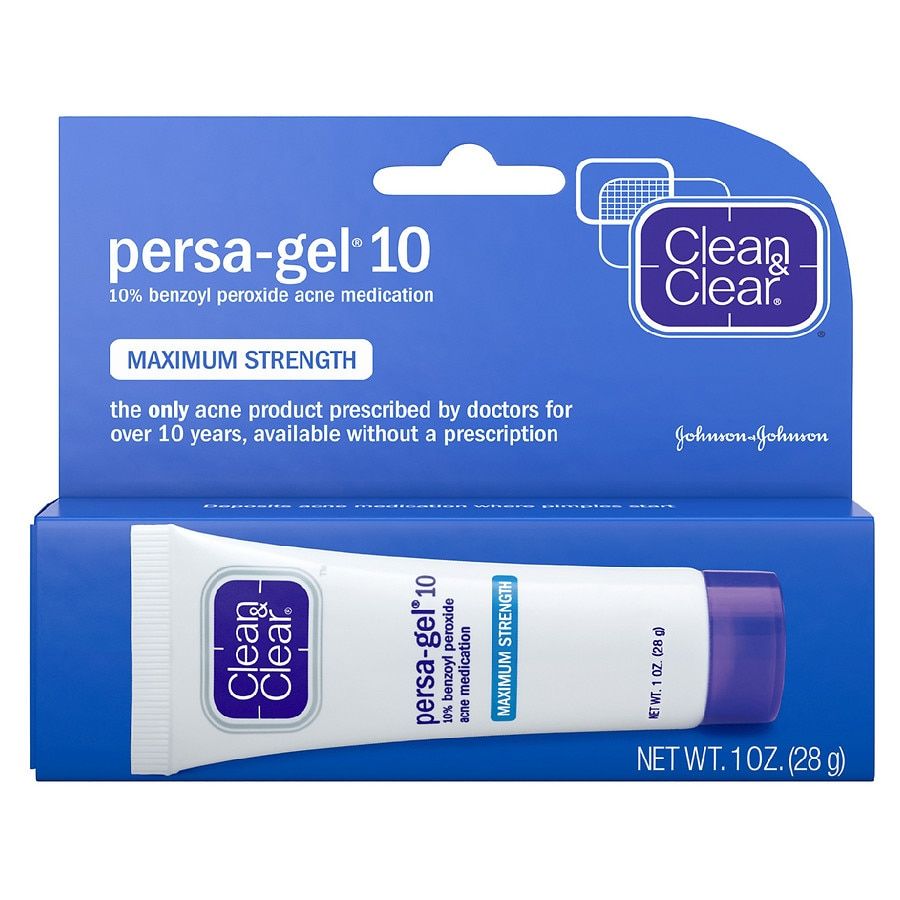 This classic spot treatment is one of the oldies but goodies. You can apply it at bedtime, so it treats your breakouts overnight. It contains 10% benzoyl peroxide, which works overtime to heal problematic spots.
Source: Read Full Article