Kristen Bell\u2019s Happy Dance Coconut Melt Is My New Favorite Dry Skin Solution
Coconut oil has been a big part of my life since I can remember, and any fellow South Asian person can relate. Growing up, a jar twice the size of my face filled with coconut oil was always on the kitchen counter.
It was the first ingredient in everything we ate, and I've had it massaged in to my skin and hair weekly since the day I was born. Over the years, the beauty junkie in me overtook the loyalty to coconut oil—till I tried Kristen Bell's new body care line, Happy Dance. I nearly fell in love with the CBD Head-to-Toe Coconut Melt ($25, Ulta) the first time I used it.
Here's how it renewed my faith in my childhood-favorite ingredient: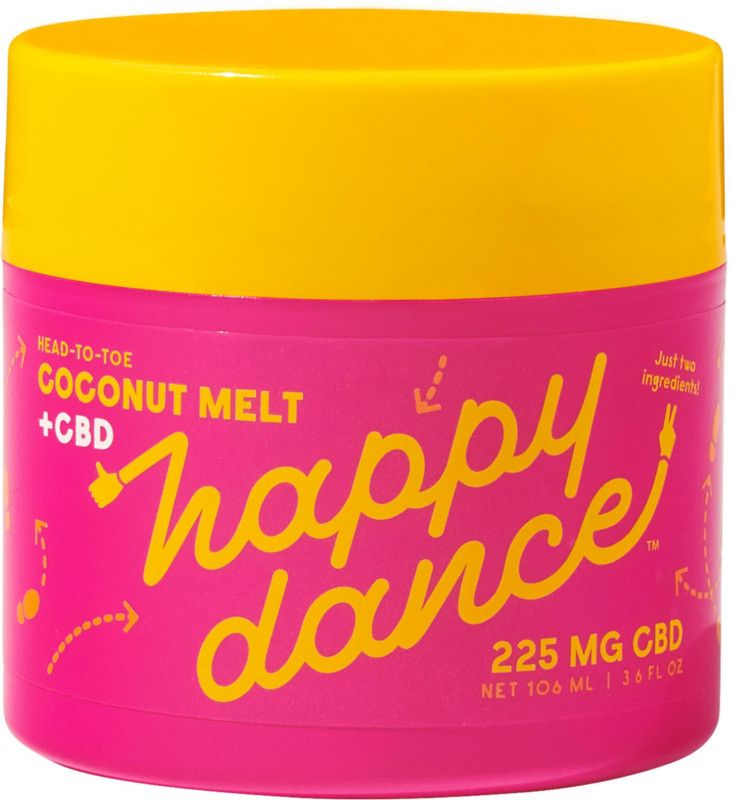 It smells like a beach vacation.
When CBD skincare first started to become really popular, it didn't take me long to decide the trend wasn't for me. I couldn't stand the grassy smell, and stayed far away from anything with CBD in it. This coconut melt is the ultimate exception.
As you can imagine, I had low expectations as I trepidatiously opened up the jar and took a quick sniff, only to be pleasantly surprised. While a lot of coconut-based products don't actually have any scent to them, this one has a really sweet coconut smell without any added fragrance—close your eyes and it's like you're on a luxurious vacation.
I've never been to a private beach at a five-star resort in the Maldives, but I am almost certain this is what it must smell like. I love that the scent stays on me so it can act like perfume on low-activity days, too.
The ingredients are super clean.
The only two ingredients in this are Vitamin E-rich coconut oil and full spectrum hemp extract, so it doesn't really get any cleaner than that. I have sensitive, acne-prone skin, so I appreciate that this doesn't trigger any reactions in the form of redness or rashes like some body products have with me in the past.
I've even tried using it as a makeup remover and it got all my waterproof mascara off without any irritation on my face, too.
It's extra nourishing on my dry skin.
My skin has always been dry, and it's gotten increasingly dryer as I approach my thirties. While I've been on the hunt for as many hydrating body and face products as possible in the past several years, I've realized the problem with extra-nourishing ingredients is that they can sometimes feel greasy, leave residue on the skin, or clog pores.
The great thing about this is that it really does melt in to the skin immediately, just as the name would suggest. While I love dousing my body in it at night right before going to bed in order to wake up with super soft skin, I don't worry about putting it on during the day, too.
Traditional lotions don't always cut it for my extra dry skin, no matter how much excess product I use. But with the Happy Dance coconut melt, just a handful for my entire body keeps the little cracks in my dry skin supple and hydrated for the whole day. It also doesn't leave me with a slippery, oily feeling, making it great for everyday use and hot weather.
The only thing that would make this better is if it was available in a travel size. Because it works head-to-toe, it would be an amazing product to take for weekend trips, but for now I'll save it for a permanent spot on my vanity.
Source: Read Full Article