Only Zendaya Can Make a Baseball Jersey Look This Chic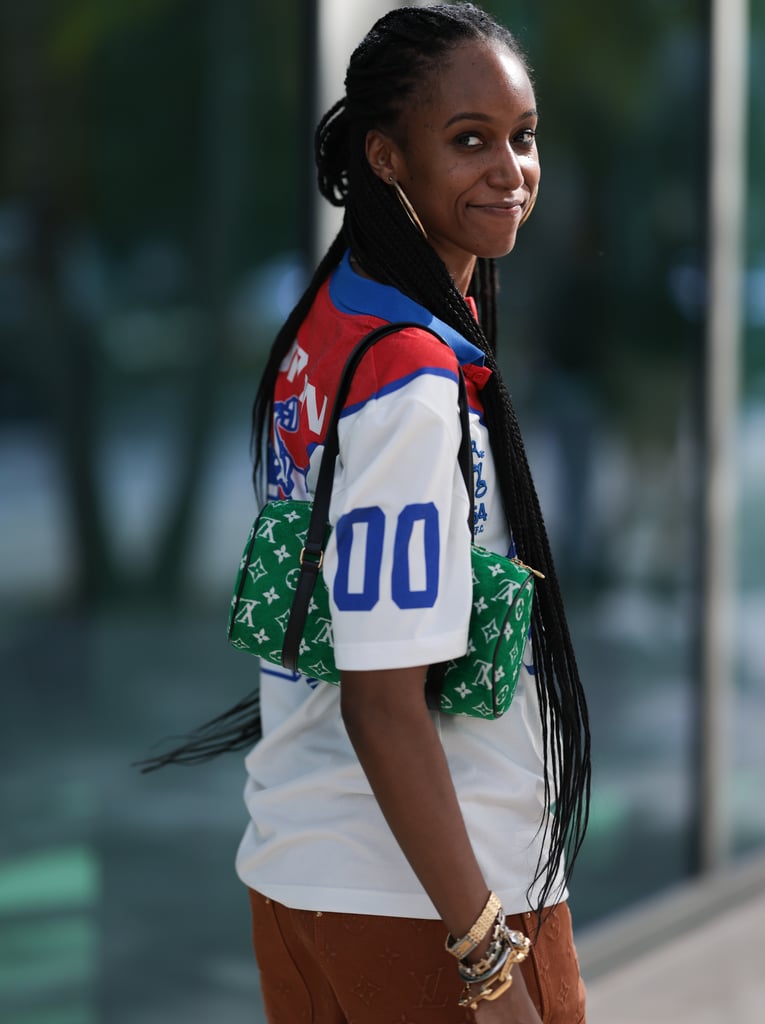 11 Effortlessly Cool Ways to Style a Baseball Jersey

Want to know how to style a baseball jersey to appear like the fan that you are, while also maintaining your fashion prowess? Perhaps you just want to incorporate your favorite team's apparel into your personal wardrobe for the ultimate street style outfit. Even if you aren't a sports fanatic at all, there are plenty of uses for the jersey aesthetic beyond the game. A baseball jersey is a surprisingly versatile closet staple that's suitable for grocery runs, casual hangs, and everything in between. Pair it with joggers and white sneakers for a comfortable, fuss-free look. Or you can complement your jersey with your favorite worn-in denim for an easy, everyday look. Alternatively, consider dressing it up with leather jeans and heels for a casual but chic night out.
The history of the baseball jersey, outlined by the National Baseball Hall of Fame, dates back to the mid-19th century, when the New York Knickerbockers became the first organized baseball club. Its earliest iteration was a white flannel shirt, which became part of the official uniform. Collarless baseball jerseys made their first appearance on the field circa 1906, and the pinstripe styles became popular in later years. The appeal of a baseball jersey is its generally relaxed fit and silhouette, ensuring the wearer is comfortable as they go about their day. No longer reserved for playing sports, the garment has become a wardrobe fixture that works for countless occasions. Whether you're heading to the stadium to cheer on your team or stopping by the store on your way home from work, read ahead for baseball jersey styling inspiration.
What to Wear to a Baseball Game
The best outfits to wear to a baseball game are the ones that show a little team spirit while still allowing freedom of movement. After all, you're going to be doing a lot of cheering and jumping around. Your beloved jersey will look crisp with neutral shorts (think white denim or khaki linen) or a slightly dressier miniskirt. You can also take a cue from celebrities who have nailed their courtside basketball looks, including Beyoncé in a bedazzled jacket, Chloe Bailey in an eye-catching blue jumpsuit, and Jennifer Lopez in a denim jacket and wide-leg jeans. Sure, basketball and baseball are two different sports, but that doesn't mean you can't channel similar style inspiration.
How to Style a Baseball Jersey
Styling a baseball jersey means prioritizing comfort, then injecting a bit of personality into your look. Whether you opt for denim shorts and sneakers, jeans and heels, or biker shorts and flats, you can wear a baseball jersey in many ways.
Keep reading to see these ideas in real life.
Source: Read Full Article