The Sign Tribe's Reusable Nail Polish Remover Pads Are My New Manicure Staple
There's nothing like the feeling of treating myself to a good Insta grid-worthy manicure. But nothing ruins the high of fawning over my gorgeous nails like when they start to chip. I know it's time to cut the cord, but the thought of seeing the wearable art on my hands degraded to a pile of sticky cotton balls is heartbreaking (till I distract myself with what's next). When glitter is involved—as it usually is for me—it usually takes half a bag of cotton balls and at least a few episodes of Sex and the City to see my nails clearly again.
Plus, the wastefulness of cotton balls completely went against my New Year's resolution to live a more sustainable and less wasteful lifestyle, which is why I was thrilled to learn that reusable nail polish remover pads existed, and even more excited once I actually tried The Sign Tribe's Remove And Chill Pads ($17, Amazon).
Here's why I'll never go back to using cotton balls to remove my nail polish ever again: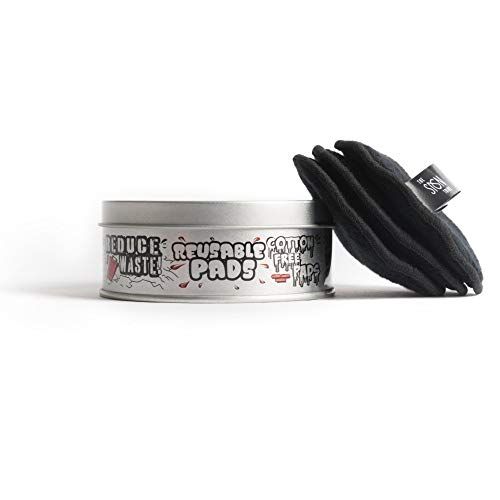 They're more effective than cotton balls.
The super soft, palm-sized pads are soft to the touch, so I was surprised by how effectively they took off multiple coats of glittery or long-lasting gel nail polish and intricate nail art with just a couple of swipes.
I simply use them the same way I would a cotton ball, by soaking the reusable pad with remover and rubbing polish off. I even use these to remove press-on nails, too. I soak the reusable pads in acetone, wrap them around my fingers to soften the nail glue, and the nails seamlessly slide right off.
They're mess-free.
While taking off polish used to mean that I'd end up with a large pile of wet, used cotton balls next to me, I simply throw these reusable pads in the laundry when I'm done. It only takes one (or occasionally two) reusable pads to remove everything from two hands or toes.
But my absolute favorite part of using these is that while cotton balls have a tendency of getting sticky, leaving me with wisps of cotton stuck in my nails, I no longer have to worry about that. Nothing ruined my at-home mani selfies more than leftover cotton getting stuck in my nails.
They're an environment and budget-friendly option.
Not only are these eliminating waste, I also use less polish remover because the reusable pads have a spongey quality to them unlike cotton which tend to soak up more liquid than they release on to my nails.
The small tin comes with three reusable pads for $17. It sounded like a lot to me for a one-time purchase at first, but since an entire pack of cotton balls costs $5, these actually made a lot more sense to me. I even got my mom and sisters hooked on them because of how much easier they are to use—and how much better our nails look without cotton stuck in them.
Source: Read Full Article