'90s Heartthrob Jonathan Taylor Thomas Nearly Played Jason Biggs' Role in 'American Pie'
Jonathan Taylor Thomas and Jason Biggs both prompt that question of "Hey, whatever happened to those guys and what are they doing now?"
What they're doing now is reflecting on their past, and in one case, marveling at how the other celebrity almost got their signature role.
As it turns out, Thomas had almost gotten Biggs' part in American Pie. So yes, kids, young Simba from The Lion King almost risked a questionable image appearing in a film not safe for the young.
How did Jonathan Taylor Thomas and Jason Biggs get famous?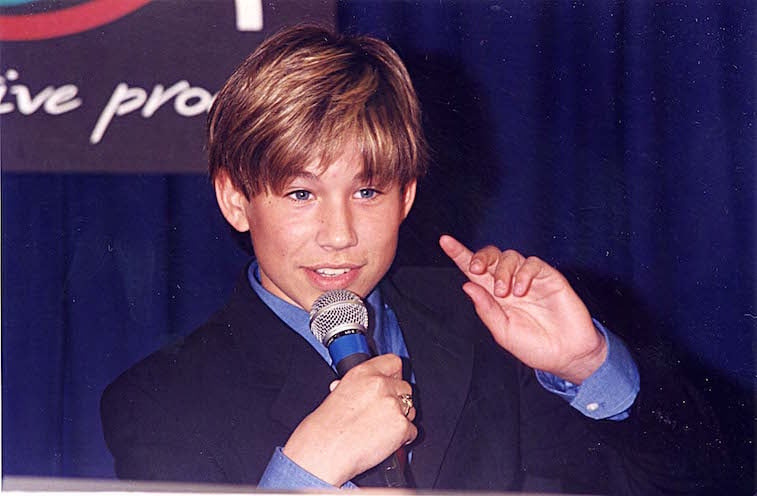 RELATED: 'Martin' and 7 Other '90s Sitcoms You Should Stream Right Now
Thomas first gained fame on the sitcom Home Improvement, playing the middle kid of Tim Allen and Patricia Richardson, alongside Zachary Ty Bryan and Taran Noah Smith.
As the show moved along in the early to mid-1990s, Thomas became the breakout star among the kids, even becoming a heartthrob with the Teen Beat set dubbing him "JTT."
He gained his biggest audience voicing young Simba in The Lion King in 1994.
However, Thomas never seemed entirely comfortable with his burgeoning fame. He left Home Improvement before the final season concluded, reportedly to focus on academics. He has acted sporadically in the 2000s, appearing on episodes of Veronica Mars and Tim Allen's current show Last Man Standing.
By contrast, American Pie became Biggs' calling card, and he went on to appear in the three theatrical sequels, but none of the myriad direct-to-video chapters. More recently he appeared in Orange is the New Black as Larry, the husband of the lead character Piper.
How did Jonathan Taylor Thomas almost get 'American Pie?'
RELATED: Wilson From 'Home Improvement' Was Based on Tim Allen's Real Neighbor
Biggs recently appeared on an episode of Justin Long's podcast, Life is Short, talking about how his great claim to fame was almost snatched away by Simba.
"I read for casting … you know the feeling of crushing it, I crushed it … I got word that the directors loved me, and I was their first choice, (but) the studio was deciding did they want to go for a name? And the name I heard at the time was Jonathan Taylor Thomas," Biggs said on the podcast.
Like it or not, Thomas was a name at the time and Biggs was an unknown So for a little while there, it looked like American Pie might slip away from Biggs.
He said to Long, "I would have these conversations with my manager where he'd say, 'Well, I'm getting word that Jonathan's concerned because it doesn't fall into his wholesome image.' But then I'd hear a week later, 'That's why he likes it.' And I was like, 'Oh no. Stay wholesome!'"
The aftermath of the great 'American Pie' choice
Eventually, Thomas decided not to pursue American Pie, and the part was Biggs'. And that still wasn't the end of the story. Then Biggs got a chance to be on none other than Home Improvement.
"So I filmed the movie (American Pie) in the summer of '98. Then it was a year before the movie came out. In that year, I got offered an arc on Home Improvement. It was the final season. It was this big role for the final four episodes. I auditioned for it. I went in. I killed it. I was like this is gonna be fun. My dad loves this show. It's gonna be dope."
But then, as it usually does, fate had other ideas. Or at least Biggs' manager did.
"My manager made me pass. It was the first time, 15 years I'd been doing this, never would I have passed on something. It was such a crazy foreign idea to me. It was gonna be a big thing. But let's wait for this other big thing because this is the 'you' we want to put forth," Biggs recalled.  
Source: Read Full Article