A Definitive Timeline of Cole Sprouse and Lili Reinhart's Entire Relationship, Since You're Thirsty
After nearly two years of dating (which is really like 10 years in Hollywood), Riverdale costars Cole Sprouse and Lili Reinhart have officially broken up. Even though they never really confirmed the dating rumors by specifically saying "Hey, look—we are in a relationship with each other!" it was preeetty obvious the pair had mad love for one another. Fans of their relationship referred to their pairing as Sprousehart, but sadly, they are no longer.
While you're grieving their breakup (*hands you a virtual tissue*), let's deep-dive and take a look back at their relationship. It may have ended, but c'mon, Sprousehart was a beautiful pairing. We'll miss you two!
February 25, 2017
Cole and Lili start flirting big-time on Twitter. A peach emoji is involved, and I stop writing this timeline to watch Call Me by Your Name.
pic.twitter.com/7LRT4Fn0VR
March 18, 2017
Cole posts this photo of Lili to Instagram, causing Bughead fans to fly into a tailspin over the possibility that they might be in love IRL. The fledgling shipper name known as Sprousehart is birthed.
July 14, 2017
Fans find a random photo of Lili and Cole at a party and decide that Lili's hand is most definitely on Cole's thigh. OMG, WHAT DOES IT ALL MEAN.
July 24, 2017
People reports that Cole and Lili are secretly dating after Lili is spotted wearing Cole's blazer at a Comic Con party. They're later "seen canoodling, holding hands, and kissing."
July 28, 2018
Cole and Lili "accidentally" hold hands during an interview with TV Line. It is, unequivocally, the cutest thing of all time: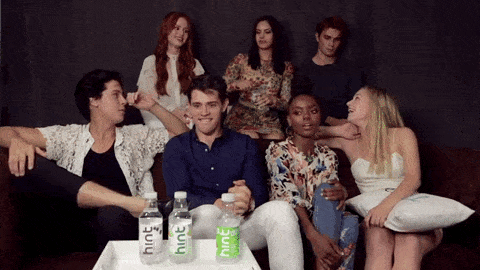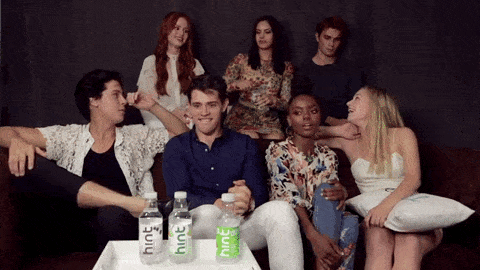 August 4, 2017
Lili wishes Cole a happy birthday, calling him "the man who has showed me more beautiful places in this past year than I have ever seen in my whole life."
August 11, 2017
Riverdale actor Skeet Ulrich accidentally blows up Lili and Cole's spot and low-key confirms to ET that they're dating. "I'm not surprised," said Skeet, man with a fabulous name. "They have great chemistry and they've been at our house with a lot of the Riverdale people and they always enjoy each other's company. So I wish them the best."
September 13, 2017
Cole is asked about dating Lili during a Riverdale cover story for Entertainment Weekly, and he doesn't exactly deny it. "Truthfully, it's very pleasing that people talk about Lili and I in that way," he said. "Because it means that we're resonating so strongly that people really want that to be true."
October 3, 2017
Lili and Cole appear on The Tonight Show and make every effort to completely ignore each other. They even sit on opposite sides of the couch: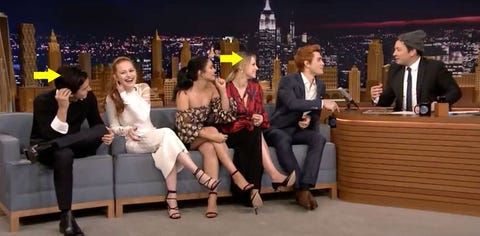 But naturally, a fan catches Cole embracing Lili *right* as the show cuts to commercial. We see you!
October 17, 2017
Cole continues to spam our feed with gorgeous photos he took of Lili (by "spam," we definitely mean "bless").
https://www.instagram.com/p/BaXfVSCnvGT/
October 18, 2017
Lili opens up about filming kissing scenes with Cole, telling ET, "I feel like it's very comfortable at this point. I mean, it's The CW, you're not going to get too crazy. It's just like kissing and hugging. I think we're all so comfortable with one another that it's not even really a thing….If we have a kissing scene, it's fine. We don't really think twice about it. When new characters have to kiss, it's a little different and you're like, 'Oh, okay! What's this?'"
November 22, 2017
Cole refuses to comment on speculation that he's dating Lili and has a pretty good reason: "Whether you dismiss those rumors or whether you encourage those rumors, it's giving people who are, in my opinion, a bit entitled to your personal life more power," he told People. "And you have to have spaces for reverence in the industry. The more you let people in on that, the more people feel entitled to it and the more it becomes problematic with whoever you end up being with in the future, so I take that very seriously. So I just never talk about it because it's not anyone's right to know."
January 3, 2018
Cole and Lili spend New Year's Eve in Hawaii together, and fans share some photos on social:
Cole Sprouse and Lili Reinhart with fans on Hawaii (January 2, 2018) pic.twitter.com/etW027YAjp
Cole Sprouse and Lili Reinhart with a fan today in Hawaii! pic.twitter.com/G9Dbk71zSO
January 10, 2018
Lili refuses to address rumors about her relationship, telling V Magazine, "People are just dying to know information about if I'm in a relationship or not. I understand the interest, but it's called a private life for a reason. And it's not something that I owe the world. People are going to say anything and everything. They're going to say that I love KJ, they're gonna say that I love Cami, and they're gonna say that I love Cole: It's inevitable. But I'm not at a point in my life where I'm ready to openly confirm, deny, or talk about a relationship that I'm in, because I think it's brutal to have a relationship in the spotlight where I can be scrutinized by anyone and everyone."
March 25, 2018
Cole and Lili hit up PaleyFest L.A., and a fan in the crowd yells, "Lili, I'm coming for your man!" Her response is everything.
April 3, 2018
Lili and Cole are spotted kissing in Paris while at Rivercon, a French festival celebrating all things Riverdale! For people who live life according to the motto "pics or it didn't happen," this is HUGE.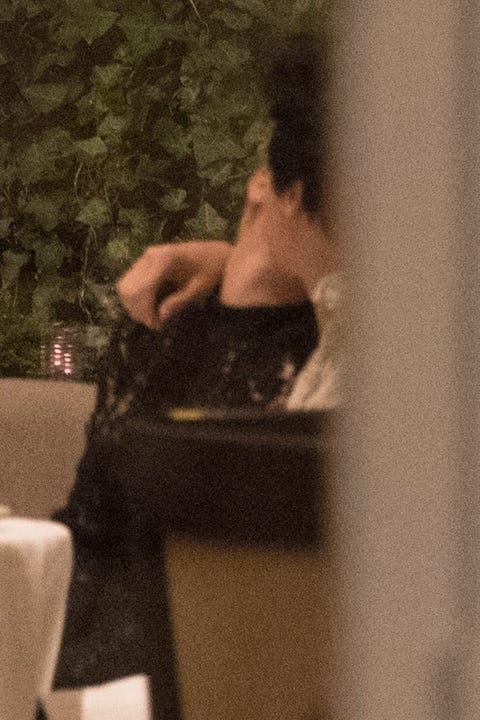 April 5, 2018
After their trip to Paris, the pair was hounded by paparazzi at the airport. TMZ posted footage of Lili and Cole unamused by all the questions and pestering. When questioned about their relationship, Lili ends up responding to the paparazzo, saying, "It's an obvious answer." TMZ took this to be confirmation from Lili that, obviously, the relationship is official.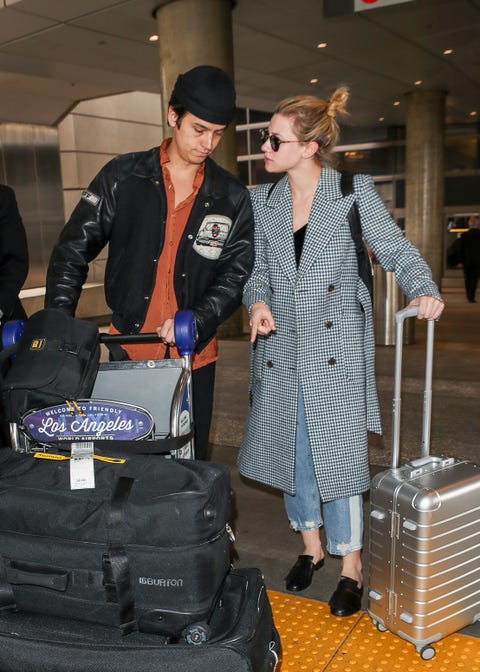 April 17, 2018
Cole and Lili skip Coachella for a trip to Mexico, where they stay at a resort called Cuixmala, and Cole takes a million stunning photos of his definitely/maybe girlfriend.
https://www.instagram.com/p/BhrfFe3naDx/
https://www.instagram.com/p/BhrcqwaHI8F/
May 7, 2018
Cole and Lili make their debut at the 2018 Met Gala, and honestly, I'm not even mad at it. Confirming their relationship in ~style~.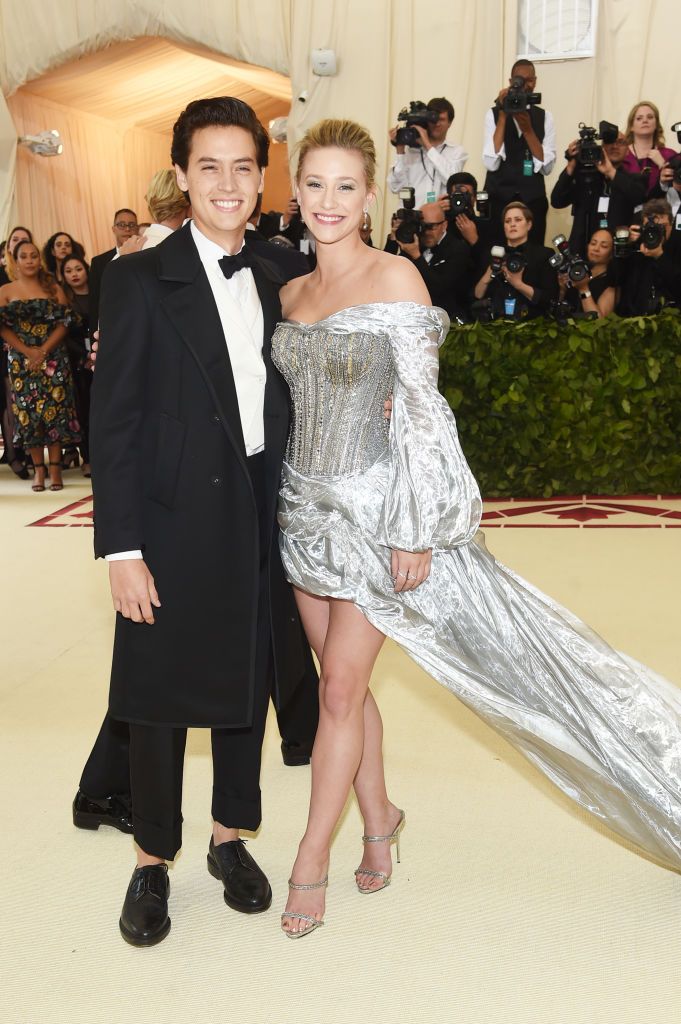 July 2, 2018
In an interview with Harper's Bazaar, Lili has a lot to say about her relationship with Cole…mostly about how she's uncomfortable with talking to press about what goes on between them. "I'm not okay talking about my relationship," Lili said. "I'm not going to tell you my love story. That's just not appropriate right now." Well, okay then!
August 4, 2018
Lili wishes Cole a happy 26th birthday, and at this point, it's pretty darn obvious they're dating. She posts a pic of him to her Instagram with a super-gushy caption to go along with it. Warning: Lili's message is SO sweet it might give you a cavity. "It seems as if the world would still be a stranger to me, if not for you," she wrote. "I'm so thankful that our paths intertwined to form this beautiful adventure," ending the caption with, "Happy birthday, my love." MY! LOVE!!! If that's not dating, then I don't know what is.
https://www.instagram.com/p/BmEFDjtAWUs/
August 6, 2018
Skeet and Mädchen Amick (FP Jones and Alice Cooper from Riverdale) speak with Entertainment Tonight and gave some preeetty juicy tidbits about Lili and Cole's relationship on- and off-set.
"It's great. I mean, they didn't talk about [their relationship] the entire time, until just recently," Mädchen tells Entertainment Tonight. "So it's nice that they're able to now, like, be public with it, so it's not so under wraps. Behind the scenes, they're so sweet with each other and they're both just exceptional people."
Sounds like a relationship confirmation, right? Well, not exactly. While the interview seemed like an entire Sprousehart parade, Skeet ended it by saying, "Their friendship is beautiful." I'm sorry, what? Maybe he's just trolling?!
August 30, 2018
Lili and Cole take a trip together to the City of Love (aka Paris), as couples tend to do when they're in a relationship. But you know, still no official confirmations!
https://www.instagram.com/p/BnHVMoMA7c1/
September 13, 2018
Cole wishes Lili a happy birthday this time and posts a topless photo of her, but it didn't stop there. The cherry on top? Cole calling Lili his "little muse."
https://www.instagram.com/p/BnriRFaH346/
October 13, 2018
Lili, behind the camera this time, posts a shirtless photo of Cole on the beach. Clearly in the mood to troll, Cole decides to comment on the picture, asking, "Are you guys dating?" LOL.
November 22, 2018
Cole heads to the Reinharts' house for Thanksgiving. Talk about taking the next step in their relationship(?)! It's a huge family affair, and there are pics to prove it.
https://www.instagram.com/p/BqfrVy0AvBf/
March 7, 2019
Finally—some PDA! At the premiere for Cole's movie Five Feet Apart, Cole and Lili walk the red carpet together and treat fans of their relationship to some good old-fashioned PDA. There's kissing, ear whispers, loving gazes—you name it! It's all very couple-y.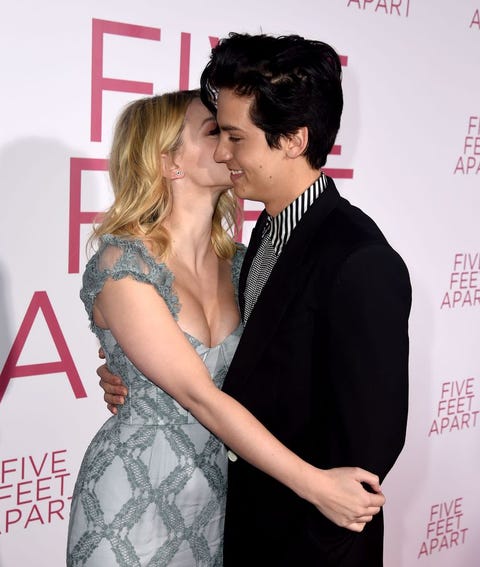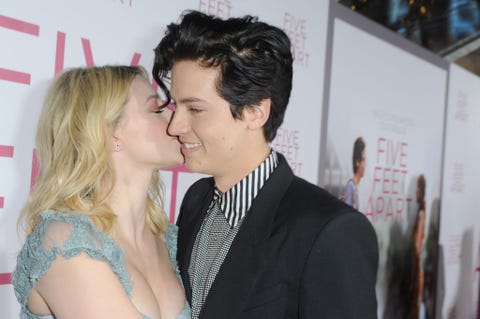 March 15, 2019
Surprise! Cole finally throws Sprousehart shippers a bone. In an interview with Glamour, Cole spills the beans on the most romantic date he's ever taken Lili on. "I took my [Lili] on a date where we drove to this location deep into Canada, and I surprised her with a big hot-air balloon adventure, which was quite a bit of fun," he says. "I like traveling quite a bit. I like road-tripping. Those grand experiences always end up yielding the greatest memories—and the greatest romances." WOW, I'm trying really hard not to be jealous, but let's be honest. This is just too f*cking romantic.
May 5, 2019
Cole and Lili attend their second Met Gala looking whimsical AF—perfect, considering the year's theme is "Camp: Notes on Fashion."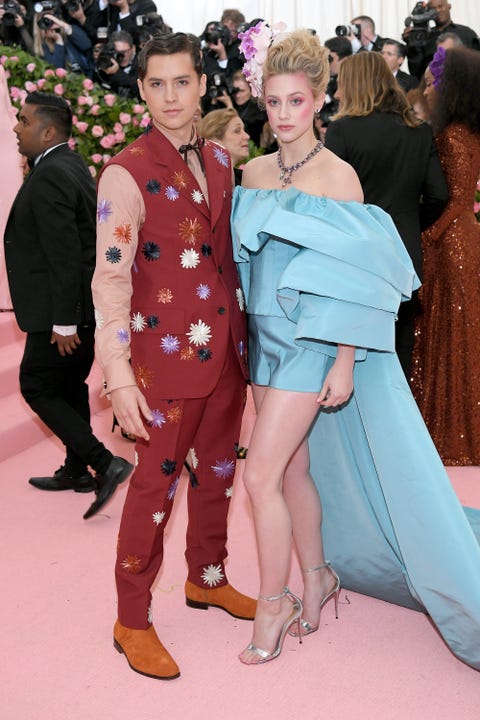 July 22, 2019
Nope, I'm not crying! I just have the dissolution of Sprousehart in my eye 😭. After nearly two years of dating, Us Weekly has reported that Cole and Lili have broken up. Although the two played nice during their Comic Con panel the weekend before the news hit headlines, they were barely seen together at the post-event party. After the panel, Lili posts a pic to Instagram that now looks suuuper shady:
"Please don't put me between these two ever again." Um…awkward!
An E! News source adds that Lili and Cole have likely been broken up for a while now. "Lili and Cole broke up earlier this summer," the source said. "The two are not living together this season."
Although the news seems pretty sudden, there might be some hope that Sprousehart will get back together eventually. "Right now, it's unclear where things stand, but it seems [like] they could be heading back in the direction of getting together," the source added.
July 25, 2019
Things start getting hellllla awkward for Lili and Cole, because literally three days after the Sprousehart breakup news hits the internet, Lili and Cole's joint interview with W magazine breaks. And if that weren't already awkward enough, Lili and Cole both agreed to do the interview separately. Uh, maybe that was the first sign of trouble in paradise?
Lili says the major reason they wanted to be interviewed apart from each other is because they're consistently grouped together, likely because of Riverdale and their TV ship, Bughead. Lili says:
Cole basically says the same thing in fewer words. "Lili is an incredibly talented individual who speaks for herself and deserves her own voice box in every single way," he said. "That alone is justification enough for me to do it like this."
Lili also talks about why she and Cole prefer to keep their relationship on the DL:
A couple hours or so pass since the W magazine interview went up, and Lili and Cole fully unleash how they feel about the whole thing. And boy, it is super messy! You might want to grab some popcorn real quick. Got it? Good.
On Instagram, both Lili and Cole post the magazine cover to their respective accounts with scathing commentary attached to it. Lili writes, "BREAKING: A reliable source has confirmed that none of you know shit." Cole, literally at the same time, posts the same pic and writes, "UNPRECEDENTED: Cole Sprouse and Lili Reinhart consume the flesh of 'reliable sources' to fuel their bacchanalian sex cult." Did you have to google what "bacchanalian" means? Yeah, same.

https://www.instagram.com/p/B0WOfcZJp0B/
August 7, 2019

Lili and Cole address the breakup rumors…again. You know, for a former couple that just had a breakup, they're still super chatty about one another! Variety posts an Instagram picture of Cole from its Power of Young Hollywood issue. Although it's not at all related to their alleged breakup, Lili posts a very trolly comment under the photo anyway, writing, "Sources say he's single now—is he available?" LOL. Lili removes the comment later on, but the internet is forever.
The night before, Cole speaks to Entertainment Tonight about their breakup and stresses the importance of poking fun at the rumors and trolling the media. Cole says he's "incredibly" annoyed by the breakup reports and adds, "No, I don't care. That's the nature of our industry." He also says, "I think you have to poke fun of it a little bit. It's kind of something you sign up for, but as long as you can keep it light and fun, it's all good." Sure, Cole! Suuure.
September 9, 2019
After what seems like ages, we finally have some kind of clarity on where things stand with Lili and Cole—bless!!! While promoting Hustlers at the Toronto International Film Festival, Lili does an interview with Coveteur and low-key spills the beans on whether Cole is her BF. She talks about her talent for doing special-effects makeup and what her dress-up plans are for Halloween and says Cole will be dressing up with her. Because yes, he is her boyfriend!!!
Here's what Lili said:
So, you guys…it's official. Sprousehart is BACK ON. What a blessed day it is!
September 13, 2019
Lili and Cole spent Friday the 13th celebrating Lili's birthday. And what better way to celebrate than by posting a bunch of make-out pics on Instagram?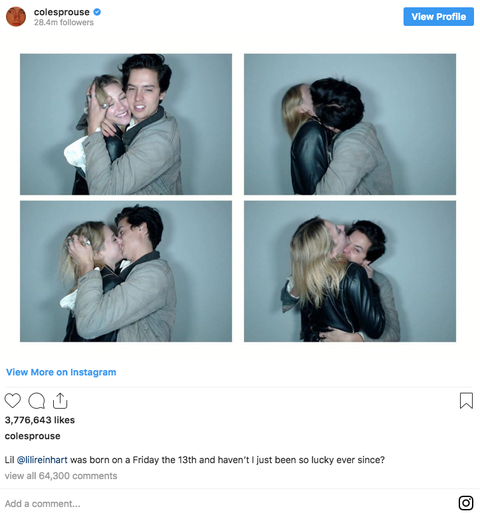 "Lil @LiliReinhart was born on a Friday the 13th and haven't I just been so lucky ever since?" Cole wrote. Awwwww.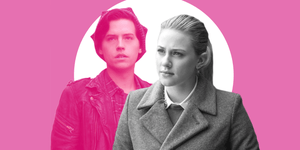 Source: Read Full Article