Cardi B's Daughter Kulture Gets an Affinity for Cars From Dad Offset
Offset and Cardi B are loving and living their best family life these days. And, like most parents, often share their proudest parenting moments. Their daughter, Kulture Kiari Cephus, born in July of 2018, is taking on some of her father's affinity for high-profile cars. After all, Offset has a pretty impressive collection for Kulture to spend time exploring.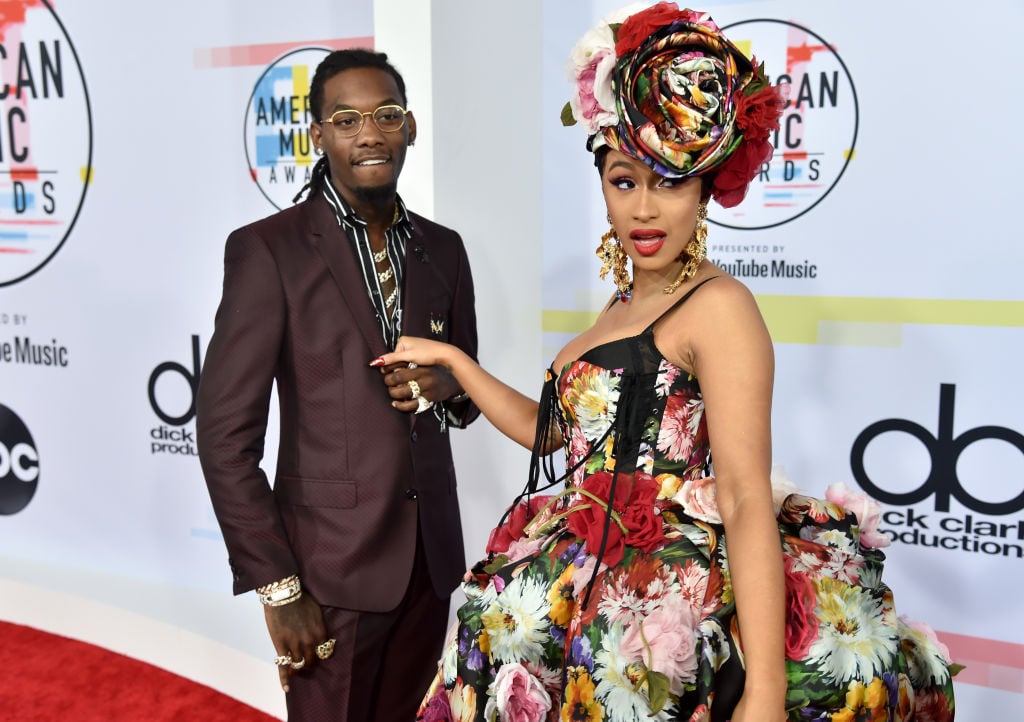 What's new with the family?
Offset's given name is Kiari Kendrell Cephus, a name he affectionally shared with his daughter. In a recent interview, he was asked about the family life with his wife, Cardi B. Offset shares stories about his daughter, Kulture, and how she's a big fan of YouTube these days. He admitted that she can be persistent about grabbing the couple's phones for instantaneous YouTubing and that it sometimes is the cure for her crying. Both Cardi B and Offset were also asked about future plans to grow their family. But both suggested another child isn't in the cards just yet.
As far as careers are concerned, both Cardi B and Offset are working. Offset tweeted earlier this year about the Migos Culture III album coming, but it may be the final chapter and last album for the group. The Grammy-winning Cardi B said she's only a couple of "club hits" away from finishing her sophomore album. In putting the family growth plans on hold, Offset discussed in his interview the importance of Cardi B devoting her time to this album. He cited it wouldn't be fair to her, her fans or her career to have another child right now.
Cardi B and Offset's incredible collection of cars
Cardi B and Offset have an impressive car collection. So it only makes sense that Kulture has learned a particular appreciation and fondness for sweet rides. Some of the vehicles in their celebrity garage include Cardi B's Lamborghini convertible, for which she has a matching Lambo truck, both with a bright blue paint job. Offset enjoys several, more luxury cars, including the upscale, orange McLaren. He, too, has a truck of his own, albeit a Bentley. He also has an exotic Rolls Royce Wraith, with a color combination typically reserved for sports cars, not luxury crossover SUVs. Six 10 Motoring did a total vehicle wrap, including the door jams, and also blacked out any chrome for an entirely customized look. For the family car, Cardi B loves her Maybach and shared in an interview that it's perfect for traveling with a child, largely in part due to its televisions.
What Offset had to say about his daughter
Offset is certainly a proud father and beamed about his daughter Kulture in a recent interview. He believes his mini-me is following in his footsteps when it comes to his appreciation of classic and performance cars. He shared that Kulture insists on having her own and always wants to drive her own little car. She loves to be behind the wheel of her toy version, and it demonstrates she clearly shares her father's love of all things auto. Offset says he knows she gets that from him, and it feels like he's pretty proud of that. He did go on to share that Kulture is definitely a "girly girl" and spends ample time in front of the mirror, striking a pose and checking her look.
It's not uncommon for children to take on some of their parents' passions. In the case of Offset and his daughter Kulture, it's easy to see where she gets her love of cars. For now, she's a toddler with a backyard variety set of wheels. But it's a strong possibility that she'll learn to collect the classic and performance-driven rides when she's older. It may become a passion of her own, derived from her father.
Source: Read Full Article