Carole Baskin 'Murders' Interview & Leaves Ken Jeong, Joel McHale Squirming During NYE Special — Watch
Carole Baskin videoed in for an interview on FOX's New Year's Eve special, and it quickly got 'dark.' Multiple references were made to both Carole and Joe Exotic's scandals that were highlighted in the 'Tiger King' docuseries.
Carole Baskin, 59, was a virtual guest on FOX network's New Year's Eve special on Dec. 31, and it got, well…awkward. Actors Ken Jeong, 51, and Joel McHale, 49, were hosting the special, and Ken started off the interview innocent enough: "How does it feel to be recognized everywhere you go?" Carole got very candid in her answer.
"You know it's so weird, because of the combined fear of them [fans] being hitmen and not knowing them from the paparazzi. Every time people are running up to me, I don't know if they're running up to kill me or [are] running up to take a selfie with me," the Tiger King star admitted. This seemed to be a reference to the fact that her rival and fellow Tiger King star, Joe Exotic, was accused of allegedly seeking "someone to murder Baskin in exchange for money" in the past, and was even convicted of two counts of murder-for-hire, according to the US Attorney's Office Western District of Oklahoma.
Without missing a beat, Ken sarcastically exclaimed, "Wow, thats not a dark answer at all!…We'll just avoid the whole hitman motif on eight p.m. eastern standard time here on FOX." Joel couldn't resist adding a jab, though. "It's not like we're dressed like hitmen," the Spider-Man 2 star quipped (Joel and Ken were bth dressed in tuxedos). But it got even more awkward.
Joel reportedly said that Carole "murdered" her interview, according to one Twitter user (see the tweet above). Joe Exotic has long accused Carole of murdering her second husband, Don Lewis, who disappeared in 1997. Carole has vehemently denied these murder allegations, especially after Tiger King led fans to share their theories after the docuseries was released in March of 2020.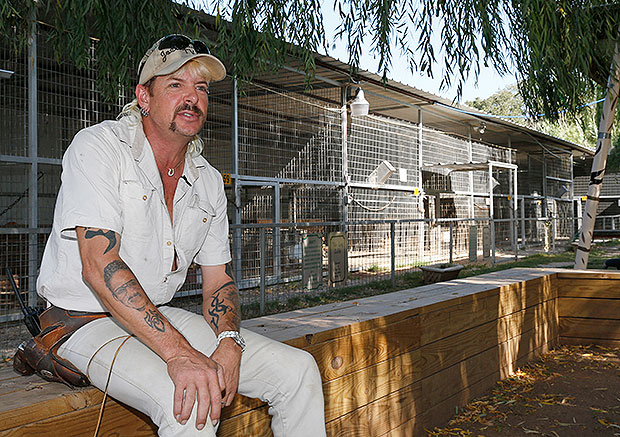 "[Tiger King] has a segment devoted to suggesting, with lies and innuendos from people who are not credible, that I had a role in the disappearance of my husband Don in 1997," Carole wrote in a blog post for her Big Cat Rescue non-profit's website in May. She added, "The series presents this without any regard for the truth or in most cases even giving me an opportunity before publication to rebut the absurd claims. They did not care about truth. The unsavory lies are better for getting viewers."
Source: Read Full Article