Chrissy Teigen's Date Night Pick With John Legend Is a Fancy Movie Theater Chain
Model Chrissy Teigen and musician John Legend may be a celebrity couple that lives a life of wealth and glamour on the outside, but at home, their tastes are pretty simple and wholesome. The couple loves spending quality time with each other and their two young children, Luna and Miles. Teigen especially likes cooking for her family, a passion that has turned into a career for her as she now has two cookbooks out and her own blog. Despite loving time at home, the family does enjoy a night out sometimes, and their go-to spot was the subject of one of Teigen's latest blog entries.
Why do Chrissy Teigen and John Legend love IPIC movie theaters?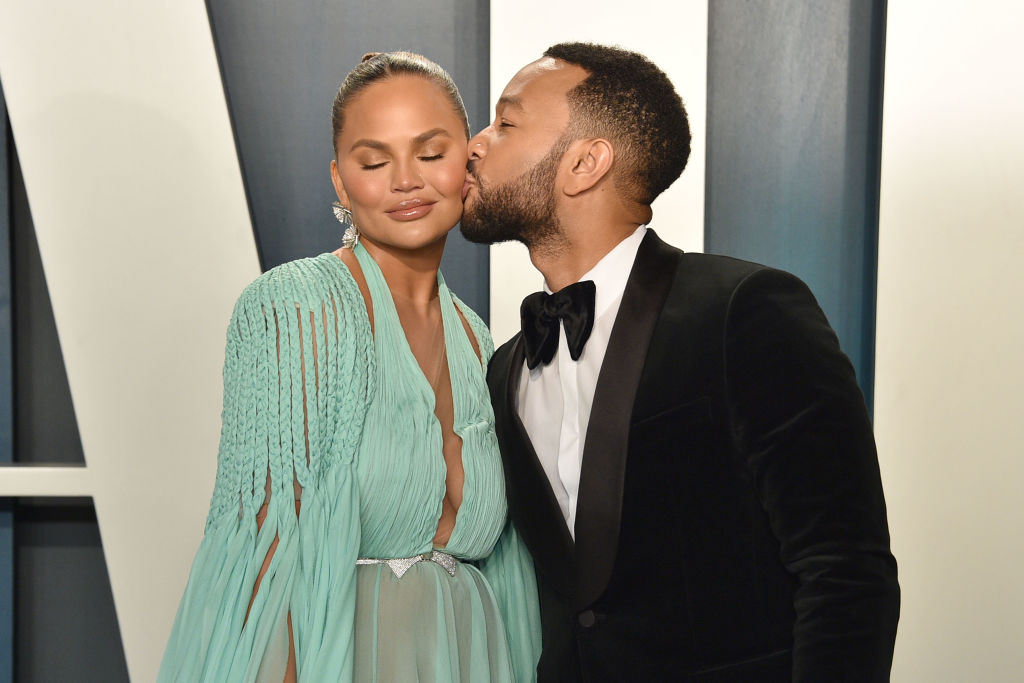 Though they certainly have a cozy situation at home if they were to want a movie night in, Teigen and Legend love going to the movie theater chain IPIC. IPIC was founded in 2010 and now has 15 locations around the US. The up-scale theater describes itself as a social destination and offers "inventive cuisine and hand-crafted cocktails."
Teigen gushed about the chain: "I truly won't go out to watch a movie anymore unless it's at IPIC. First off, you sit down on recliners with blankets and a pillow (UM, already amazing), and then you can order food/drinks from a full menu (alcohol included)… You can order any time throughout the movie and they'll bring the food right to you, no judgment."
She calls the theater her "2nd couch." She even shared Instagram photos from other guests of some of her favorite dishes there. She said she usually orders the spicy tuna on crispy rice, the warm pretzels, a pizza, the chicken tenders, and the truffle fries. She warns that you may focus on the food more than the movie, but that will just give you another chance to go again.
Their family has had some big moments at IPIC
Now, the theater has moved beyond a place just for her and Legend: "It started out as a 'date night' spot for John and I, but now it's become more of a family tradition since kid movies are all we watch at the moment," she wrote.
In November of 2018, Teigen Tweeted that she had taken over a whole theater to watch The Nutcracker. Then in July of 2019, Teigen shared a snapshot of their children at IPIC. Their youngest, Miles, was enjoying his first movie: Toy Story 4. He looked thrilled, but she did admit there was one downside: "He will now think all movie theaters are like this."
Their daughter Luna had quite a time at a NY IPIC as well. Teigen and Legend took her to see Frozen 2, but they promptly fell asleep (though she assures readers they saw it many times after that.) Luna, on the other hand, was full of excitement: "She ran all around the theater to make sure everyone else was watching and having fun. And for the finale, she ran to the front of the theater and danced while the credits rolled."
Where else do Chrissy Teigen and John Legend like go for a date?
In an installment of "Ask Chrissy" on her website, Teigen answered a fan question about where she and Legend go out for a kid-free date night in LA.
Teigen started off clarifying: "John LOVES a date night. And I LOVE staying home. But every once in awhile, I throw him a bone."
What followed was an incredibly kind shout-out to several area restaurants that she loves including the tiny Italian restaurant, Via Veneto, a Korean BBQ joint called Quarters, and for a splurge meal, Vespertine.
She ends her list of restaurants with the statement: "I could go on forever here." Teigen is definitely a foodie.
Source: Read Full Article