'Double Shot at Love': Are Derynn Paige and Pretty Ricky Still a Couple?
Double Shot at Love fans are dying to know if any of the relationships formed during season 2 have lasted. Are Derynn Paige and Pretty Ricky still together?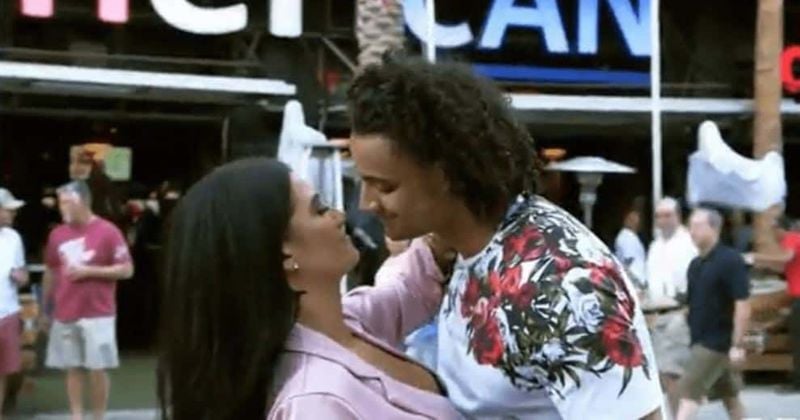 'Double Shot at Love' Season 2 wasn't about dating
During season 1 of Double Shot at Love, Pauly DelVecchio and Vinny Guadagnino dated 20-some women at the same time, hoping to find love. When MTV brought the Jersey Shore guidos back for another season, the premise of Double Shot at Love changed.
Instead of bringing in a new cast for Guadagnino and DelVecchio to date, their ex-girlfriends from season 1 returned, along with three new male faces. The group were going to live and work in Las Vegas under the mentorship of DelVecchio, Guadagnino, and their friend, Dustin Drai.
Despite the new premise, it seems like some people, including Paige and possibly Hall, left the Las Vegas suite with a sweetheart.
Derynn Paige and Pretty Ricky got off to a bumpy start
When Guadagnino invited his fellow Chippendale stripper to join the Double Shot at Love cast during a night out, Paige immediately expressed interest. The two hit it off almost immediately, and the night ended with Paige bringing Ricky back to the suite.
Unfortunately, things took a turn. When Pretty Ricky couldn't perform in the bedroom, he left for the night. Paige broke down in tears to her roommates, upset about her "dry spell" and inability to break it.
Later, Pretty Ricky asked Derynn Paige to be his girlfriend
Despite their minor set back, Paige and Ricky did eventually go on an actual first date. Somewhere along the Las Vegas strip, the two discussed Paige's dating history and her view on relationships. She admitted how she thought she would have been married by the time she was 25-years-old. Sadly, the man she was dating cheated on her and crushed those dreams.
It was clear Pretty Ricky felt for Paige in that moment. During their date, he expressed wanting to start a long-distance relationship with her. He also assured Paige that, if she agreed to be his girlfriend, she wouldn't have to worry about his line of work interfering with his fidelity.
Before the show ended and she left Las Vegas, Pretty Ricky asked Paige if she would be his girlfriend. In front of the cameras, she said "yes."
Derynn Paige's tweet has many fans convinced she is still Pretty Ricky's girlfriend
Throughout this season of Double Shot at Love, Paige and Pretty Ricky have been flirtatious on social media. He comments on almost all of her Instagram posts, expressing how beautiful he thinks she is.
One of Paige's tweets had some Double Shot at Love fans convinced the two are still together. "I got the real double shot at love," Paige shared on Twitter.
Many of Paige's followers were excited by the tweet. "Finally y'all get together!!!" a fan replied. "Stay together y'all are sooo cute you deserve him!"
"Yes MAAAMM!!!!!" another wrote. "You and Ricky are the best couple there. No pettiness. No drama. Just good vibes and good times. YOU DESERVE IT QUEEENNN"
Fans will have to tune in to part two of the Double Shot at Love reunion to find out if Pretty Ricky and Paige are still an item.
Source: Read Full Article