Fans Think Kim Kardashian West Is Shading Taylor Swift With New Snake Print Hair
If there's one celebrity who likes digging into photoshoot archives for her latest Instagram share, it's Kim Kardashian West.
The Keeping Up With the Kardashians star is notorious for posting old photos of herself on social media and has been doing so even more frequently while quarantining amid the coronavirus (COVID-19) pandemic.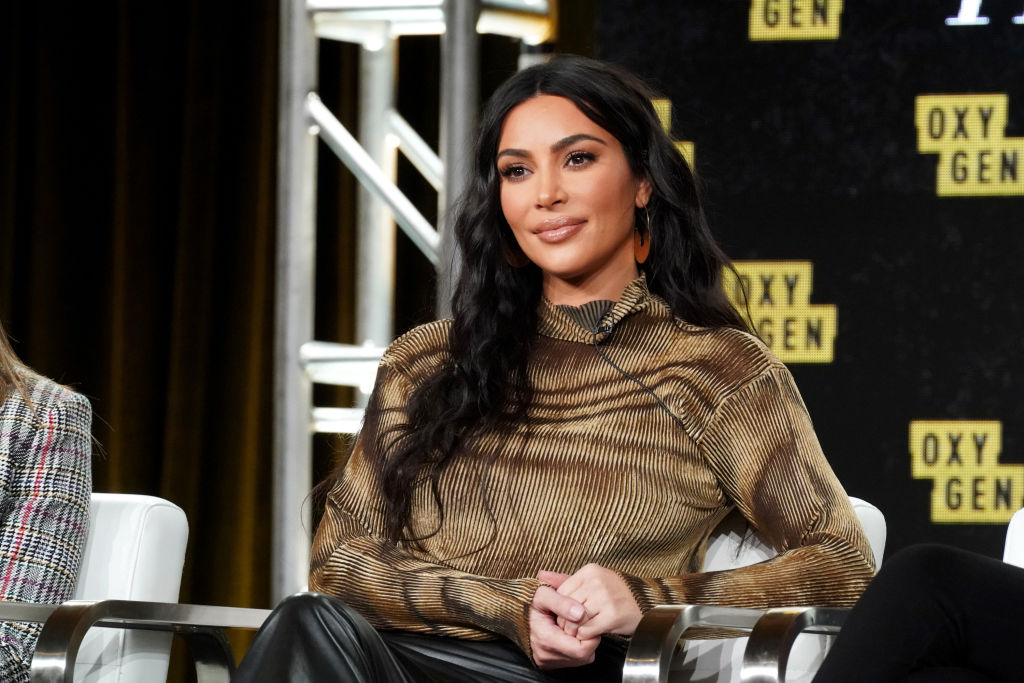 Recently, she unveiled two photos of herself wearing snake-print hair from an old photo shoot on her Instagram, and since sharing the post, fans have had A LOT to say about this never-before-seen look.
Fans think the photos were a dig at Taylor Swift
It's no secret that Kardashian West changes up her hair quite a bit.
From blunt bobs to floor-length extension, trying out new hairstyles is common for the reality star. However, the hairdo she recently introduced on her Instagram has people talking — and not in a very positive way.
On May 4, the reality star shared a series of photos of herself donning a snake print look from a past photoshoot with her 168 million followers.
At first, the post was met with sweet comments from fans who couldn't help but gush over how gorgeous Kardashian looked covered in snake-print.
However, things quickly turned sour when Taylor Swift stans began calling the KKW mogul out for throwing — what they believed to be — not-so-subtle shade at the singer.
Ever since the Swift's Reputation World Tour, she's used snakes as a symbol of empowerment.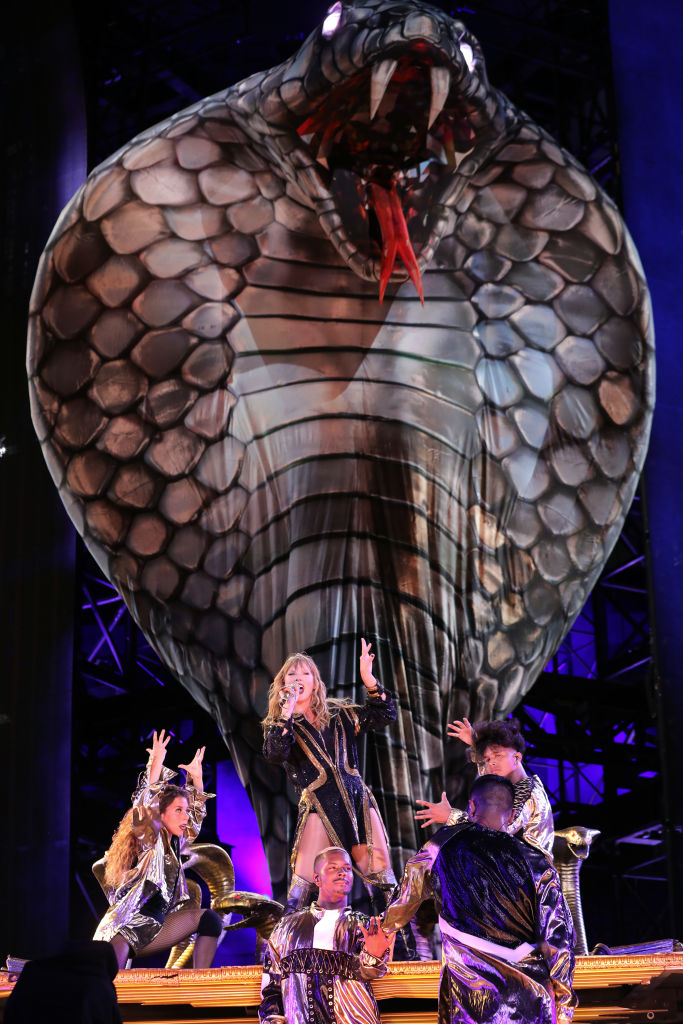 With the reptile having been associated with the singer for years, fans had an issue with Kardashian posing in snake-print and felt as though the glamourous photoshoot was her way of taking an unmistakable strike at the "ME!" crooner.
"Snake is Taylor's brand now. Funny how she used [a] snake to bully Taylor years ago and now that Taylor made a huge fortune with it, she wants to be her," one person tweeted.
"She's finally admitting to who she is.. a snake.. come on Kim what's next your gonna side with scooter and Justin," someone else wrote.
Not only did fans accuse Kardashian of copying Swift's brand, some also savagely trolled the reality star for yet another photoshop fail after they spotted something amiss about her hair in the snake-themed shoot.
"THE NAILS IN HER HAIR LMFAO PHOTOSHOP IS HER PASSION," a Twitter user pointed out.
"Photoshop never loved Kim Kardashian! There's always some mishaps on her photos," another person penned.
Kardashian and Swift have been feuding for years
For those of you who don't know, Kardashian and Swift have been at odds with each other for nearly 10 years, with Kim's husband, Kanye West, playing a significant role in the drama.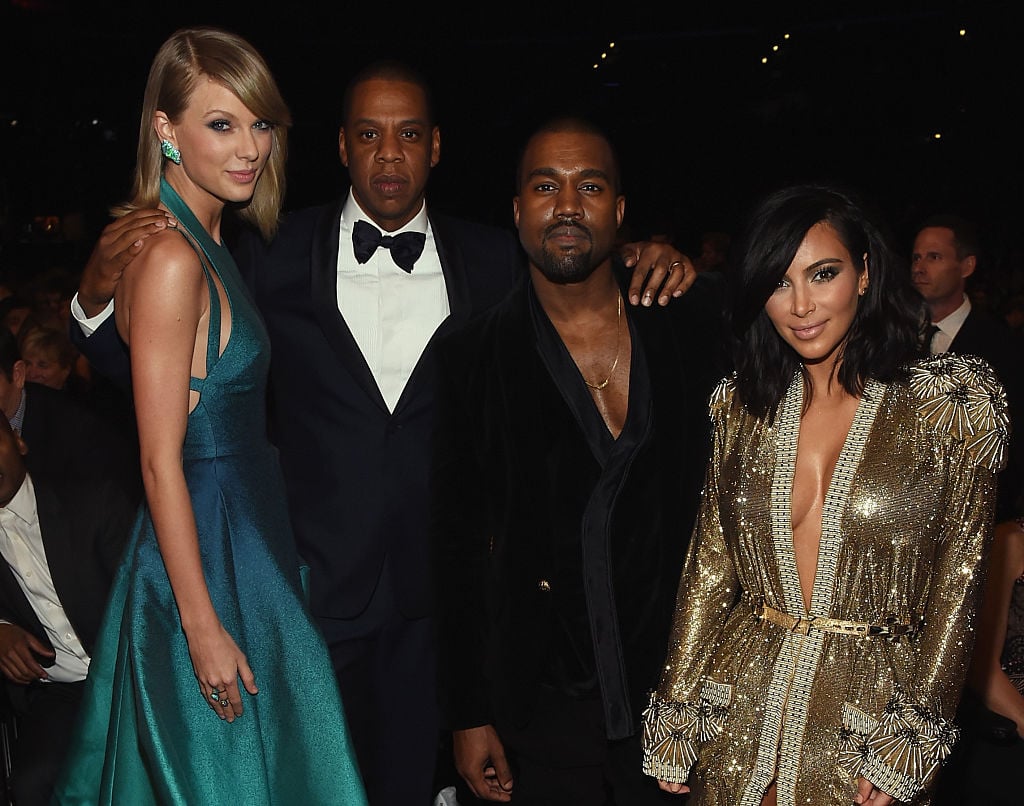 Since West rushed onstage at the 2009 VMAs and made the claim that Beyoncé should have won the award for Music Video of the Year instead of Swift, the musicians haven't been on the best of terms.
While they seemingly put their ill-feelings to rest for a while, things took a turn in 2016 when Kardashian West shared clips of West and Swift's phone conversation about the song "Famous" on her Snapchat.
The videos made it seem as though Swift agreed to West calling her a "b*tch" in the song, but Swift later denied that she was made aware of the lyric in question.
After much back and forth and subtle disses on social media, it appeared as though Swift, Kardashian, and West had moved on from the drama since they remained relatively silent about the feud — that is until just recently.
In March 2020, the reality star and the singer started fighting again, after someone leaked the full video of Swift and West's phone conversation. After years of speculation, the video confirmed that West never asked the "You Need To Calm Down" singer if he could call her the explicative, which proved that she was telling the truth the entire time.
Following the full video's release, fans began accusing Kardashian of editing the recorded conversation to make it seem like Swift was lying. It wasn't long before the #KimKardashianPartyIsOver started trending on Twitter with fans calling Kardashian and West the real liars in the situation.
Since then, we haven't heard anything more about Swift's feud Kardashian and West, but from the reality star's latest Instagram post, it seems like the drama is nowhere close to being over.
Source: Read Full Article