Farrah Abraham Slammed for Calling Herself a 'Widow' and a 'Bereaved Mother'
Farrah Abraham seems to always be in some form of hot water. But, this time she's getting some backlash for remembering her late ex-boyfriend, Derek Underwood. Underwood was the father of Abraham's daughter, Sophia Abraham. Unfortunately, Underwood died in a car crash prior to Sophia's birth. Taking to her Instagram page, the 28-year-old reflected on his death, but critics weren't impressed with some of the language she chose to use.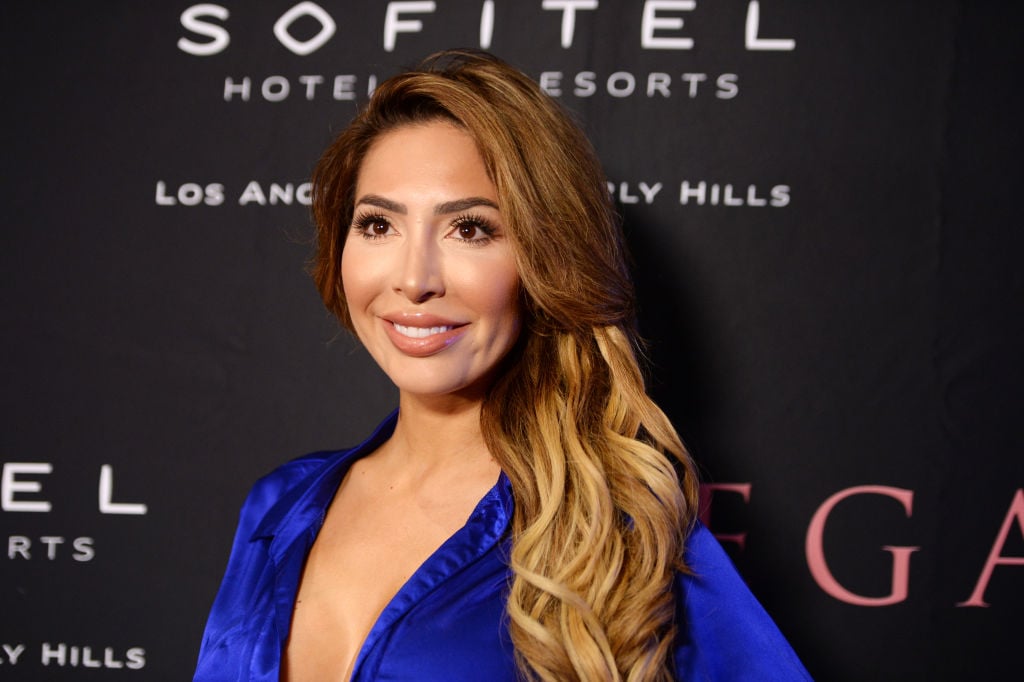 "With all the emotion, love & strength at this time, never forgetting the tragic accident but also just as hard are Happy Birthday days-for my best friend, for my soul mate [sic], my love of my life & Sophia's father today marks your 30th birthday. As I've not been sleeping, crying, and remembering all of my therapy, trauma therapy I will say because of Mother's Day here I wish no other woman to be a widow, a woman who has to hold it all together even when the world is against her," Abraham began about her late ex-boyfriend, referencing herself as a widow.
Farrah Abraham remembers her late ex-boyfriend
"It always feels like things may get easier then we miss our special person on trips, or not able to visit their grave due to Covid 19 [sic] or amazing times you wish they could be there with or just talk. From so much I've learned thanks to one amazing man being blessed in my life by God, I pray for all the other amazing, strong, positive moms out there who are doing it on their own and know I'm so proud of you all, all of you are amazing woman [sic] that God so loves," Abraham shared, praising other single moms.
Abraham then added a bit about her struggles parenting Sophia without her late ex-boyfriend. "I wish being a widowed mom, and only parent could be easier but so many things effect [sic] courageous moms in our life journey, our children's and our amazing family members who are so compassionate while feeling hurt themselves. I'm blessed to have God in my life and my families and what brought Derek and I together and Sophia letting that be her focus rather then [sic] anything else," the Teen Mom alum continued.
The 'Teen Mom' alum reflects on being a single mom to her daughter, Sophia
Finally, Abraham concluded by thanking her daughter before using some hashtags. "In loving memory & Happy Mother's Day to all the strong widowed and single moms, mercy, grace & abundance. Thanks to our child -sophia [sic] being so understanding and loving. We're hard enough on our selves and I'm blessed to have my daughter, my constant, my wisdom ❤️🙏🏼 FA . . . #derekunderwood #sophiaabraham #bereavedmother #mourning #greif #loss #rip #memory," Abraham wrote.
While some people felt sympathy for Abraham, given that she lost her ex-boyfriend, they were not forgiving about the language she chose to use. Since she was never married to Underwood, people took offense to her calling herself a widow and were quick to slam her for it. "You have to be married to be a widow. You are not a widow," one person wrote on Instagram.
Instagram users slam Abraham for calling herself a widow and a bereaved mother
"📣YOU. ARE. NOT. A. WIDOW!!!! 🤦🏻‍♀️ You were NEVER MARRIED. Hell, you and "daddy Derrick" were NOT even together when he died. He wasn't even your boyfriend," another person chimed in. "How in the world can you be a widow when you two weren't married? Not making fun of the situation, but at least be honest. You're a single mother, but no widow," yet another person informed Abraham.
Others were upset that Abraham incorrectly used the term "bereaved mother" in her hashtags. As a bereaved mother is a mother who has lost one or more of her children, the term does not at all apply to Abraham. "Hey, Farrah. I got an honest question… Do you even know what a bereaved mother is? Do you know what it means? Because you tagging bereaved mother's is so disrespectful," one person wrote.
"This. I've seen so many actually bereaved mothers this past week who have lost their children and using the tag for self-promotion is disgusting," another person added in agreement. While we don't condone people shaming Abraham for how she chooses to grieve, it's probably for the best that she uses the appropriate terminology when making public statements of grief.
Read More Like This: Farrah Abraham Wears Only a Pillow 'for Work' in a Recent Video
Source: Read Full Article