'Fast & Furious': Vin Diesel Says His Feud With Dwayne 'The Rock' Johnson Was the Result of 'A Lot of Tough Love'
The Fast & Furious film series is one of the most successful and recognizable franchises in the world. Starring actors such as Vin Diesel, Paul Walker, and Dwayne Johnson, the movies have grossed over $6 billion at the box office.
The franchise established both Diesel and Johnson as two of the highest-paid actors in Hollywood, but the two actors developed a toxic relationship in the process. Back in 2016, Johnson made pointed remarks about one of his castmates that was later revealed to be Diesel, turning their feud into a public spectacle.
Years later the two actors were able to put their differences behind them, with Johnson getting his own spinoff, Hobbs & Shaw. Today, Diesel looks back on their tumultuous relationship and admits that their bad blood was caused by the "tough love" he showed Johnson while working on Fast & Furious films.
Vin Diesel feuded with Dwayne Johnson while working on 'Fast & Furious' films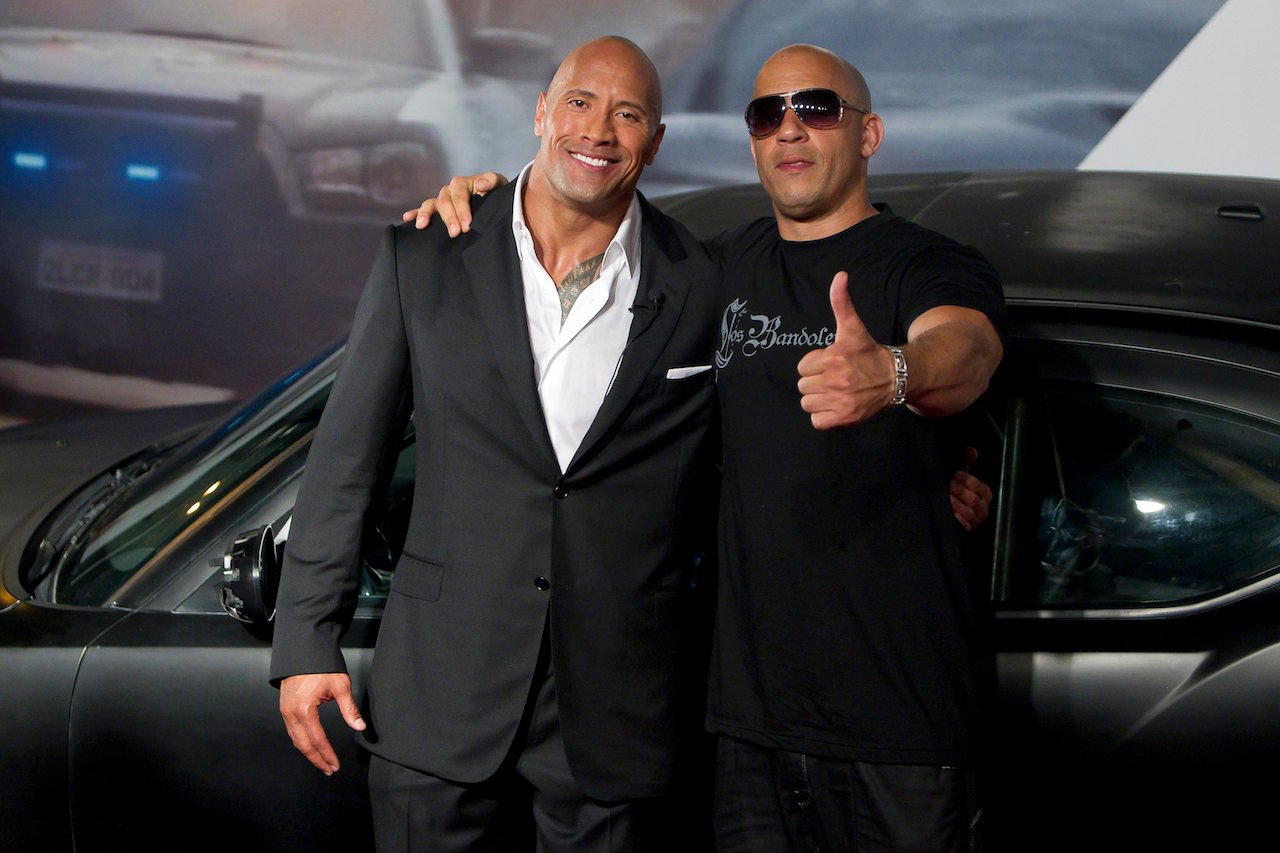 Diesel discussed Johnson's addition to the franchise during a recent interview with Men's Health. 
"It was a tough character to embody, the Hobbs character," Diesel said.
Diesel noted that instead of having a gentle approach to ingratiating Johnson with the franchise, he had a harsher, more intense attitude that likely caused their initial rift.
"My approach at the time was a lot of tough love to assist in getting that performance where it needed to be.
He says it was difficult bringing Dwayne Johnson into the franchise
Getting more specific about the challenges he faced bringing Johnson on board, Diesel noted that it was hard to change the perception of Johnson, who had already been established in the wrestling industry.
"As a producer to say, Okay, we're going to take Dwayne Johnson, who's associated with wrestling, and we're going to force this cinematic world, audience members, to regard his character as someone that they don't know—Hobbs hits you like a ton of bricks," Diesel said. "That's something that I'm proud of, that aesthetic. That took a lot of work. We had to get there and sometimes, at that time, I could give a lot of tough love. Not Felliniesque, but I would do anything I'd have to do in order to get performances in anything I'm producing."
While Diesel had his own view of the situation, his brash attitude rubbed Johnson the wrong way on several occasions. This culminated in Johnson taking a veiled shot at Diesel in a since-deleted Instagram post back in 2016.
"Some conduct themselves as stand-up men and true professionals, while others don't," Johnson wrote. "The ones that don't are too chicken s*** to do anything about it anyway. Candy asses.
They patched things up years later
Despite their differences, the two were able to hash things out. In 2019, around the time of Hobbs & Shaw's release, Johnson gave Diesel a shout-out in another Instagram post. 
"My goal was always, all these years, to come into the Fast & Furious world and help elevate the franchise in any way that I possibly could," Johnson said. "And of course, all roads lead to one thing. I'll be seeing you soon, Torreto."
Source: Read Full Article