It Sure Looks Like Emma Stone Secretly Got Married to Dave McCary…
Surprise! Emma Stone secretly got married! Well, er, maybe—at least, that's what some of her fans think. In case you forgot, Emma announced that she was engaged to Saturday Night Live segment director Dave McCary back in December. We haven't heard much from them since (they're a super private couple), but now thanks to a new video, internet sleuths are convinced that Emma and Dave quietly tied the knot.
Earlier this week, Emma joined Reese Witherspoon to speak about anxiety during quarantine for Reese's Hello Sunshine YouTube channel. And during the chat, Emma wasn't wearing her engagement ring. Instead, she wore a simple gold wedding band: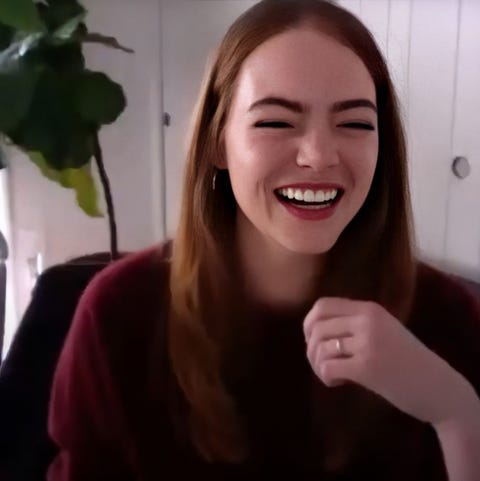 Then, later in video the conversation turned to marriage. Dr. Harold Koplewicz, an expert who was joining Reese and Emma in the chat, said to Emma, "If you marry an anxious man, you're going to have to know me the rest of my life." Emma then replied in the past tense (suggesting she's already married), saying, "Thankfully I didn't do that."
Plus, according to British tabloid Metro, Emma and Dave were planning to get married in March but had to cancel the wedding because of coronavirus, which makes it seem more likely that they might go ahead and making things official anyways.
Understandably, Emma fans are kind of freaking out about the news, and tweeting things like:
my baby is a married woman now💍💖 pic.twitter.com/qYWA0nO3zN
emma stone is married….. please respect my privacy during this difficult time
so… emma stone is married…… and andrew garfield isn't her husband….. the world just isn't fair
Emma Stone got married omg I'm so happy for her and just look how cute she looks 🥺 https://t.co/WApb34tCki
Emma Stone is married pic.twitter.com/NwCCHWxoZu
So I guess for now we'll just have to wait and see if Emma or Dave confirms the news. But either way, congrats to the couple!

Source: Read Full Article