'Jersey Shore: Family Vacation': Deena Cortese Defends Son on Social Media
The party's almost here! Jersey Shore: Family Vacation returns this week. Many Jersey Shore fans are rewatching old episodes of the show to prepare for the release of season 4B. In doing so, one fan noticed a scene where Deena Cortese and her husband seemingly allow their son to eat dog treats. Cortese took to social media to explain what happened.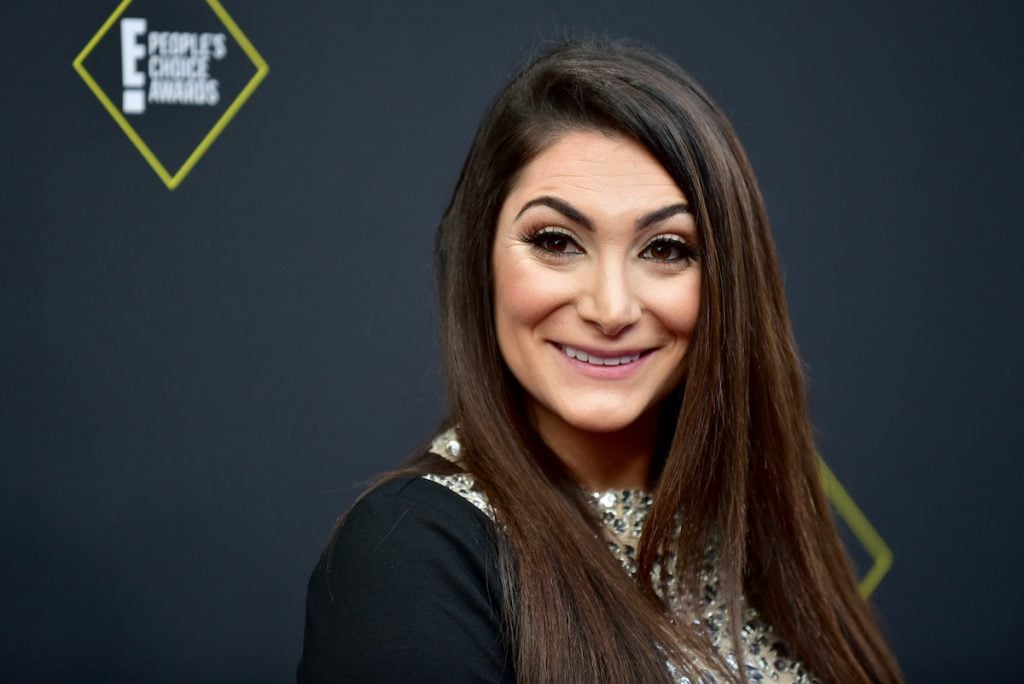 'Jersey Shore: Family Vacation' TikTok of Deena Cortese's son goes viral
Over the weekend, a TikTok of a scene from Jersey Shore: Family Vacation was all many fans could talk about. In the clip from the first half of season 4, Cortese is speaking with her husband, Chris Buckner, about a text Angelina Pivarnick sent to Jenni "JWoww" Farley. 
Amidst their conversation, one fan notices Deena's son, Christopher John, handing a bag of dog treats to Buckner. "Watching Jersey Shore: Family Vacation and Deena's kid is eating dog treats," the fan wrote.
Several fans commented about what appears to be going on in the video. "[Buckner] even opens the bag for him," one fan wrote. Eventually, Cortese felt the need to step in and clarify what was really going on. 
Deena Cortese's Instagram Stories explain what really happened with her son and the dog treats
When Cortese got wind of what fans were saying, she replied to the TikTok. "CJ was not eating dog treats," she wrote in a comment. "He was on the floor with our dog Cali giving treats to her. They cut Cali out of the clip." 
Many people replied calling Cortese and Buckner "neglectful" parents. But others saw the clip for what it was — a misunderstanding. 
"Perfect example of people jumping to their own conclusions," someone commented on the video. A few fans replied to Cortese's comment, telling her the clip is adorable regardless and to ignore those fans making fun of them. But Cortese also informed fans on her Instagram Stories that her son wasn't eating dog treats. 
"No, CJ was not eating dog treats," Cortese reiterated on her Instagram Stories. She added a face-palm emoji to her post for emphasis.
'Jersey Shore: Family Vacation' Season 4B returns June 3
In the first half of Jersey Shore: Family Vacation Season 4, MTV included many of the casts' family and significant others for the first time. Cortese's husband and first-born son joined the trip to Lake Las Vegas. DJ Pauly D's girlfriend Nikki Hall, Mike "The Situation" Sorrentino's wife Lauren, and Pivarnick's husband Chris Larangeira were also on the trip. 
Season 4B will include even more of the Jersey Shore: Family Vacation extended family. Farley's fiancé Zack "24" Carpinello appears in the promos for the new season. Plus, many fans can't wait for Nicole "Snooki" Polizzi's epic return. 
What's more, it looks like many of the roommate's kids are involved in the new episodes. Farley's daughter Meilani Mathews is seen on Hall's lap in a portion of the teaser. 
As the Jersey Shore: Family Vacation cast continues to grow, fans are excited to see more of their loved ones in new episodes. Of course, this means more edited footage for fans to potentially ridicule on TikTok. Tune in to Jersey Shore: Family Vacation this Jerzday, June 3 only on MTV. 
Source: Read Full Article