Justin Timberlake, Mariah Carey and More React After Britney Spears Speaks of Conservatorship
Speaking at a hearing for her 'abusive' conservatorship, the 'Oops!…I Did It Again' songstress compares her life under the arrangement to a 'sex trafficking' victim as she has been 'forced' to work 'against her will.'
AceShowbiz -After Britney Spears broke her silence on her "abusive" conservatorship, several celebrities are rallying behind her. Justin Timberlake, Mariah Carey, Halsey, Rose McGowan and Liz Phair are among famous faces who took to their social media accounts to show their support following the conservatorship hearing.
Justin, who dated Britney before splitting in 2002, wrote on Twitter on Thursday, June 24, "After what we saw today, we should all be supporting Britney at this time." The "Can't Stop the Feeling" hitmaker's message continued, "Regardless of our past, good and bad, and no matter how long ago it was… what's happening to her is just not right. No woman should ever be restricted from making decisions about her own body."
"No one should EVER be held against their will…or ever have to ask permission to access everything they've worked so hard for," Justin continued. In the following tweet, the Grammy winner added that he and his wife Jessica Biel sent support for the "Oops!…I Did It Again" songstress, saying, "Jess and I send our love, and our absolute support to Britney during this time. We hope the courts, and her family make this right and let her life however she wants to live."
Justin Tiberlake showed some support with his wife Jessica Biel to ex Britney Spears amid her conservatorship battle.
Mariah, in the meantime, showed some love to Britney shortly after the "…Baby One More Time" hitmaker spoke out. On Wednesday, the 51-year-old singer penned, "We love you Britney!!! Stay strong." On the other hand, another fellow musician, Halsey, went on to add that she hoped the conservatorship is removed. "Bless Britney and I hope with my whole heart she is awarded freedom from this abusive system. She deserves it more than anything. I admire her courage speaking up for herself today," she wrote.

Mariah Carey showed some love to Britney Spears.
"Additionally, f**k anyone who thinks they have the authority as an institution or individual to control a person's reproductive health," the "Graveyard" singer continued in a separate Twitter post. She then closed her note by adding the "#FreeBritney" hashtag.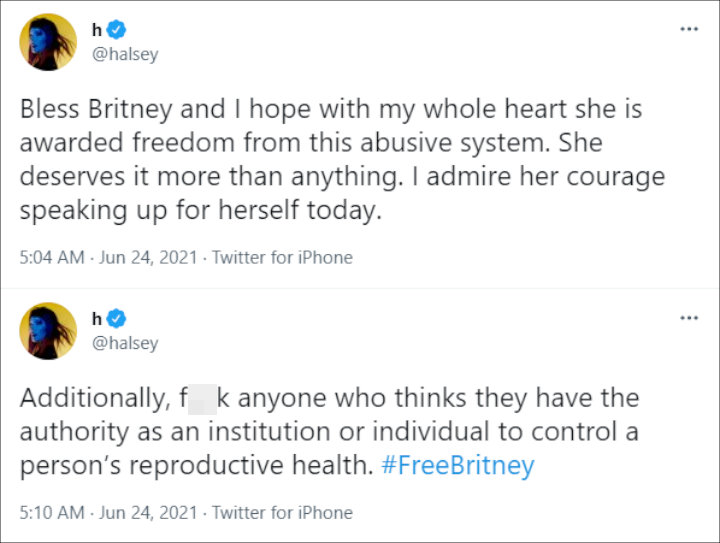 Pregnant Halsey voiced her support for Britney Spears with #FreeBritney hashtag.
Rose also posted on her Twitter account a note of encouragement to Britney, who claimed that the conservatorship was "abusive." She penned, "Britney Spears has every right to be angry. How would you feel if your life was stolen, dissected, mocked? I pray she gets to live your life on her terms. STOP CONTROLLING WOMEN."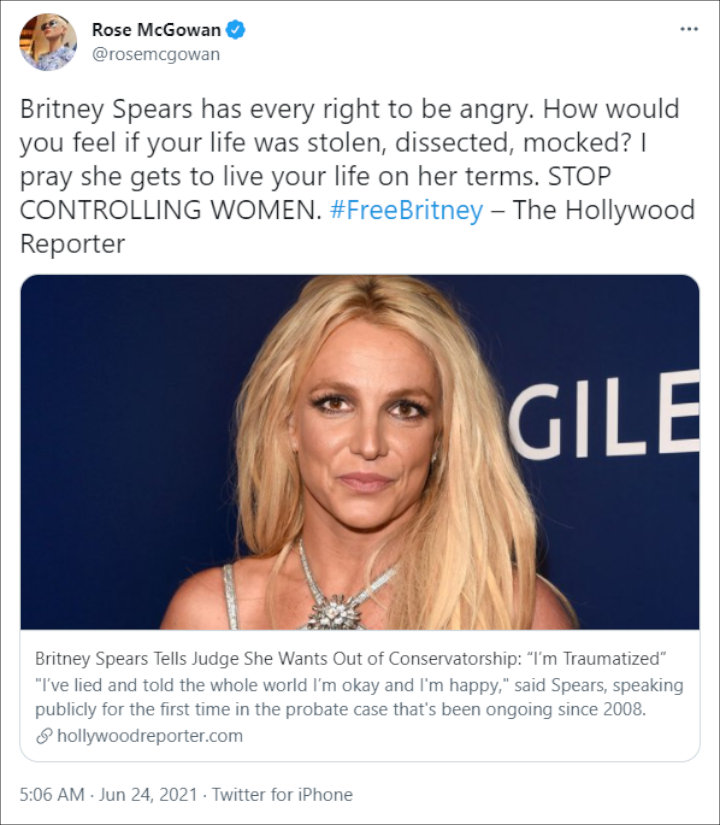 Rose McGowan came up with 'Stop controlling women' tweet to support Britney Spears.
Meanwhile, Liz noted that controlling woman by declaring her mad is the "oldest trick" of patriarchy. "Oldest trick in the playbook of the patriarchy: declare a woman mad and gain control of her assets/property. Been happening for centuries," she claimed.
In a follow-up tweet, the "Why Can't I?" singer pointed out, "Anyone saying she 'seems unbalanced,' please show me The equivalent conservatorships for male entertainers/athletes exhibiting erratic behavior." She stressed, "Where are all the MOMS controlling their grown son's millions for a decade."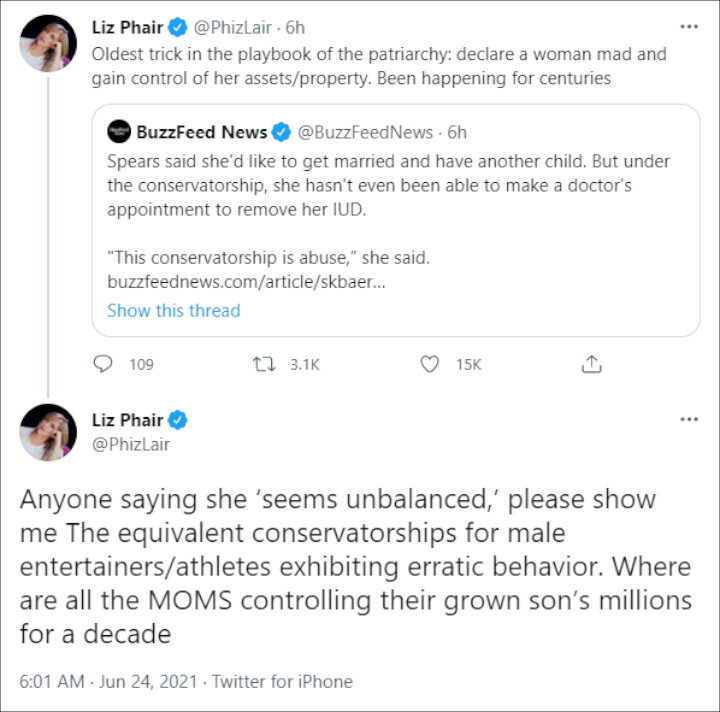 Liz Phair defended Britney Spears via Twitter.
In the court hearing, Britney compared her life under the arrangement to a "sex trafficking" victim. She told the judge, "In California, the only similar thing to this is called sex trafficking, making anyone work against their will, taking all their possessions away credit card, cash, phone, passport."
Britney also claimed she has been "forced" to work "against her will," including a tour she agreed to "out of fear." "My manager said they would sue me if I didn't follow through with the tour," she claimed about stepping off stage in Las Vegas in 2018. "Out of fear I did that tour."
She went on to say that under the conservatorship she's been unable to fulfil her dream of getting married and having more children with boyfriend Sam Asghari as she has been put on contraception by her team. "I have an IUD inside of me so that I don't get pregnant," she told the court. "My team doesn't want me to have any more children."
Britney pointed out, "It's my wish and dream for all this to end." She added, "I honestly don't think anyone would believe me. I thought people would make fun of me. I just want my life back. It's enough. All I would honestly like is to sue my family [and] share my story with the world."
Source: Read Full Article