Kathie Lee Gifford Recalls Tender Last Encounter With Regis Philbin Weeks Before His Death
Kathie Lee Gifford is reflecting on her final visit with Regis Philbin just two weeks before his death.
As we reported, the legendary TV host passed away of natural causes on Friday at the age of 88 and since then, tributes have come pouring in from those who knew and loved him. On Monday's broadcast of the Today show, his former co-host and close friend said she was luckier than most to enjoy lunch and laughs with Philbin and his wife Joy at her Connecticut home before he died.
Gifford, who worked alongside Philbin from 1988 to 2000 on Live! With Regis and Kathie Lee, said she couldn't be more grateful for the "precious" time shared in what would become their final get-together before his passing:
"I was just so grateful the Lord gave me that final time. And it was so precious because when I talked to Joy the day that I found out right after he had passed, she said, 'Kathie he hadn't laughed in a long, long time.' She said, 'I was so worried about him.'"
The 66-year-old daytime TV personality continued, sharing a reference to her late husband Frank Gifford, who also passed away from natural causes in 2015 a week before his 85th birthday:
"I think he was like Frank. He was just ready, you know? … And she said, 'The day that we came to have lunch with you was the last time I heard him laugh.' That will forever be a precious gift the Lord gave me, that I got to laugh again with one of my best friends in all my lifetime."
She told interviewer Hoda Kotb that she sensed "much more fragility" than she'd seen in Regis since the last time they met up in Los Angeles back in January, but they were still able to enjoy each other's company like old times:
"We sat right here on my screened porch, and we laughed ourselves sick. We always picked up right where we left off. … After they left I just thought to myself, 'Lord, is that the last time I'm going to see my friend?' Because he was failing, I could tell."
Ugh. So, so sad…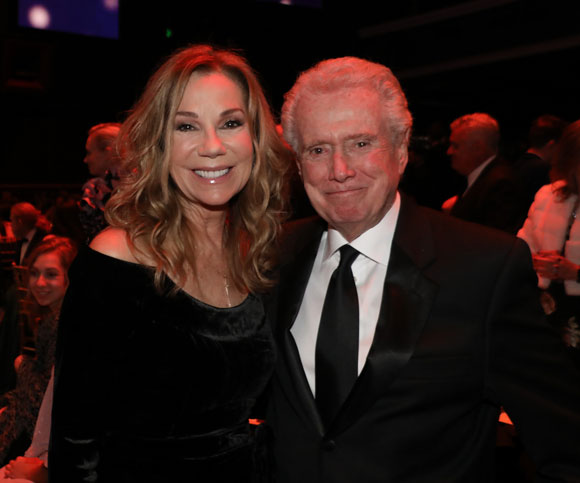 Gifford expressed gratitude for a "voice" that pushed her to have the impromptu visit with Philbin, which will no doubt go down as one of their many cherished memories together:
"I don't know, something told me the other day, when I was in Tennessee, 'Get on a plane, and go home. Get on a plane.' And I didn't know why, but I've learned to listen to that voice. I got on the plane, came home and immediately heard the news about Regis, called Joy immediately and talked with her."
She added there's no doubt in her mind that her beloved friend is resting peacefully on the other side because of the "many, many conversations" they had about faith when he was still alive:
"I know where Regis is, and I know who he's with. He was very curious, as always, listened. We always respected each other's opinions so highly. You know, in all the years we were together, we never had one cross word."
Wow. It's hard not to get choked up hearing how fond these two were of each other. It goes without saying Regis will be dearly missed by the countless people he's impacted throughout his storied career. WATCH Kathie Lee speak straight from the heart about this final encounter and their nearly perfect working relationship in the full clips (below):
R.I.P., Regis.
Related Posts

Source: Read Full Article