Kim Kardashian West Knew Kanye West Was Her 'Soulmate' Because of How He Sleeps
You know the saying, "love at first sight"? Well, in Kim Kardashian West's case, it was love at first sleep.
Unlike many people who fall for their significant others' good looks or charming attitude, the Keeping Up With the Kardashians star fell head over heels for Kanye West when she found out they both shared the same thermostat preferences.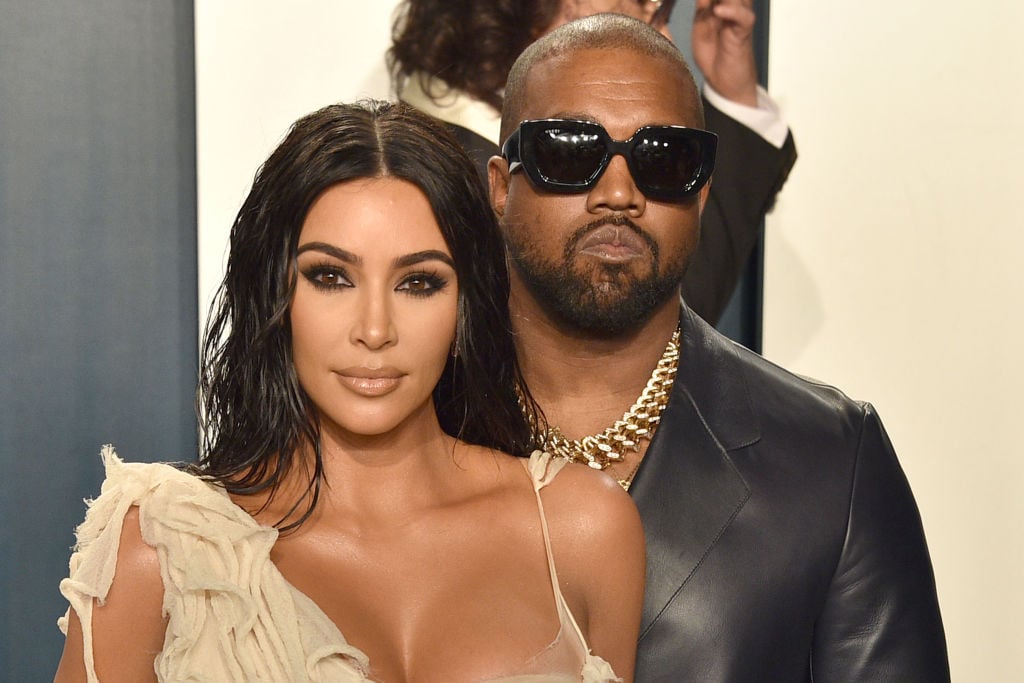 Kardashian and West like to be warm and cozy when they sleep
It was end game when Kardashian found out West likes to sleep the same way she does.
While appearing at the Create & Cultivate summit in Los Angeles — an event that brought together female entrepreneurs to discuss women in business — in 2018, the reality star opened up about her marriage to the rapper.
RELATED: Here's When the Kardashian Family Knew Kanye West Was 'The One' For Kim Kardashian
During the panel discussion, the KKW mogul was asked when she knew her hubby was "The One," and shared an unexpected anecdote that had nothing to do with his bold personality or creativity.
Instead, it had everything to do with him feeling warm and cozy when he sleeps, which is something that attracted Kardashian to West during the early days of their relationship.
"I sleep with the heat on… 80 degrees and socks and a robe, every single night," she shared. "The first night I slept at Kanye's house… I won't say the date because I'll get in trouble, but years and years ago, he slept with the heat on and socks, and I was like, 'OMG, I met my soulmate.'"
As the saying goes, the rest is history. After dating for a little more than a year, the couple got engaged in October 2013 and married on May 24, 2014.
That wasn't the only time Kardashian knew West was her soulmate
Though West's sleeping preferences solidified Kardashian's surmise that he was her soulmate, the reality star knew before then that he was the one for her.
During her 2019 "73 Questions With" Vogue video, the interviewer asked Kardashian, "How did you know that Kanye was the one?" to which she replied, "I knew he was the one when I went to his Paris fashion show."
RELATED: Kim Kardashian West and Kanye West: 4 Forgotten Photos of the Couple
Though she didn't elaborate in the video, Kardashian was likely referring to Paris Fashion Week 2012 when the rapper debuted his ready-to-wear fall/winter collection.
When the rapper was asked the same question during the video, he gave a completely different answer.
"I saw her in a paparazzi pic with Paris Hilton," he said with a big smile on his face, which made both Kardashian and the interviewer laugh.
Kardashian and West love each other unconditionally
Since getting married, Kardashian and West have kept their loving relationship going.
Though the pair have faced rumors of marriage troubles over the years, they've always denied divorce allegations and maintain that they are in a happy marriage.
Even with recent reports alleging that the pair's marriage is truly struggling amidst the COVID-19 pandemic, Kardashian and West continue to put up a united front and work through their issues.
Despite their differences, the couple love each other too much to give up on their marriage. And because they're soulmates, Kardashian and West are doing whatever's necessary to make sure they stay together.
RELATED: Kim Kardashian West Just Shut Down Kanye West Divorce Rumors on Instagram
Source: Read Full Article