Liz Cheney Lashes Out at Fox News for Airing Tucker Carlson's 'Lies' About Capitol Riot
"As Fox News knows, the election wasn't stolen and January 6 was not a 'false flag,'" says Republican congresswoman
Getty Images
Republican Rep. Liz Cheney lambasted Tucker Carlson and his employer, Fox News, for his documentary series on the Jan. 6 Capitol riot. The series, "Patriot Purge," will air on streaming platform Fox Nation and suggests the riot was a "false flag" operation.
"It appears that Fox News is giving Tucker Carlson a platform to spread the same type of lies that provoked violence on January 6. As Fox News knows, the election wasn't stolen and January 6 was not a 'false flag' operation," she tweeted, tagging News Corp CEO Rupert Murdoch and Fox News Media CEO Suzanne Scott among others.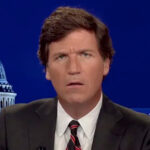 Cheney is vice chair of the House Select Committee on the January 6 Attack and has worked to uncover the motivation for the riot and hold those responsible accountable for it. The riot took place when supporters of then-president Donald Trump breached the Capitol in an effort to stop the certification of President Joe Biden's 2020 election win. Five people died.
The Republican congresswoman has been outspoken since the event and has been chastised by peers in her political party for criticizing Trump, Republicans and their supporters in the wake of the event.
The docuseries will be streamed through Carlson's "Tucker Carlson Originals," which run on Fox Nation. The streaming platform ensures that the three-part series is behind a paywall, though Carlson did preview part of it on Wednesday evening's show.
Source: Read Full Article