'Messed Up Mustache'? Rihanna Gets Real AF About Her Skincare Insecurities & Shares Her &#821
Fenty Skin is here, and Rihanna is ready to open up about her skincare journey!
"The new culture of skincare" dropped on Friday, and in honor of the debut, RiRi chatted with Morgan Stewart of E!'s Daily Pop to talk about her foray into the skincare space after a successful launch of Fenty Beauty in 2017.
Both ladies bonded over struggling with pigmentation and dark spots on the skin from the sun or past breakouts, which was a catalyst for the 32-year-old to start working on her line:
"I kind of got that, like, messed up mustache from the sun. And you don't want to wear makeup, but then you have a mustache because it's just dark."
So what finally started helping the mogul? The Fenty Skin Fat Water Pore-Refining Toner Serum is "one of my favorite products that we've made so far," she explained:
"I finally started to believe in toner. Because I didn't understand what toner did besides strip my skin all the time. It always felt really dry after, like I just cleaned it with something really harsh, and I don't like that feeling."
Speaking of the singer's skin, Morgan followed up with an inquiry into whether the brand was created with Rihanna's skin in mind or any specific type, to which the Pon de Replay crooner replied:
"Well, no because I've been through several stages of skincare issues, whether it started with acne or products that were too harsh and discoloring my skin, to hyperpigmentation…to getting older, being on a plane all day all night. There's so many things that affect the performance of your skin."
She added:
"I had to take all of that into account when making these products."
Compared to other celeb-owned skincare brands such as Kylie Skin which have more than a few products available, the Grammy Award winner chose to keep it simple (for now) with the aforementioned toner, a cleanser, and moisturizer with SPF.
You'll recall the mass praise she initially received, and still receives, for her expansive foundation shade range upon the drop of her beauty line, so the small launch was definitely a surprise, but an intentional one:
"I'm actually always in a hurry so I don't like a lot of steps when I'm trying to get out the door. I want to know what I need and I want it to work and I want it to be simple. And so three steps to start the journey was, of course, perfect for me, my lifestyle."
Though reviews have been mixed so far on the products, specifically because of the use of witch hazel as an ingredient, the Barbados native explained:
"… I was very cautious about what ingredients went into each product, and how they performed and how your skin felt, most importantly, and the results."
She added:
"They don't want complicated when it comes to skincare. They just want good skin and right there, available."
However, don't rule out new products coming in the future! Since development and testing "takes time," it might take a bit of time, but things are already in the works:
"That's why we've already been working on it. You'll have to wait and see, girl! It just gets better and better."
Will U be picking up any of RiRi's products, y'all?? Let us know (below) in the comments!!
Related Posts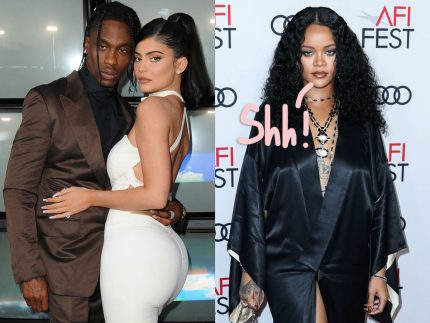 Source: Read Full Article