Musicians Whove Killed People
In the music business, it's impossible to predict how a person's career will go based on their past successes, because what may capture the listening audience one year may change the next, due to shifting musical trends, newer artists hitting the scene, and people just wanting to hear something new. But it's safe to say that most people probably haven't predicted that a famous celeb would eventually kill someone, but it's happened more times than some may realize.
Some musicians, in particular, who've committed such acts seemed to be put in a situation where avoiding a violent confrontation seemed nearly impossible, while others appeared to snap all of a sudden and lose control. Plus, there are artists who've used their music to camouflage a real-life of crime, only to be exposed later on. This time, we've selected a group of singers, producers, and instrumentalists who've created plenty of shock after taking someone's life, and regardless of what they've accomplished in their career, they'll probably always be associated with it on some level. So here it is: Musicians throughout the years who've killed people.
Keith Moon did a favor and it led to tragedy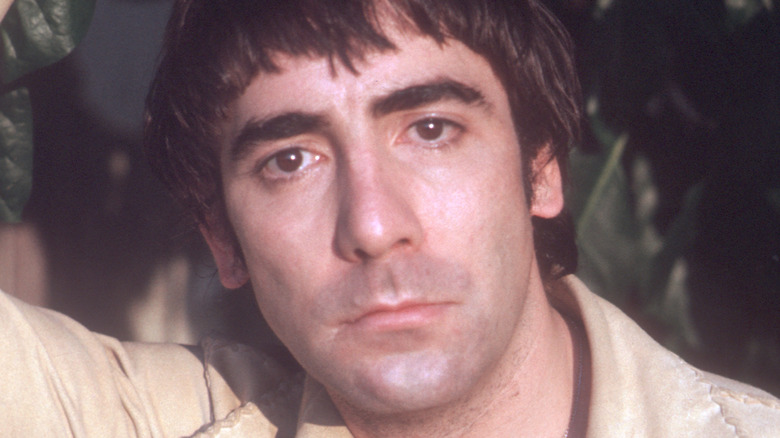 The night of January 4, 1970, led to a bunch of tragic events for The Who's drummer Keith Moon because that's when he attended the opening of the Red Lion pub in Hatfield, Hertfordshire, just outside of London, as a favor to his neighbor's son. The late musician probably assumed that he'd make an appearance, sign some autographs, then take off. According to Far Out, things didn't go that way since the pub hosted a blue-collar kind of crowd and some were put off by Moon arriving in a Bentley while dressed in fancy rock star attire. The drummer ordering expensive brandy instead of beer also probably didn't go over well with the working-class crowd. 
Then outside, when Moon tried to leave, a group of skinheads began pelting his Bentley with rocks and coins, while rocking the vehicle back and forth. From there, Moon's driver Neil Boland exited the car and spoke to the angry mob. That's when Moon, who was 23 at the time, jumped into the driver's seat, hit the gas pedal to flee but hit Boland, who got trapped underneath the car and was dragged down the street. Sadly, he died later at the hospital, and Moon was considered legally responsible for his death while being charged with drunk driving and driving without a license. The charges were eventually dropped and the incident was considered an accident. However, Moon still pleaded guilty to drunk driving and driving without a license.
Cassidy was part of a violent confrontation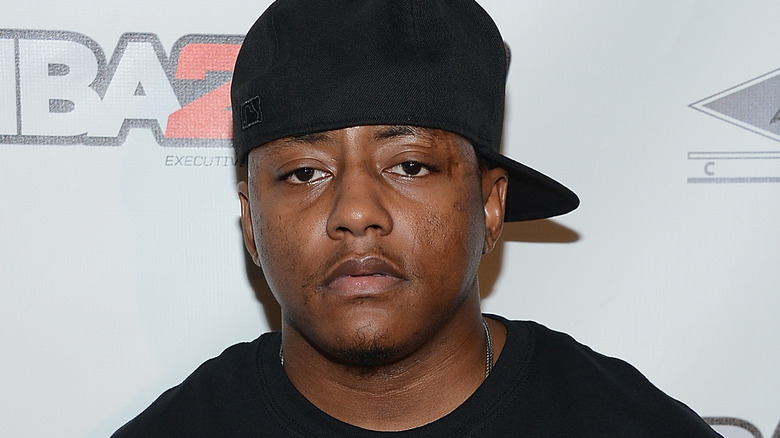 April 15, 2005, changed the lives of many because that's when a man named Desmond Hawkins was gunned down in Philadelphia and it was said that one of the triggermen was Philly rapper Cassidy. As the Philadelphia Daily News reported, per MTV, a fight broke out at a local pharmacy between one of the rapper's friends and Roberto Johnson, an associate of Hawkins'. That led to Hawkins later going to Cassidy's house with a group of men for some payback, but their van was met with gunfire before they were able to exit. Eventually, Cassidy, who was accused of shooting into the van with others, was charged with murder, attempted murder, aggravated assault, conspiracy and weapons possession, as well as reckless endangerment. 
The "I'm a Hustla" rapper turned himself into Philly police on June 17 of that year. Then on January 24, 2006, Judge Jane Greenspan found him guilty of involuntary manslaughter, giving him an 11 and a half to 23 months sentence, plus, 10 years of probation. At the time, however, Cassidy had already been locked up for seven months, which was credited toward his sentence. "It's not like I got away free from everything," Cassidy told DJ Vlad on VladTV in 2019. "And I was [an] innocent man but I had to just sit on that by how I just was and decided to carry it out."
Vince Neil said he 'should've gone to prison'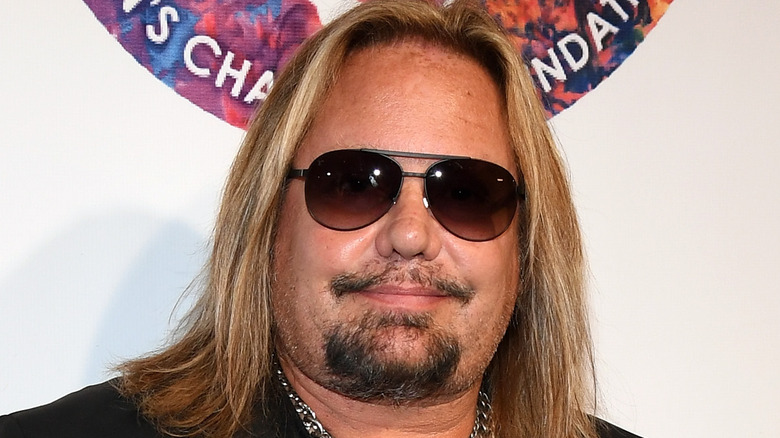 In 1984, Mötley Crüe's Vince Neil probably felt like he was on top of the world because the band released their sophomore album "Shout at the Devil " a few months prior and it peaked at number 17 on the Billboard charts. But a December 1984 car crash would change everything for Neil, as it caused the death of Hanoi Rocks drummer Razzle. As Classic Rock points out, Mötley threw a party for Hanoi Rocks when they arrived in Los Angeles, which led to days of drinking. Then about three days into the wild shindig, Neil hopped into his 1972 Ford Pantera for an alcohol run and Razzle went with him. 
Shortly after, while going 65mph in a 25mph zone, the Mötley Crüe singer hit a wet spot and ran into two cars that were in oncoming traffic. Neil was able to walk away from the crash with cracked ribs and cuts to his face, but Razzle died before arriving at South Bay Hospital in Redondo Beach, California. In time, Vince Neil was charged with drunk driving as well as vehicular manslaughter and his punishment included a 20-day jail sentence. Plus, he had to pay $2.6 million to others injured in the crash and do 200 hours of community service. "I should have gone to prison," Neil told Blender in 2005 (via Contact Music). "We just thought we could do anything."
Claudine Longet faced a lot of public scrutiny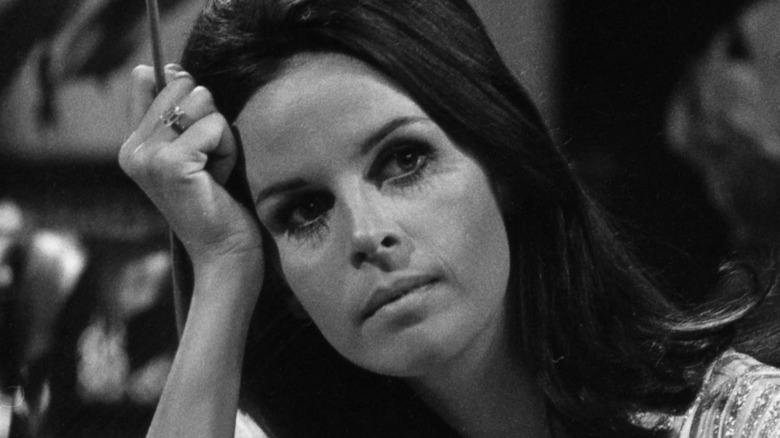 Even though Parisian entertainer Claudine Longet had minor success as a singer, she'll probably always be associated with the date of March 21, 1976, the day she shot and killed her boyfriend, American Olympic skier Vladimir "Spider" Sabich in Aspen, Colorado. And unlike many such cases, there wasn't a whodunnit mystery to be solved, because Longet admitted to pulling the trigger but said it was an accident. According to GQ, Sabich was shot after he returned to his home from skiing, in the bathroom. Longet came into the room armed with an imitation World War II Luger at one point and fired a shot, hitting Sabich in the stomach, killing him before he arrived at the hospital. 
Longet said the gun went off after she playfully pointed it at her boyfriend while making "bang bang" sounds, but police didn't buy her story, because she was charged with the felony of reckless manslaughter. Plus, there was talk that Sabich was planning to leave Longet, which gave her motive. In the end, she was found guilty of criminally negligent homicide and received a $250 fine (via Murderpedia), while being sentenced to 30 days in prison, causing outrage. However, Longet, who has since removed herself from the public eye, was sued civilly by Sabich's family for $780,000.
The Kidd Creole said he was acting in self-defense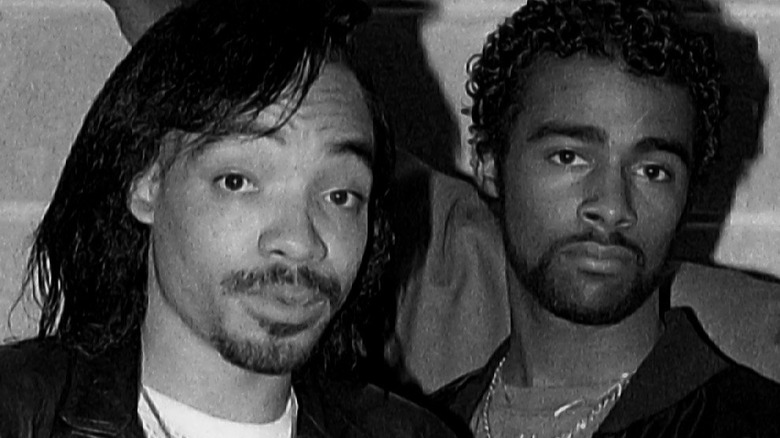 One year you're being inducted into the Rock and Roll Hall of Fame, then 10 years later you're being charged with second-degree murder. That's how it went for Grandmaster Flash and the Furious Five's The Kidd Creole (above, left), real name Nathaniel Glover, who was allegedly seen on surveillance video stabbing a homeless man named John Jolly in New York City in 2017. 
According to Daily News, Glover was on his way to his security guard job when Jolly approached him on Manhattan's East 44th street. "What's up?" said Jolly, and it's said that Glover took that as a come-on. Then after walking away, the rapper circled back, and Jolly began speaking to him aggressively. That's when Glover stabbed him twice in the chest with a steak knife, believing he was about to be robbed. 
As of March of 2021, the rap pioneer hasn't been tried yet and he's being held at the Vernon C. Bain Correctional Center in The Bronx, New York, where he spoke to The Source. According to Glover, he was merely acting in self-defense and the incident had nothing to do with being propositioned. "Now I'm fighting the image that they portrayed me as a person who's intolerant of people with alternative lifestyles and that's not true," he said. "I regret that this incident happened. I never intended on hurting him … he scared me and I was just trying to defend myself."
Ra Diggs was accused of being a crime boss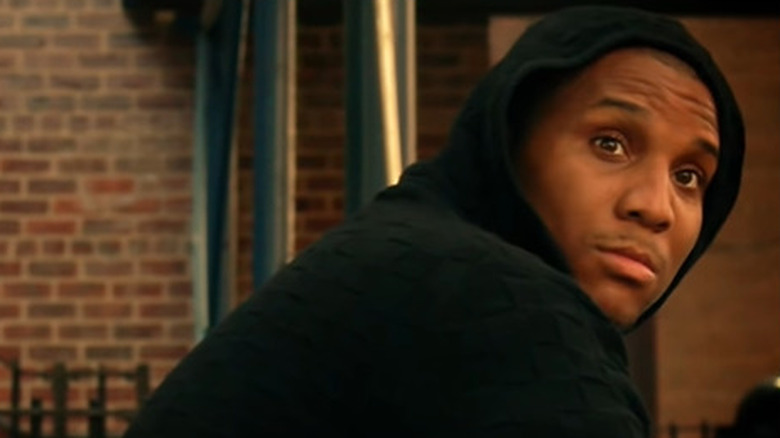 Some rappers take on an image of a crime boss to help sell records but Brooklyn rapper Ra Diggs was the real deal, and in June of 2014 he was convicted of committing three murders, dealing drugs, and racketeering. 
As The New York Times reported, Diggs was born Ronald Herron, and New York prosecutors said he was the leader of a faction of the Bloods street gang called the Murderous Mad Dawgs. Authorities also said that Herron sat at the top of a thriving cocaine and heroin business, with most of his clientele being in Brooklyn's Gowanus and Wyckoff Houses. Detailing the killings, police said they're certain that Herron murdered Frederick Brooks, Richard Russo, and Victor Zapata, although he was acquitted of killing Brooks while being accused of witness intimidation. As for Zapata, Daily News said Herron threatened to kill him on a video after Zapata allegedly shot someone in his crew.
Herron was also accused of using his rap career to mask his real profession as a gang leader but it didn't work. "He styled himself a rap artist, but the jury's verdict makes clear who Herron really is: a drug dealer and murderer who sought power through fear and intimidation," said Loretta E. Lynch, the United States attorney for the Eastern District of New York (via The New York Times). In April of 2015, Herron was sentenced to 12 life terms as well as 105 years. 
Spade Cooley created the biggest murder trial of his day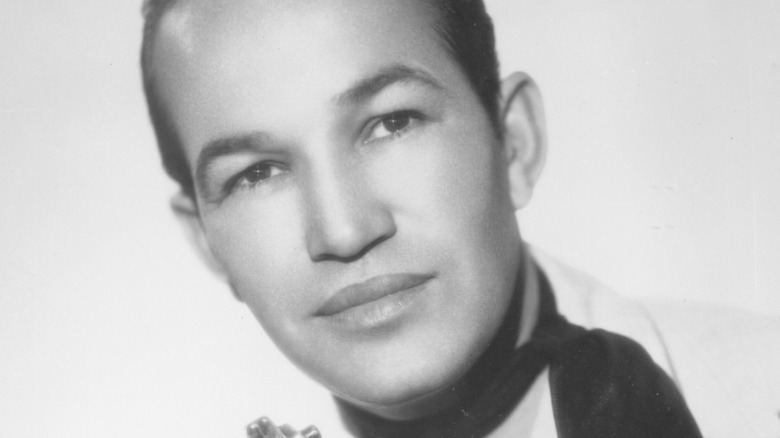 Western swing artist Donnell Clyde Cooley, better known as Spade Cooley, became a music and TV star in the late '1940s, eventually having a local variety show in Santa Monica, California. But over time, his star power dimmed, which led to increased drinking and fits of rage. The website Gothic Western said Spade also abused his second wife Ella Mae Cooley, who he killed in 1961 in their home in Kern County, California, and the case was one of the biggest of its day.
Reportedly, Spade believed that Ella Mae, who he met when she started singing in his band, was cheating on him. And in March of 1961, she supposedly admitted to someone that she had an affair with singer and actor Roy Rogers in the early '50s. Ella Mae also asked for a divorce from Spade around that time, as well as custody of their three children Melody, Donnell Jr., and John Cooley. Per Taste of Country, on April 3, 1961, Spade beat and killed his wife, while forcing a 14-year-old Melody to watch. 
He was arrested and charged, pleaded insanity but later withdrew that plea. Spade was convicted of first-degree murder on August 19, 1961, and received a life sentence, but by 1968, after suffering from poor health, his sentence was changed to a 1970 release by the California State Adult Authority. He then received a 72-hour prison pass to play a benefit show in Oakland on November 23, 1969, had a heart attack during intermission, and died at 58.
If you or someone you know is dealing with domestic abuse, you can call the National Domestic Violence Hotline at 1−800−799−7233. You can also find more information, resources, and support at their website.
Gucci Mane was forced to defend himself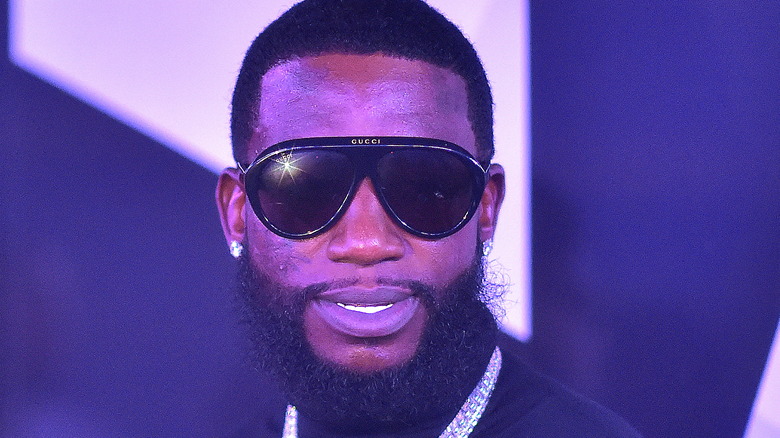 On May 10, 2005, Atlanta rapper Gucci Mane went to a female friend's apartment in Decatur, Georgia for a visit but the night ended in violence, as a man named Henry Lee Clark III was shot dead. Afterward, Mane was accused of pulling the trigger, something he didn't deny and he was indicted on murder charges, which were later dropped (via MTV). That's because prosecutors lacked the proper evidence to disprove Mane's claim that he was acting in self-defense. According to the rapper's attorney Dennis Scheib, five men burst into the female friend's apartment with guns drawn and assaulted Mane while threatening to shoot him.
A witness who was outside during the incident said he saw the men burst into the apartment, then run out and got a glimpse of Lee Clark shot. The wounded man then ran into the woods, where his body was eventually found. "It was going to be either a robbery, an aggravated assault, or a murder," said Scheib. "[Mane] had a right to defend himself." It was also revealed that Lee Clark, who was a rapper named Pookie Loc, was a friend of Mane's longtime rival, Atlanta rapper Jeezy, who denied sending Lee Clark to rob Mane. "Lord knows I would never send homie on no dummy mission. I got too much love," Jeezy told Genius in 2015.
G. Dep felt a tremendous amount of guilt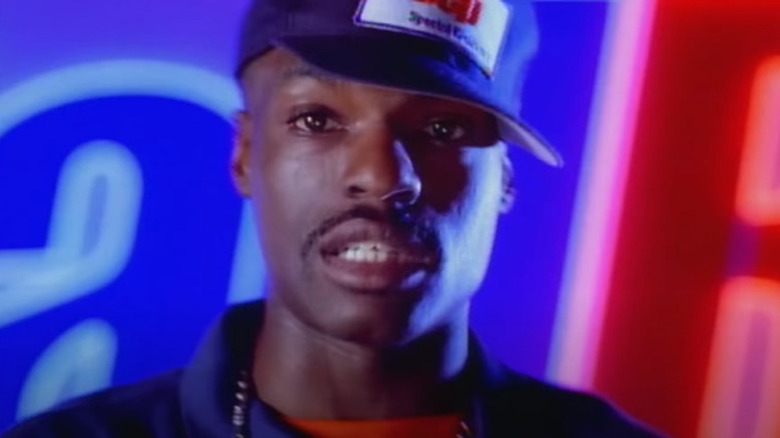 From the outside looking in, things appeared to be peachy keen for Harlem, New York rapper Trevell Coleman, otherwise known as G. Dep. This is because he was signed to Sean "Diddy" Combs' Bad Boy record label, and his song "Special Delivery" peaked at number 7 on Billboard's Hot 100 chart. But in actuality, Coleman was far from being happy and it had nothing to do with the pressures of fame or trying to make another hit record. It was because the rapper felt a tremendous amount of guilt for shooting and killing a man named John Henkel in 1993 in New York City when he was 18-years old. So in 2010, at 37 years of age, Coleman walked into a New York police station and confessed to the crime.
Later, he was charged with murder, and explained why he decided to turn himself in during an interview. "I think I was just at a point where enough is enough," Coleman told ABC News in 2013. "It never went away, me thinking about it, so it was like I had to do something about it … It seemed like [it] just wasn't fair for me to be happy. I used to curb my happiness, you know. Like, just, 'Hah, wait a minute. I'm smiling too much. I'm laughing too much.'" On May 8, 2012, Coleman received a prison sentence of 15 years to life and said confessing lifted a weight that he had been carrying around for years.
Phil Spector said he did nothing wrong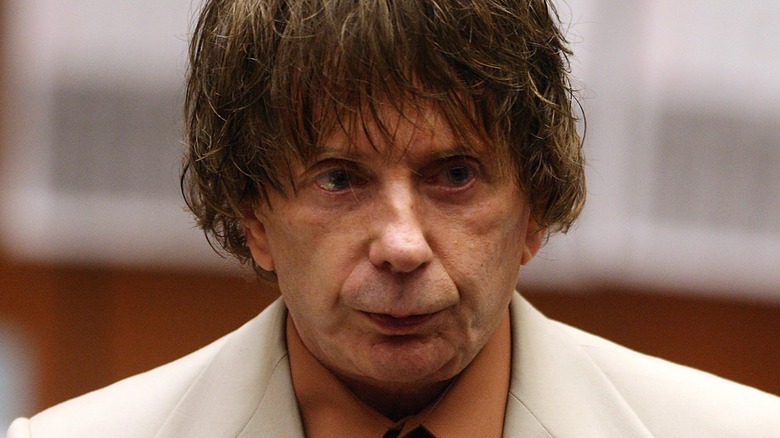 On April 13, 2009, famed music producer Phil Spector was found guilty of murdering 40-year-old actor Lana Clarkson at his home in Alhambra, California in 2003 and received a prison sentence of 19 years to life. The guilty verdict came down after Spector's second trial, as the first in 2007 resulted in a mistrial. CNN reported that Clarkson, who starred in movies like "Fast Times at Ridgemont High," "Scarface," and "Blind Date," was found dead in a chair in the foyer of Spector's home.
During the 2007 trial, Spector's legal team claimed that Clarkson was upset at not being a more in-demand actor and grabbed Spector's gun to commit suicide, which District Attorney Truc Do said didn't make sense, per CNN. That's because Clarkson went shopping with her mother on the day she was killed and "bought eight pairs of shoes." And Do believed that no one would make such a purchase if they were planning to kill themselves later that night. Spector also said that Clarkson was killed after grabbing his gun and putting it in her mouth. "She kissed the gun. I have no idea why," he told Esquire in 2003 (via People). 
But Spector's driver that night, Adriano de Souza, who called 911, said he saw the producer run out the backdoor of his house and say, "I think I killed someone" (via The Guardian). Spector died from COVID-19 on January 16, 2021, at 81 years old, reported TMZ.
Rosco P. Coldchain committed a double homicide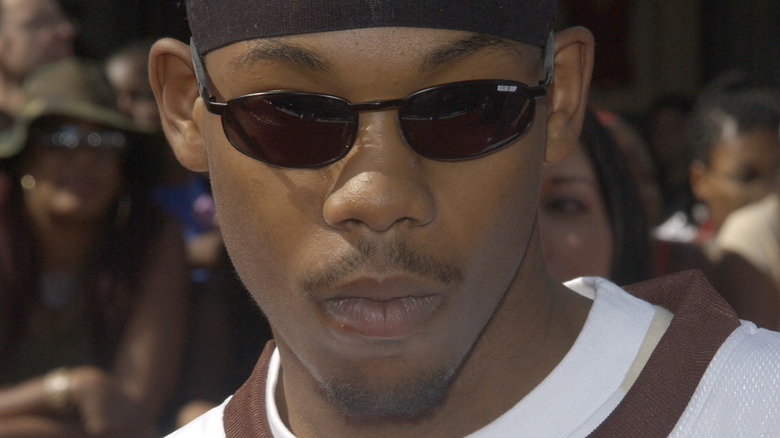 Rapper Rosco P. Coldchain, real name Amin Porter, was arrested for committing a double-murder in 2008 in his hometown of Philadelphia. Before that, he was signed to Star Trak Records, owned by Pharrell Williams and his Neptunes production partner Chad Hugo. As AllHipHop reports, Porter was picked up by police shortly after a man said to be in his teens or early 20s was shot and killed on December 18, 2008. Another man was also killed during the violent incident, although it's not clear if he was an innocent bystander or not. In the end, Porter was sentenced to life in prison without the possibility of parole, per TheRichest.
As of 2021, the rapper hasn't spoken about his case publicly, nor has his legal representation. But in 2015, during an interview on New York radio station Hot 97, rapper Pusha T, whose group the Clipse was also signed to Star Trak Records, gave an update. "Roscoe is definitely coming home in the next few years," Pusha revealed. "He had a development in his case in which it worked out in his favor, with another defendant or whatever. They messed something up and it worked out for him, from what I understand."
Jim Gordon said he was in a dark dream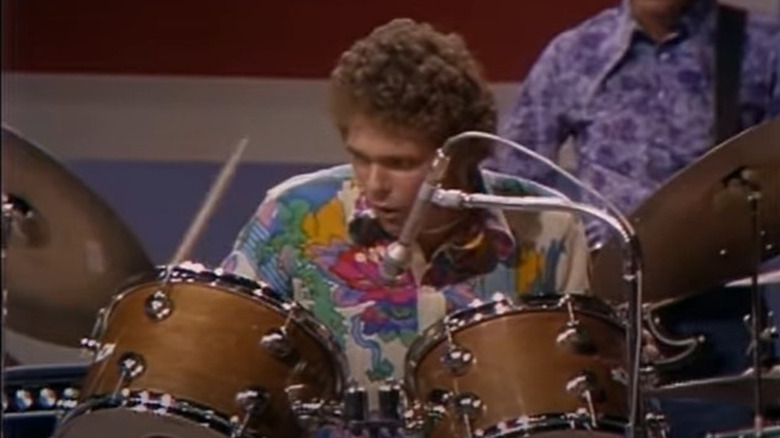 Drummer Jim Gordon wasn't one of those guys who only dreamt of playing with some of music's biggest acts, he accomplished it and played for people like Tom Petty, George Harrison, Carly Simon, and The Beach Boys. Plus, he was in a band with Eric Clapton called Derek and the Dominos and co-wrote their hit song "Layla." But Gordon is more known for the brutal killing of his mother Osa Marie Gordon on June 3, 1983, killing her with a hammer and butcher knife, according to Best Classic Bands. The disgraced rocker, who was diagnosed with schizophrenia, said he committed the heinous act after hearing voices in his head, and he later received a prison sentence of 16 years to life.
As of 2018, Gordon has been denied parole 10 times by the Board of Parole Hearings, per Billboard, with his family and attorney asking to keep him locked up. "I think he would be a threat to himself if he were to be released. I think he'd hurt somebody else," said Gordon's attorney Jeffrey Hall. Gordon also spoke about the crime with The Philadelphia Inquirer in 2014, which was later shared by Ultimate Classic Rock, and said it felt like he was in a "dream" or on "some other plane."
If you or someone you know is struggling with mental health, please contact the Crisis Text Line by texting HOME to 741741, call the National Alliance on Mental Illness helpline at 1-800-950-NAMI (6264), or visit the National Institute of Mental Health website.
Chi-Ali became a fugitive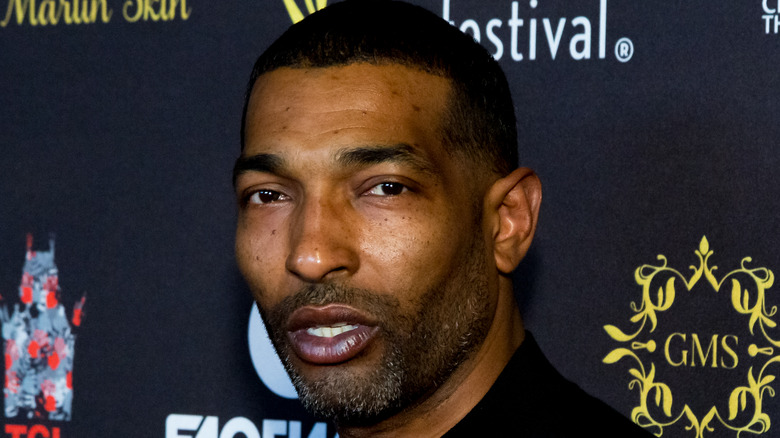 When rapper Chi-Ali released his single "Age Ain't Nothin' But a Number" in 1992, he was often seen on TV since the video was pretty popular. But years later, Ali — who was a part of the Native Tongues rap collective with A Tribe Called Quest, Queen Latifah, and others, would be on "America's Most Wanted" twice, Why? Because he shot and killed a man named Sean Raymond in the Bronx on February 14, 2000, and Raymond was the brother of the rapper's girlfriend at the time. As NME reported, the argument was over $300 and a bunch of music CDs, and Raymond admitted to stealing 60 of those CDs because the rapper supposedly owed him money. 
The two roommates eventually got into a fight, Ali pulled the trigger, and shot Raymond five times in the chest. The rapper then took off and left New York after being charged with second-degree murder, illegal firearm use, assault, reckless endangerment, and criminal possession of a weapon. He was then arrested in The Bronx on March 5, 2001, for weed possession, as well as a handgun, and also booked for the shooting. Ali was eventually sentenced to 14 years and got out after 12 years. "Looking back, I realized that I messed up, not only my life, and the lives of so many people, from my family to his family … I wish I can take back what I did," he said on VladTV in 2012.
C-Murder may get a new trial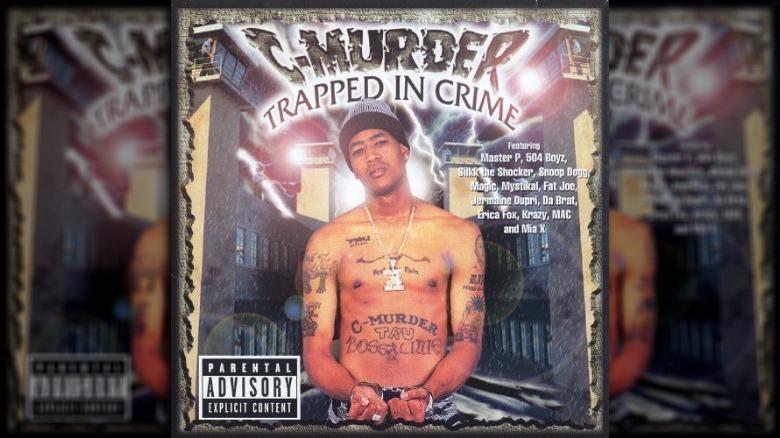 It all changed for New Orleans rapper and Master P's younger brother Corey "C-Murder" Miller on January 18, 2002, because that's when 16-year old Steve Thomas was shot and killed at the now-closed Platinum Club in Harvey, Louisiana — with Miller being accused of pulling the trigger. Per NME, he was convicted of the crime on September 30, 2003, however, the verdict was tossed out because two of the prosecutors' main witnesses had criminal rap sheets, which was never communicated. Then another trial commenced in 2009, where Miller was found guilty of second-degree murder and given a life prison sentence.
Reportedly, Thomas was in a rap battle on that deadly night, bumped into one of Miller's friends once getting off stage, and a fight broke out, which allegedly made Miller fire a gun. But in 2018, one of the prosecutors' key witnesses, Kenneth Jordan said in a sworn statement (via Billboard) that investigators at the Jefferson Parish Sheriff's Office forced him to lie under oath and if he didn't they'd arrest him for something. Then six days later, a second witness named Darnell Jordan, who was a bouncer at the Platinum Club, also recanted his statement in a letter and said he was "tricked" into naming Miller as the shooter. As of the publication of this writing, Miller hasn't been granted a new trial, but in August of 2020, Kim Kardashian said she'd be working with R&B star Monica, Miller's ex-girlfriend, to help free him.
Source: Read Full Article