New Photo Sparks Duggar Family Pregnancy Rumors After Vow Renewal
Fans who've followed the Duggars over the years know Duggar family pregnancies are a major deal. Jim Bob and Michelle Duggar infamously have 19 kids, and many of their adult children followed in their footsteps. Now, pregnancy rumors are sparking once again after photos from a vow renewal event were released.
Abbie Duggar sparked pregnancy rumors after a family friend's vow renewal
Gabby and Andrew Patton are friends with the Duggar family, and they invited the Duggars to their vow renewal. A Reddit user posted photos of the event's attendees in April 2022, and Michelle Duggar was spotted immediately. More recently, more photos of the Patton vow renewal cropped up on Reddit, showing even more Duggar family members in attendance. Joy-Anna Duggar and Austin Forsyth, John-David and Abbie Duggar, and Jed and Katey Duggar were all spotted.
One photo sparks Duggar family pregnancy rumors. Abbie Duggar and her friend are posing in a photo together, with both of them cradling Abbie's belly. Fans on Reddit assume this is an early pregnancy announcement for John-David and Abbie. The original poster of the photo said it was posted to Facebook.
With the photo publicly posted, why haven't Abbie and John-David made an official announcement? Some Duggar family followers think Josh Duggar's sentencing has something to do with it.
"I think a bunch of announcements are coming after the family gets past Josh's sentencing," a Reddit user suggested.
John-David Duggar and Abbie Duggar went against the Duggar family grain by only having 1 child so far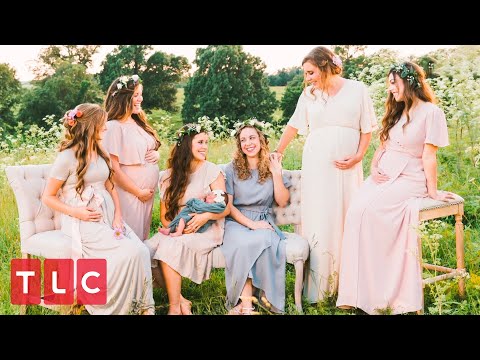 Jim Bob and Michelle Duggar made it known they don't believe in birth control. Instead, they let God decide how many children they should have. But it looks like John-David and Abbie Duggar went against the grain. They had their daughter, Grace, in January 2020 — and it doesn't seem like they've been in a rush to have more children since their daughter's birth.
Additionally, Abbie's pregnancy with Grace wasn't easy. She labored for 36 hours before the birth. And during her pregnancy, Us Weekly reports she was diagnosed with hyperemesis gravidarum — persistent nausea and vomiting. "It hit her hard, and she was down for probably seven weeks with severe morning sickness," John-David told Us Weekly. " … We made multiple visits to the ER for dehydration. … She couldn't eat, pretty much, or drink, or anything. So she was actually on IVs and had IVs at home. So, that was a pretty scary time."
How many Duggars are expecting in 2022?
If Abbie Duggar really is expecting, how many other Duggar family members are pregnant in 2022?
Currently, only Jill Duggar had a recent pregnancy announcement. She took to Instagram and her family blog to announce the gender of the baby in March 2022.
"We had originally planned on finding out our baby's gender earlier, a couple weeks ago, but Covid hit our family and we had to delay the exciting revelation," she wrote on the Dillard Family blog. "However, this turned out to be a blessing in disguise because by the time we were able to reschedule, Israel was on spring break. This meant our whole family could be together for the appointment, as we all found out together that another little boy would be joining the Dillard tribe!"
Jed Duggar and his wife, Katey, recently announced the birth of their first child, Truett. The baby was born in May 2022.
Check out Showbiz Cheat Sheet on Facebook!
Source: Read Full Article