Nick Jonas Is Teaching Priyanka Chopra How to Play the Piano While They Quarantine Together
Since there's no telling when the coronavirus (COVID-190) pandemic will be over, Priyanka Chopra Jonas is using this time at home to learn a new creative skill and has enlisted the help of her husband Nick Jonas to show her the ins and outs.
In a new interview, the actress opened up about her and Jonas' in-home quarantine activities, revealing that the singer has been teaching her how to play the piano while they self-isolate together.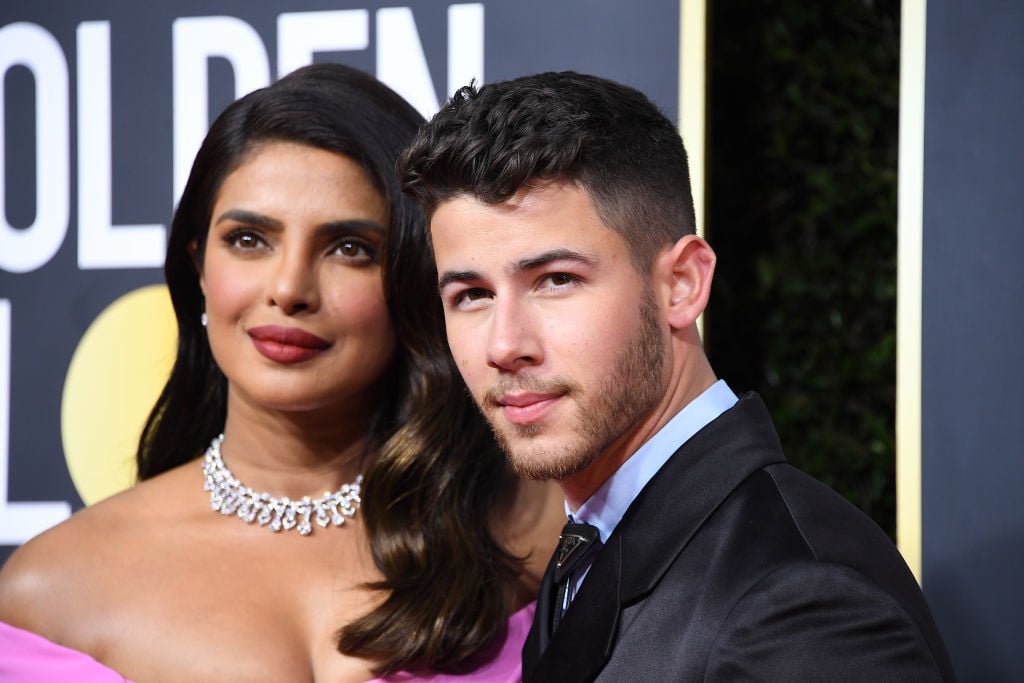 Chopra and Jonas are partaking in different activities together
Finding new ways to pass the time while self-isolating together may be hard for some couples, but so far, it's been a breeze for Chopra and Jonas.
For the past few weeks, the couple's been making the most out of the government-mandated quarantine by not only spending quality time together but helping each other stay creative as they learn a new skill or two.
During her new interview with Vogue, the actress revealed that she's learning a lot from her husband while under quarantine, sharing that one of the main things he's currently teaching her is how to play the piano.
"I've also started the piano — I make my husband teach me," the 37-year-old revealed. "I've never played, but I've always wanted to learn an instrument, so I make him give me a half-hour or 45-minute lesson every day."
In addition to being her "in-house piano teacher," Chopra admits that Jonas is also her "in-house physical trainer, and in-house writing partner."
Though the lovebirds are enjoying all of the quality time they're getting to spend together, they still give each other space to do their own things every so often.
The "Isn't It Romantic" star went on to reveal that she's been keeping busy by dancing. "I've taken a hip-hop dance class too, because I miss dancing!" she exclaimed.
Chopra has also been working on a few creative projects, which she hopes to finish by the time this quarantine is over.
"I've also been working on my book a lot, and this time is going to help me finish it," she added. "This time is, fortunately, and unfortunately, given me time to think about finishing that book."
The couple's taking the quarantine in stride
Just like many of us, Chopra Jonas and the JoBro have been isolating in their home for more than a month due to the ongoing pandemic. But despite having to miss out on a few planned events and family gatherings, the couple's happy they quarantined themselves when they did.
"We were supposed to be in India for Holi, but we cut our trip short and came back to America because we were worried about borders being locked down," the actress told the outlet.
She also noted that since the "Sucker" crooner is a "Type 1 diabetic," the pair "felt it was important to go into quarantine almost immediately."
Though the pandemic caused major setbacks in a lot of people's lives, Chopra admits that she's looking on the brighter side of this situation and has been using her time in quarantine to reflect on the things that are most important in life.
"Being in this quarantine has made me realize that some of the stresses we put on ourselves in our normal lives may or may not be important," she said. "It's good to take a breather, take stock of your life, and tell your loved ones you love them."
Though it might not seem like it, the coronavirus is definitely is a gift in disguise, and once this is all over, we'll all going to go back to our normal lifestyles with a much different outlook on life.
Source: Read Full Article