Prince Andrew 'thinks he will be able to resume royal duties at some point'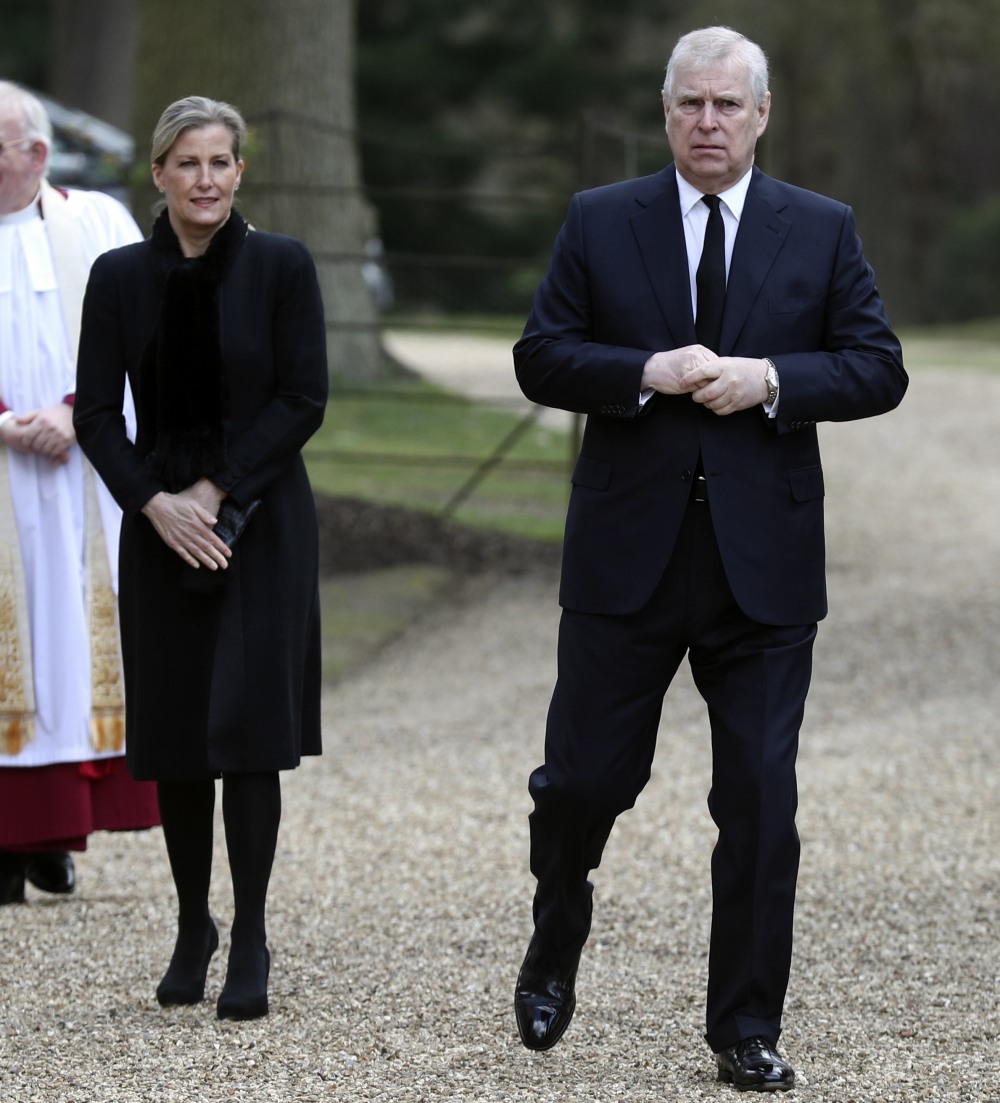 On Sunday, the Earl and Countess of Wessex attended a church service in remembrance of Prince Philip, and they ended up speaking on camera about the Duke. Prince Andrew was also there and he didn't miss the opportunity to also speak on camera. It was a naked attempt to exploit his father's death to publicly rehabilitate himself. Andrew stepped down from royal duties in late 2019, and he's spent the past year and a half trying to launch some kind of comeback. The Prince of Wales has managed to block him every time, even though it's clear that the Queen wants Andrew back in the royal fold. With the Duke of Edinburgh's passing, it's also very clear that Andrew believes he's on the comeback trail and this time it will stick. Dan Wootton at the Daily Mail had a piece about it:
Wootton hears that Andrew is confident he'll make a big return: I've learned that Andrew spoke out as he becomes increasingly confident he will be able to return to some royal duties in the future, believing the public will soften their stance towards him. His supporters hope Brits will feel sympathy as they see Andrew reunited with his family members to grieve at the Duke of Edinburgh's televised funeral on Saturday.

He's got a role in funeral preparations: Andrew has insisted on taking a full role during the funeral preparations and intends to use his status as the Queen's favourite son to support her on a daily basis behind-the-scenes at Windsor Castle as she deals with her grief. However, some senior royal courtiers disagree that there is a way back for the Duke of York. While they acknowledge Andrew has a right to attend his father's service, they do not think it should provide a springboard back to other high profile 'Buckingham Palace balcony' events. Prince Charles is believed to agree with them.

A source close to Prince Andrew revealed: 'Despite the fact he's, to all intents and purposes, finished as a working royal, he's still extremely close to the Queen. He talks to her almost on a daily basis. He will be extremely supportive to her in the coming days, weeks and months. He's still her favourite son, despite all the problems. He will be right there for her at this darkest hour.'

Ghislaine Maxwell will not call him as a witness: My source added: 'He still harbours thoughts that he can make a comeback. He genuinely thinks that's possible. It's promising that Ghislane doesn't appear to plan to call him as a witness. He still does believe in his heart of hearts that he can return and that time will be a healer. He thinks he will be able to resume royal duties at some point and save his reputation. He hopes the public, if he's supporting his mother in this difficult time, might give him the benefit of the doubt. He hopes there is a way back.'

Charles isn't having it: 'Prince Andrew might hope that this sad situation changes things, but Prince Charles is adamant there is no way back while allegations hang over him. He spoke on camera in a private capacity because this is a family event. No one can stop him doing that.'
[From The Daily Mail]
Wootton also said that it's unlikely Fergie will attend Philip's funeral, which makes sense because Philip absolutely loathed that woman. As for Wootton's exclusive… it's clear that there's still a significant battle between Charles and Andrew. Andrew keeps reminding everyone – especially Chuck – that he's mummy's favorite and mummy wants him back. Charles keeps pushing back. I think Chuck will win here, but I do think Andrew will be seen more with the Queen in a "private capacity," like… taking her to church, that kind of thing. Stuff which Chuck can't control.
Embed from Getty Images
Embed from Getty Images
Photos courtesy of Avalon Red, Getty.
Source: Read Full Article