Shawn Johnson and Husband Andrew East Get Creative in Celebrating Their Anniversary During Quarantine
Olympic gymnast and former Dancing With The Stars champ Shawn Johnson East recently welcomed her first child, daughter Drew Hazel, with husband Andrew East in October. With the family in lockdown amidst the coronavirus crisis, the couple had to think outside the box on how to commemorate their fourth wedding anniversary.
The gold medalist recently commented on time in quarantine with her husband and daughter, and shared details on how they were able to make their anniversary celebration special.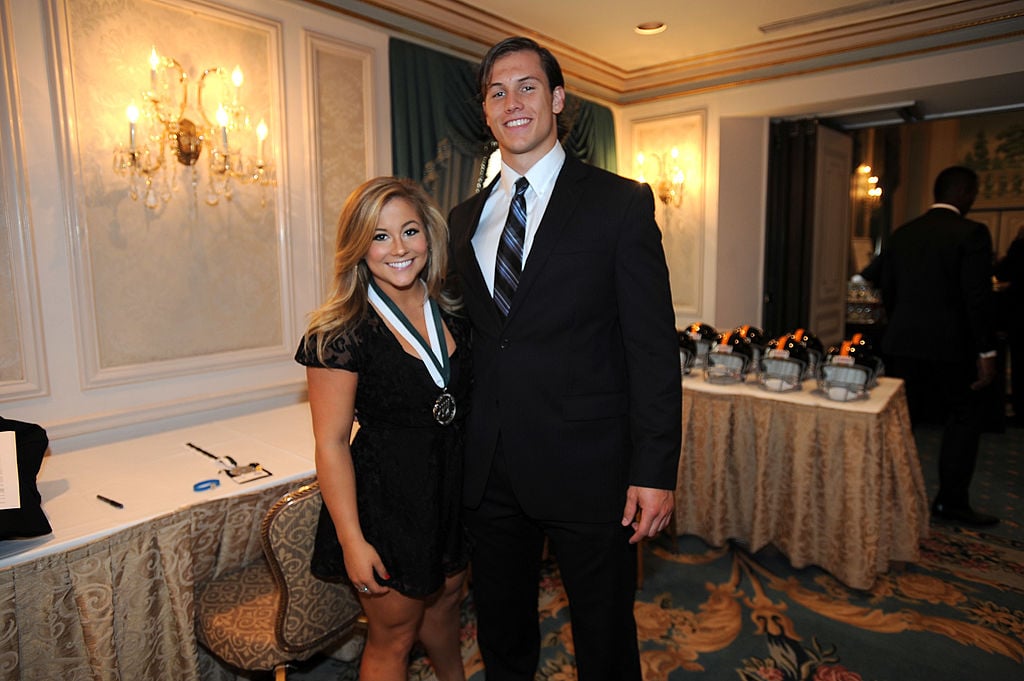 The 'DWTS' champ discusses relationship changes after baby
Always active on social media, Johnson and East are very open about changes and challenges in their lives, including how having a baby shifted the dynamics of their relationship.
"It's not something people prepare you for," Johnson told Prevention in February. "You're used to you and your significant other being each other's top priority the whole time. You never have to share your person with another person… trying to figure out that new dynamic of three, it takes an adjustment period."
East acknowledged how the lack of sleep that accompanies the care of a newborn can affect quality time in the marriage.
"After the early mornings and late nights, the first couple of months are so hard, because by the time it's just me and Shawn when we put Drew down at night, it's like, 'Don't talk to me, I'm tired. I wanna lay in bed,'" East explained.
Despite the adjustments, the former professional football player praised his wife for how she's rising to the challenges of motherhood. "I've been so impressed with Shawn," he said. "It's really amazing to see all of the sacrifices that moms make. There's so many decisions that need to be made, and so many emotions that go into parenting."
Shawn Johnson and Andrew East mark four years of marriage
Now in quarantine like the rest of the country due to the COVID-19 outbreak, the couple is getting plenty of time together and with their 6-month-old daughter. East shared that they are learning how to adjust now that "the pace is just slowed down."
"It was tough for us for the first couple of weeks," he said, according to Good Morning America. "But it's been really fantastic to kind of just sit on the front porch and not have anything to talk about sometimes — as opposed to stressing out and like, 'Oh, we got to make sure we got to do this,' and tackling the to-do list."
While lockdown prevented the couple from commemorating their fourth wedding anniversary at a fancy restaurant or event, they were still able to get some family members to take over babysitting duties where they could enjoy a special evening. Johnson and East got a bit inventive in setting a romantic ambiance while keeping things low key.
"So my mom and dad are actually quarantined with us," Johnson said. "So they watched our daughter inside the house and then we went and sat in our backyard in lawn chairs and we ate tacos and drank margaritas in onesies."
Olympic gymnast's concerns for her daughter
Though Johnson is focusing on the positives of being with her family, she is increasingly concerned about Drew's welfare in the midst of the pandemic.
"There's all these new worries and fears you have in general about taking care of your kid and making the right decisions and protecting them," the DWTS star admitted. "For me, quarantine has been this massive anxiety and fear of how do I keep my baby, our baby, healthy? How do you go to the grocery store and not risk bringing it home?"
With her husband being a strong emotional support, Johnson realizes that many people are going through the same issues. "I think everyone within homes might have differing opinions," she said. "Everyone's trying to process how to go about all of it."
Congratulations to the happy couple on four years of marriage!
Source: Read Full Article