Shawn Mendes Apologizes to Sam Smith After Using the Wrong Pronouns
Shawn Mendes publically acknowledged his mistake after introducing Sam Smith using the incorrect pronouns at iHeartRadio's Jingle Ball on Thursday. Sam identifies as non-binary and uses the pronouns "they, them, and theirs," and Shawn misgendered them at the live concert.
"Oh @samsmith I'm so sorry for referring to you as a 'he' for your jingle ball introduction," Shawn wrote on his Instagram Story on December 11. "It absolutely slipped my mind. Wont happen again … Sending you so much love ! Also you absolutely are one of the funniest people I've ever met ! ❤️❤️."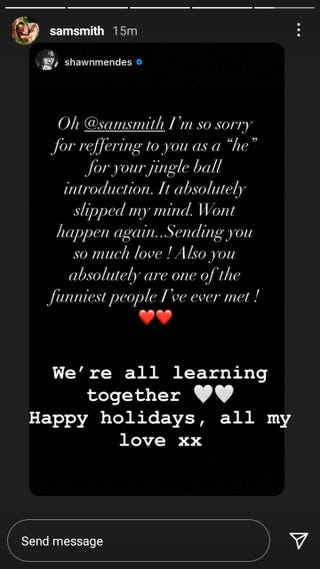 Sam quickly accepted his apology and wrote on Instagram, "We're all learning together 🤍 🤍 Happy holidays, all my love xx." It's refreshing to see a Hollywood mishap settled so… respectfully. Shawn messed up and said sorry and Sam accepted his apology. The end. No drama.
In September 2019, Sam announced that they identify as non-binary:
Much love to these two icons.
Source: Read Full Article