Sitcom Stars Who Did Serious Jail Time
The following article includes mentions of drug use, domestic violence, sexual assault, and attempted child abuse.
There's something about sitcom stars that makes it seem like we know them — it's almost like they're family. Maybe it's because we watched them play fun and inspiring characters on a warm, glowing, entrancing box in our living rooms or bedrooms, surrounded by loved ones. Or, perhaps it's because we've seen those episodes dozens of times in reruns over the years. At any rate, we have a collective cultural tendency to conflate TV comedy characters with the actors who portray them.
All those men, women, and children who we thought were so funny because a laugh track told us they were, aren't their characters, of course — they're real people, reading lines and embodying made-up individuals. Off-screen, actors lead completely different lives, ones that are sometimes the polar opposite of those of the people they portrayed. Here are some people, famous for starring in TV sitcoms, who went to prison for a substantial period of time because they were convicted of committing awful crimes.
Roc star Charles S. Dutton was convicted of manslaughter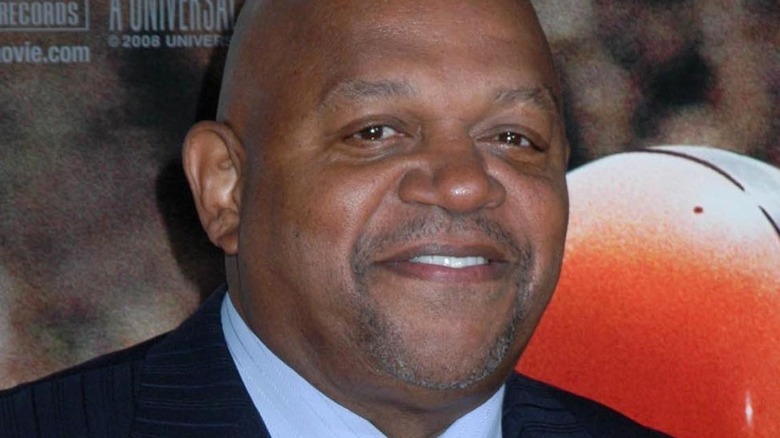 From 1991 to 1994, Charles S. Dutton starred on "Roc," a Fox sitcom about a working-class Baltimore family. Dutton portrayed cranky garbageman Roc Emerson, living with his wife, Eleanor, a nurse, and his father, Andrew, a retired porter. In the middle of its run, "Roc" made history when it became the first primetime comedy in decades to broadcast live, not that wild of a gambit on account of how several cast members were veteran stage actors — particular Dutton, who'd previously headlined Broadway productions of August Wilson's "Ma Rainey's Black Bottom" and "The Piano Lesson."
In 1990, Dutton told the Los Angeles Times that, with reform school included, he spent 10 years of his early life under some form of incarceration. Most of that was spent at the Maryland State Penitentiary, where he was serving time for several convictions for several serious offenses. "My manslaughter conviction came from a fight with a guy who stabbed me seven times," Dutton said. "I wrestled the knife from him and killed him." That earned him 18 months in prison, and "then he got three years for possession of a weapon," and a "fight with a guard" landed him an additional eight years. 
A friend sent him a play while he was incarcerated, and Dutton "staged" it with "other inmates." Shortly after he was paroled in 1978, he entered into the prestigious Yale School of Drama.
Lori Loughlin of Full House fame went to prison over college admissions fraud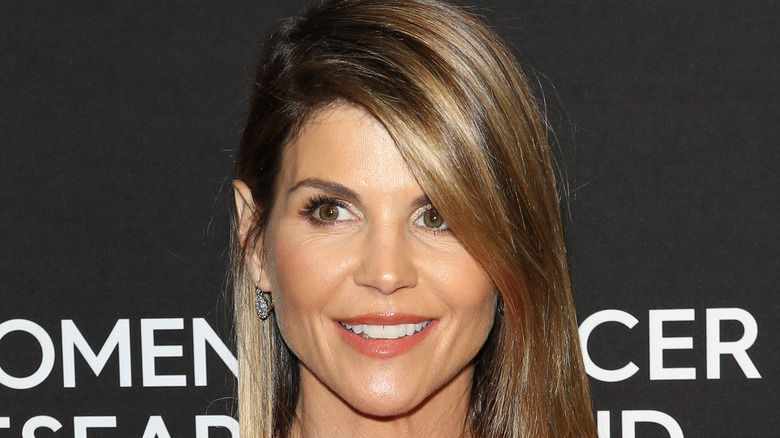 Lori Loughlin has had considerable success as a TV actor in the 21st century, starring in the revival of "90210," the "Garage Sale Mystery" franchise of movies, and the Canadian frontier period piece, "When Calls the Heart." However, she will likely always be best known for her breakout role as Rebecca Donaldson-Katsopolis, TV host, wife of John Stamos' Uncle Jessie, and mother of adorable twins on the treacly, TGIF, family-friendly classic, "Full House." It's a part she reprised on the Netflix reboot series, "Fuller House," a job she lost when some unseemly legal problems came to light for the actor, according to Deadline.
In 2019, according to ABC News, about 50 rich people and celebrities were charged in a college admissions cheating and fraud operation. The U.S. Department of Justice discovered that these wealthy people allegedly and essentially paid large bribes to get their children into top colleges, such as Yale, Stanford, and USC. Per documents associated with "Operation Varsity Blues," Loughlin and her husband, fashion designer Mossimo Giannulli, paid out $500,000 to fixers to alleviate their daughters' admission to USC by making it seem they were recruits for the crew team, a sport in which they did not participate. 
Loughlin and Giannulli pleaded guilty to the federal charges, according to NBC News, and she was convicted. Loughlin ultimately served slightly less than two months at a federal prison near San Francisco in late 2020.
Bill Cosby went to jail for a shocking assault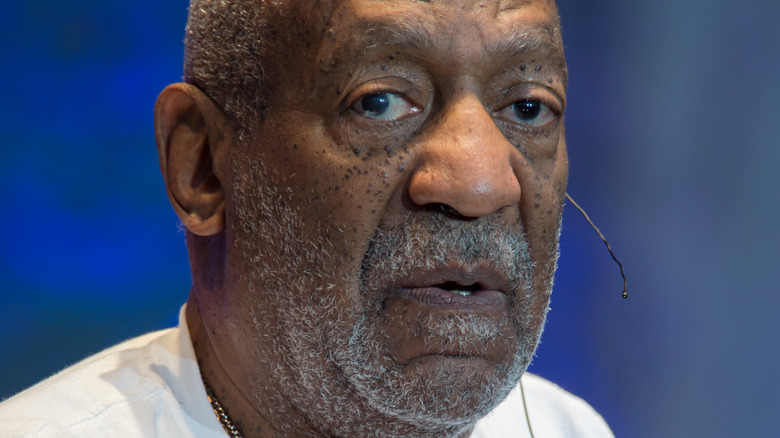 Already a cultural institution for his stand-up comedy and acting work, Bill Cosby became the biggest star in television upon the launch of "The Cosby Show" in 1984. The warm, low-key show about the Huxtables, a big Manhattan brood lorded over by parents Cliff Huxtable, a doctor, and Clair Huxtable, a lawyer, attracted more than 30 million viewers and was the most-watched show on TV by its second season. It stayed near the top of the ratings and even generated a hit spinoff in "A Different World." According to the BBC, "The Cosby Show" was so dominant in pop culture that Cosby earned the nickname of "America's Dad."
Per NBC News, however, 60 women later came forward to accuse Cosby of various forms and acts of sexual assault, with some of the alleged crimes dating back to the 1960s. The comedian categorically denied any wrong-doing, claiming that all of his encounters with women were of a consensual nature. Owing to the statute of limitations, only one woman's allegations against Cosby could be prosecuted. Temple University faculty member Andrea Constand reported that Cosby had drugged and then assaulted her at his home in 2004. At a 2018 trial, according to CNN, Cosby was found guilty of three charges of aggravated indecent assault. 
Facing a prison sentence of up to 10 years, Cosby served three years at a Pennsylvania prison — but he was released in June 2021 after the state's Supreme Court overturned the conviction and ruled that Cosby didn't receive a fair trial, per CNN.
If you or anyone you know has been a victim of sexual assault, help is available. Visit the Rape, Abuse & Incest National Network website or contact RAINN's National Helpline at 1-800-656-HOPE (4673).
Diff'rent Strokes star Todd Bridges was locked up while awaiting trial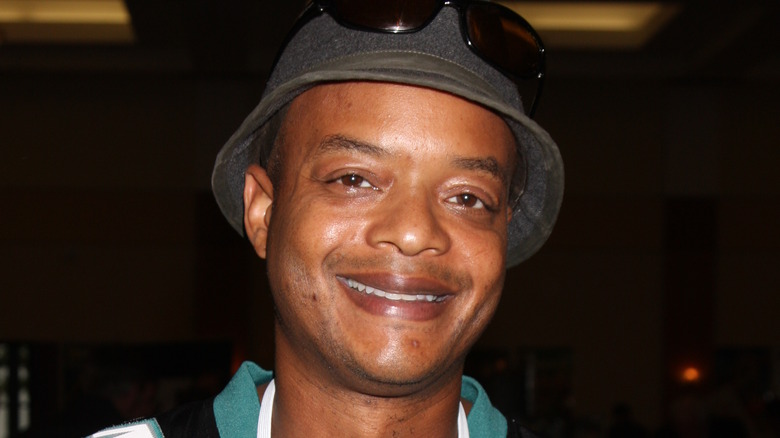 Gary Coleman, as wisecracking Arnold Jackson on the 1978-1986 sitcom "Diff'rent Strokes," may have had the extraordinarily popular catchphrase with "What'chu talkin' bout, Willis?" — but Todd Bridges may have had the upper hand and sweeter end of the deal. He played Willis, or rather Willis Jackson, the older of two orphaned brothers whom the kindly and wealthy Philip Drummond adopted and moved into his deluxe Manhattan apartment. Bridges, charismatic and telegenic as Willis, became a teen idol and crush object for millions of young Americans.
In 1989, convicted Los Angeles area drug dealer Kenneth "Tex" Clay was the victim of a "point-blank shooting," according to the AP. Clay later "recovered from … wounds to his arms and chest," and Bridges, an admitted cocaine user, confessed to the shooting while he was being arrested, alleging that the dealer had stolen his BMW. In his trial, Bridges was acquitted of attempted murder, but since the jury deadlocked on an assault charge, the actor was retried. In that proceeding, Bridges' lawyer, Johnnie Cochran (who would later successfully defend O.J. Simpson in his murder trial), claimed that another party had shot Clay, because Bridges had an alibi: He was inside Clay's house in the midst of a multi-day drug binge. 
Once again, Bridges was acquitted and he was released from custody — but according to Oprah.com, he spent nine months in jail awaiting trial. "I feel a lot of relief that it's over," he said at the time (via the AP). Since then, Bridges has opened up about his journey toward sobriety.
If you or anyone you know is struggling with addiction issues, help is available. Visit the Substance Abuse and Mental Health Services Administration website or contact SAMHSA's National Helpline at 1-800-662-HELP (4357).
Before Home Improvement, Tim Allen was a convicted drug trafficker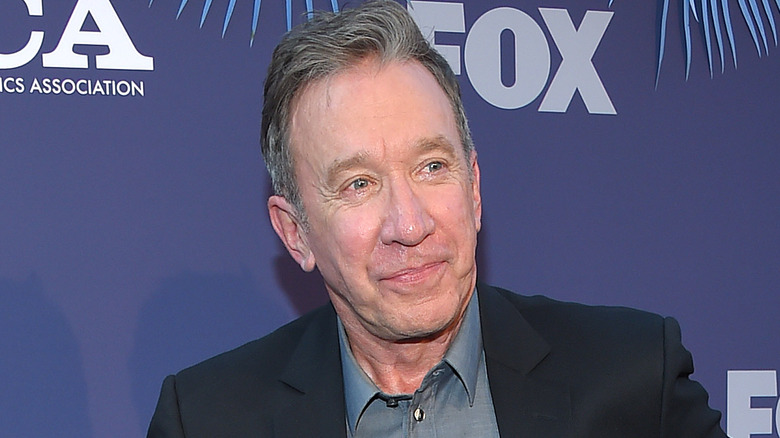 In the late '80s and early '90s, Tim Allen was among the most popular stand-up comedians in America. His act consisted primarily of pointing out the myriad differences between women and men, namely that the former are competent and cerebral and the latter are grunting, power tool-loving modern-day cavemen. ABC helped Allen translate that act to TV with "Home Improvement," casting him as a bumbling dad and ineffectual husband who was also the inept host of a DIY repairs TV show. The show became a massive hit, sitting near the top of the ratings multiple times, running for eight seasons and allowing Allen to launch a successful film career.
Before Allen discovered comedy, he earned his living in a less legal way: trafficking cocaine. According to CBS News, he was busted at the Kalamazoo-Battle Creek International Airport in 1978 with nearly a pound-and-a-half of cocaine in his possession. He entered a guilty plea to a charge of drug trafficking, and, facing the possibility of life behind bars, worked out a deal with prosecutors: "In exchange for a [reduced] sentence of three to seven years," he'd give authorities the names of his drug-dealing associates. 
"When I went to jail, reality hit so hard that it took my breath away, took my stance away, took my strength away," Allen later told Esquire. "… I just told myself, I can't do this for seven and a half years." After 28 months as a resident of the Federal Correctional Institution in Sandstone, Minnesota, Allen was paroled in 1981.
Dustin Diamond of Saved by the Bell stabbed a man in a bar fight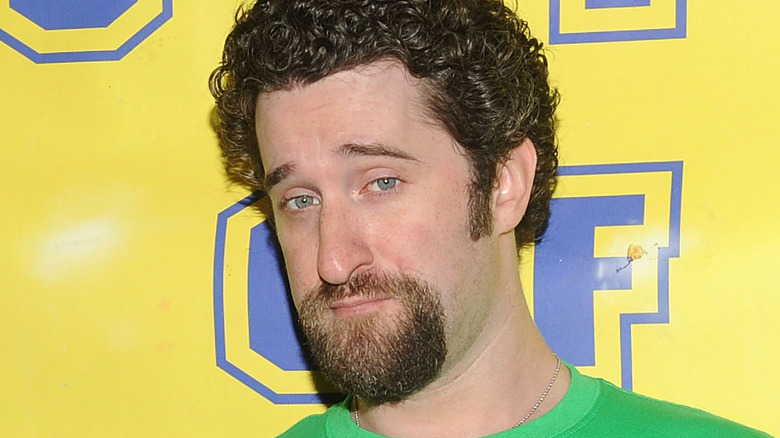 Generations of American kids grew up on "Saved by the Bell," a charmingly goofy Saturday morning sitcom about the scheming students of Bayside High School. Dustin Diamond played arguably the definitive TV nerd in Samuel "Screech" Powers, a mega-dork genius who made silly faces, talked in a high-pitched squeaky voice, built a robot, and pined over Lisa Turtle, a popular girl who had zero interest in such a dweeb. Adding up his time on all of the various "Saved by the Bell" shows, Diamond portrayed Screech for 12 years.
According to The Hollywood Reporter (via Yahoo! News), Diamond was later arrested in Ozaukee County, Wisconsin, for stabbing and wounding a man in a bar fight that occurred on Christmas Day 2014. The assault weapon, a switchblade, was discovered in the actor's car, and he was charged with possession of the knife, as well as "carrying a concealed weapon," and "first degree reckless endangerment." In May 2015, according to the AP (via NBC News), Diamond was cleared of the latter charge, a felony, but was convicted and sentenced on two misdemeanor counts, despite arguing that the stabbing had been an accident. 
The actor received a fourth-month sentence behind bars, but according to CNN, he was paroled after three. However, Diamond briefly returned to jail in May 2016 because of a probation violation. Shortly after receiving a lung cancer diagnosis in January 2021, according to Variety, Diamond died at age 44.
Tommy Chong from That '70s Show served nine months for a drug-related crime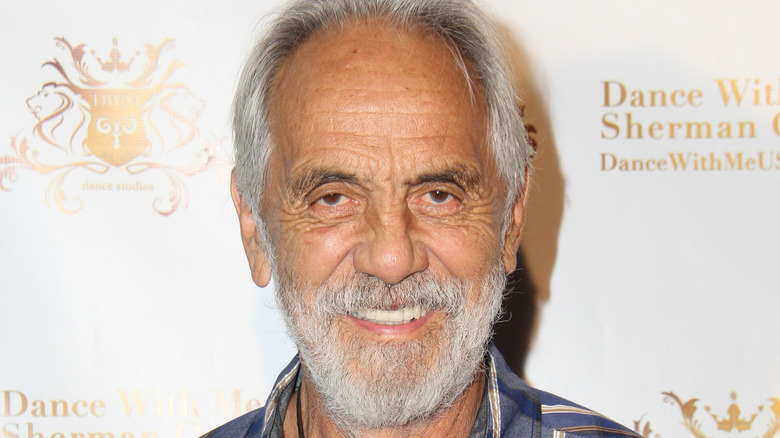 When Tommy Chong joined the cast of Fox's nostalgic "That '70s Show" in its second season in 1999, it was a triumph in stunt casting. The show, about a bunch of teenage goof-offs in a small town in Wisconsin who smoked a lot of marijuana, introduced Chong as Leo, proprietor of a photo hut who gave the character Hyde a job. He needed the help — he was an aging former hippie and forgetful space-case on account of, it's implied, consuming way too much marijuana over the years. Of course, that drug was celebrated in the actual '70s in a series of movies and comedy albums by the popular duo Cheech and Chong — as in "Tommy Chong."
According to the Pittsburgh Post-Gazette, federal investigators started a project called "Operation Pipe Dreams" in the 1990s, looking to bust shops around the country that sold blown glass objects with the express purpose for the use of consuming marijuana. In February 2003, numerous stores were raided, including Chong's operation, with more than $100,000 and glass items purportedly used for the consumption of marijuana confiscated. 
Along with more than 50 others, Chong was arrested, then entered a guilty plea, admitting legal fault for promoting illegal drug use in his mail-order business and on his website. Per The Hollywood Reporter, Chong served nine months in prison. However, he told the outlet, "There's no punishment in the federal prison. You get a computer. You get a nice comfortable cubicle. You're in there with nice, intelligent people."
Chris Tavarez of K.C. Undercover went to prison for domestic violence charges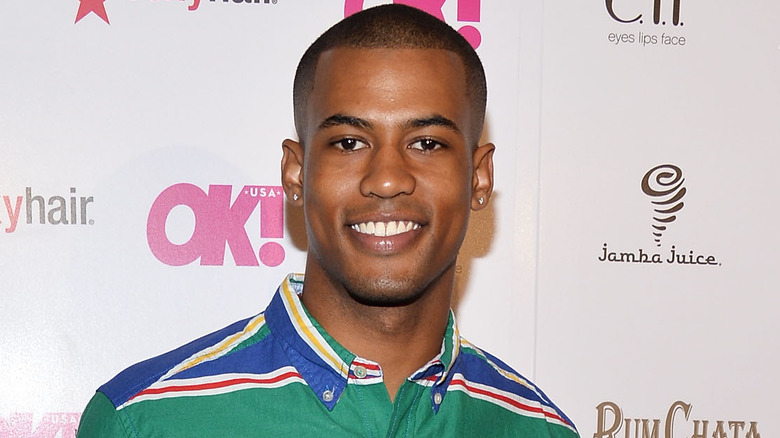 Chris Tavarez got his start in major Hollywood productions as a teenager, securing a role in Martin Lawrence's "Big Momma's House 2," before landing the recurring role of Christopher on Tyler Perry's long-running TBS sitcom, "Meet the Browns." The actor is certainly best known for his next major sitcom role on "K.C. Undercover," a Disney Channel lark about a family of spies (which launched its main performer, Zendaya, to the next level of fame). Tavarez portrayed Darien, a popular guy and high school football player who can't make a romantic relationship with K.C. Cooper work out.
In 2017, while "K.C. Undercover" was still in production, Tavarez was arrested and charged with a single count of spousal battery, for which he entered a plea of no contest, according to Page Six. Two years later, Tavarez and a woman identified as his girlfriend engaged in a fight that grew physical. The woman called police, and Tavarez left the scene, arrested a couple days later and "charged with felony domestic violence." His partner suffered a concussion, while Tavarez initially walked free after posting his $100,000 bail. 
Tavarez later pleaded no contest and was sentenced to "52 weeks of domestic violence awareness classes," a year of alcohol rehabilitation therapy, five years of probation, and 300 days behind bars.
If you or someone you know is dealing with domestic abuse, you can call the National Domestic Violence Hotline at 1−800−799−7233. You can also find more information, resources, and support at their website.
Andi Mack dad Stoney Westmoreland was imprisoned for attempted sex crimes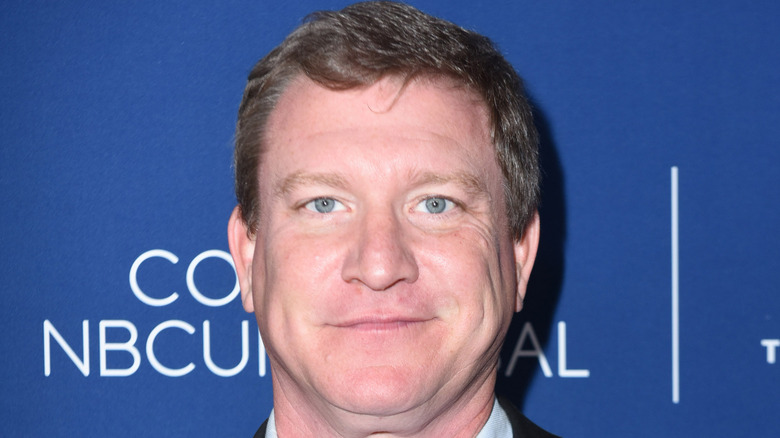 Stoney Westmoreland has usually been an, "Oh, it's that guy," kind of actor, a performer who pops in for a scene or an episode, delivers a joke or advances the plot, and then gets out just as quickly. Westmoreland has had one-shot or briefly recurring roles on dozens of TV shows since the mid-1990s, including "NewsRadio," "Breaking Bad," "NCIS," "Weeds," "Scandal," and "Agents of S.H.I.E.L.D." He landed his most prodigious gig in 2017 on the Disney Channel dramedy, "Andi Mack," playing understanding grandfather Ham Mack to the show's title character, a teen figuring out her identity.
In December 2018, according to the AP, Disney fired Westmoreland after he was arrested for trying to coerce a teenager into a hotel room physical encounter. (The 13-year-old that Westmoreland thought he was communicating with online was actually an undercover police officer.) The actor was released from jail in February 2019, according to Deadline, only to be sent back behind bars in January 2020 after he violated his supervised release on two occasions: Officers were unable to access a room in his home, and he also failed to hand over his digital records to authorities.
If you or someone you know may be the victim of child abuse, please contact the Childhelp National Child Abuse Hotline at 1-800-4-A-Child (1-800-422-4453) or contact their live chat services.
Years before The Great Outdoors, Stephen Fry was a teenage credit card thief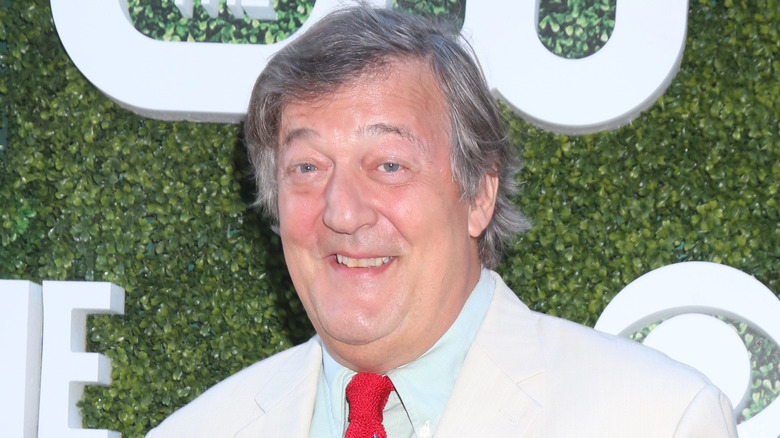 Stephen Fry is an intellectual gadabout who has starred on all kinds of projects. He had a sketch show called "A Bit of Fry and Laurie," ran the travelogue "Stephen Fry in America," and played a country lawyer on the drama, "Kingdom," and the U.K. prime minister on "24." He also had a recurring role on "Bones," hosted the game show, "Q.I.," and in 2016, took on a part on the CBS sitcom, "The Great Indoors." Fry played Roland in this latter gig, the charismatic founder of an outdoors magazine who makes his publication an online-only affair and hires a new editor (Joel McHale) to oversee the staff of millennials.
But before all that, Fry was a juvenile offender. According to The New York Times, he left a pub in England wearing another man's coat and found in its pocket a wallet loaded with credit cards. "I said to myself, 'What ho!'" Fry recalled. "For the next three months I went ape," he added, and his spree of using stolen means to pay for hotels and restaurants ended with his arrest. 
Fry confirmed to BBC Radio 5's "In Short" that he spent another three months behind bars for his offenses. He'd committed fraud in so many counties that it took authorities that long to get all the paperwork in order, so that when Fry went to trial, those three months counted as time served, and he was ultimately sentenced to two years of probation.
Source: Read Full Article