The Most Controversial Outfits Queen Elizabeth Ever Wore
Given Queen Elizabeth II's position — y'know, as the longest-reigning monarch of England — she has to choose what she wears for events very carefully. There are rules she has to follow, and she must strike that perfect balance between tradition and fashion. She also has specific reasons for some of the choices she makes, from her brightly colored pastel outfits and hats, to her accessories, broaches, and handbags.
Assisting the queen in striking that balance of elegance and function is her official dresser, Angela Kelly, who has served the position for more than 25 years. According to Forbes, Kelly plans the royal outfits months in advance and has developed a special working relationship with the queen after years of choosing fabrics and accessories together. Kelly even breaks in Her Majesty's new shoes, as the two wear the same size.
As we've all seen, Her Majesty's style has evolved to show modest, but colorful dresses and hats, sometimes with floral motifs, usually in bright colors that stand out and that complement her skin and eye color. Colors like grey are too boring, and black is only used for mourning. Hats should be eye-catching but should not cover her face. As Forbes wrote, "Neutrality … is key to the royal wardrobe."
However, the queen's outfits haven't always hit that neutral mark, and there have been a few times when her fashion ensembles have gotten people talking. Let's take a look.
Queen Elizabeth was very fashion-forward, but not without some drama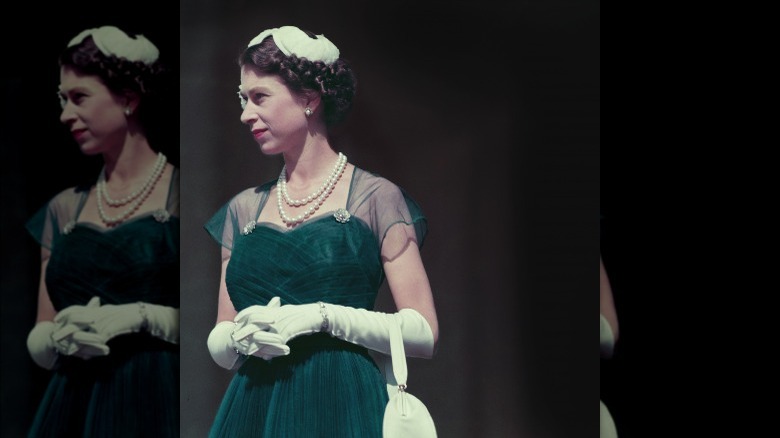 Before she became the Queen of England, Princess Elizabeth was quite fashion-forward, wearing some very beautiful and eye-catching gowns. She enjoyed the 1950s fashions of cinched waists, buxom bodices, and wide skirts, and loved wearing furs and high sandals. While Her Majesty wants to stand out in a crowd, so that supporters both far and near may see her, as is achieved by her bright colors, some felt in the conservative 1950s that she was perhaps standing out for the wrong reasons.
When Elizabeth wore a glamorous and form-fitting white lace dress to a garden party in Australia, people strained to see her figure from the back of the room. Royal fashion commentator Elizabeth Holmes, whose popular Instagram account currently has 163 thousand followers, told the New York Post that "people compared her to a pinup." Apparently, that is also the term Time Magazine used at the time, per Vanity Fair, describing the queen as having "pinup charm," and commenting on her hourglass shape: her narrow shoulders, big bosom, and small waist, as well as her shapely legs.
Holmes said Elizabeth was trying to positively represent the crown after the scandal of her uncle Edward VIII's recent abdication. "Her job was to dazzle," Holmes said. "We don't think of the queen like that."
The queen earned the moniker 'Princess Auto Mechanic'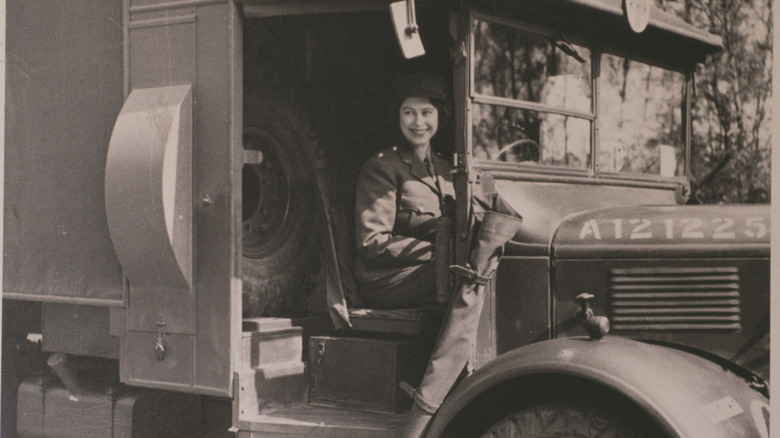 As anyone who has watched Netflix's "The Crown" knows, Queen Elizabeth has an unquenchable thirst for knowledge and is not the type to let others do things for her. One example is her insistence on joining the military effort during World War II, despite objections from her father, the king.
The royal family won public support during the war when they announced they would stay in England in solidarity after the Blitz, according to the Evening Standard. Though 18-year-old Princess Elizabeth and her sister Princess Margaret were sent to Windsor Castle while their parents stayed in London, they joined the war effort, giving a joint wartime broadcast in 1940. Elizabeth also completed a training course at the Aldershot facility in Surrey for six weeks and insisted on joining the Auxiliary Territorial Service toward the end of the war. Though she had barely begun her military career when the war ended, she was promoted to Junior Commander and became the first woman in the royal family to serve.
Photos of the princess in her uniform, working on car engines and driving trucks, caused the press at the time to give her the name "Princess Auto Mechanic." But she enjoyed learning to drive, as well as tear apart and rebuild, different military vehicles and engines. According to a 1947 article in Collier's Magazine (per the Standard), she loved "to get dirt under her nails and grease stains in her hands, and display these signs of labor to her friends."
The queen got married in a very extravagant wedding gown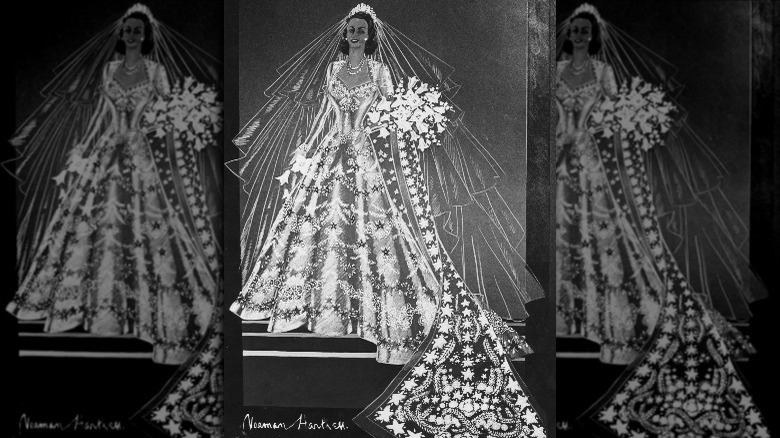 It should be expected that any member of the royal family would wear an extravagant gown for their wedding, but the circumstances around Queen Elizabeth II's wedding were a little different. Her gown was, of course, gorgeous and fashionable for the time. According to Hello, the gown was made from Chinese silk adorned with pearl and diamante-encrusted flowers along the fitted bodice and the 15-foot train. Designed and created by Norman Hartnell, the gown cost £30,000 in 1947 when she married the Duke of Edinburgh.
While that may not seem like a lot of money for a royal wedding gown, this was 1947, only two short years after the end of World War II. While the idea behind the embroidered wedding gown, inspired by Botticelli's "Allegory of Spring" (per Good Housekeeping), was to send a message of hope and renewal after the war, clothing was still being rationed, and some thought the dress was a bit ostentatious. It was perhaps out-of-touch to wear such an excessive gown during this time.
But the queen paid for her gown with ration coupons she had saved up, in addition to an extra 200 coupons she was "granted," according to Marie Claire. She also turned down coupons from citizens, sometimes heartbroken brides whose grooms had died in the war, who wanted to help her complete the gown by gifting her their coupons. They were returned to their senders with a personalized note, per the New York Post.
Those times the queen threw shade with her outfits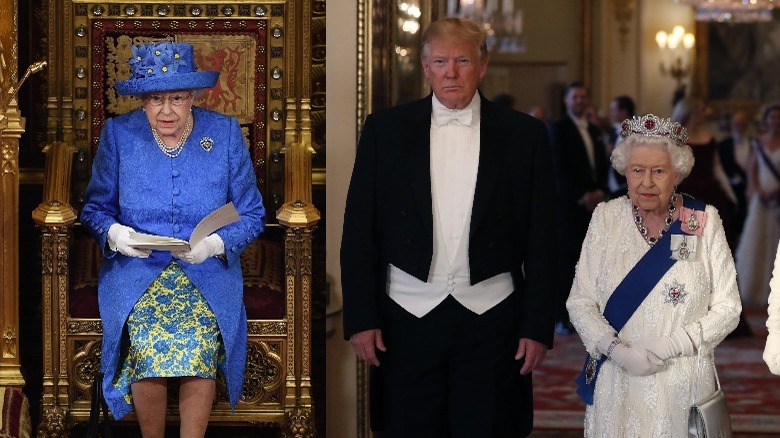 Neutrality is king, or queen, in choosing Queen Elizabeth's outfits, and she's careful not to make statements with her fashion. For example, the New York Post reports that she makes sure to choose a color that is not common in flags when she appears at international events, such as the Olympics. But while she's not allowed to express political views, she does sometimes throw shade, making subtle statements through her clothing choices. They're not easy to see, and the palace would never confirm them, but they're there, and they're so entertaining.
One such example is when former President Donald Trump went to England for a visit in 2018. During the day, the queen wore a paisley-shaped broach that was gifted to her from Barack and Michelle Obama. Even better, at the evening's event, Queen Liz wore a beautiful tiara, created by the House of Garrard, that was encrusted with 96 rubies. According to the crown jeweler (via Good Housekeeping), it was originally "a wedding gift from the people of Burma, intended as a symbol of protection against illness and evil."
During the 2017 opening of Parliament, shortly after the highly contentious 2016 Brexit referendum, Her Majesty wore a bright blue and yellow floral dress and blue coat — similar to the colors of the EU flag. Her blue hat contained yellow flowers that looked like the stars on the EU flag. Many felt it was the queen's way of showing her disapproval of the controversial decision.
Queen Elizabeth's infamous 'green screen' dress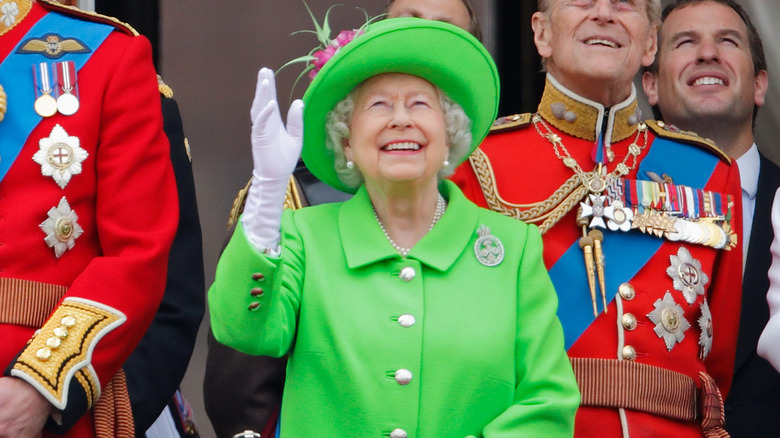 It's well known that Queen Elizabeth wears lots of bright, bold colors, usually solid but sometimes in floral prints. This is for practical and even security reasons, as well as fashionable reasons. For one, colors that pop allow audience members to see the petit queen from a distance. They also help her bodyguards find her in a crowd, per Express, so they may protect her better.
However, one infamous dress perhaps backfired a bit, at least from the fashion perspective, but it sure gave the internet a good laugh. When Her Majesty, for her 90th birthday in 2016, wore a bright green dress, the same color movie productions use for their green screens, Twitter went bananas playing with photos, adding backgrounds and silly videos to the monarch's sartorial ensemble, simply because they could. The perfectly inhuman color was easy to select and replace for anyone with the tiniest bit of Photoshop knowledge.
From Batman's armor, to "Game of Thrones" images — some complete with dragons — to burgers and pizza, to the other queen, Freddie Mercury and pals, folks on the internet (like BoredPanda) turned her dress into all kinds of statements. This way they could see the leader of the country make nearly any political statement they wanted. Want to see Elizabeth II as a Sex Pistols fan? Here you go. Have her make a statement for Pride? Have at it. Want her to disappear completely and just be a floating head? Your wish is their command.
Source: Read Full Article