The Untold Truth Of HGTV's Bargain Block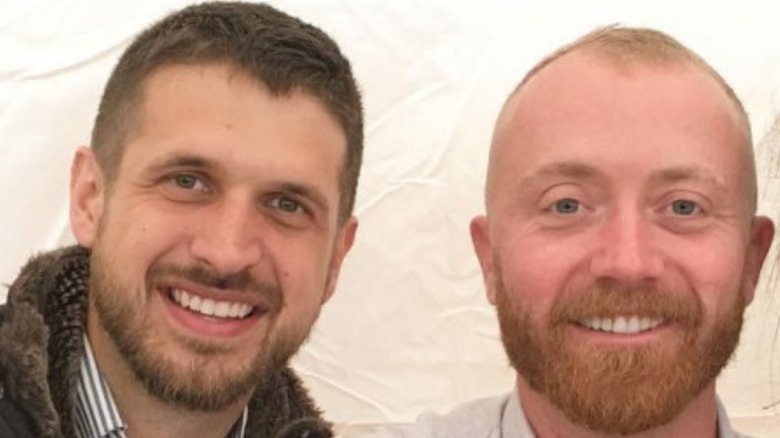 On April 14, 2021, HGTV debuted a new kind of home renovation show, "Bargain Block." The Detroit, Michigan-based series features some familiar elements of your favorite HGTV shows — like the usual home renovation designer/contractor duo — but in a whole new way. According to HGTV's official press release for the show, "Bargain Block" stars Keith Bynum, the designer, and Evan Thomas, the carpenter, who aim to restore Detroit's neighborhoods "one house at a time" by buying "run-down and abandoned properties and [transforming] them into affordable, stylish starter homes for first-time homebuyers."
There are a few things that make this show stand out from other home renovation series. First of all, Bynum and Thomas do almost all of the work themselves, just one factor which keeps their costs down — the other being their use of low-cost materials, second-hand items, and lots of DIY. Secondly, each home the team renovates is truly unique with its own theme. And last, but certainly not least, the duo actually lives in each home they renovate; when they finish one, they move to the next.
It turns out that there's a lot to learn about the show and its stars, which also include Detroit real estate agent Shea Hicks-Whitfield. Here is the untold truth of HGTV's "Bargain Block."
How did Bargain Block hosts Evan Thomas and Keith Bynum meet?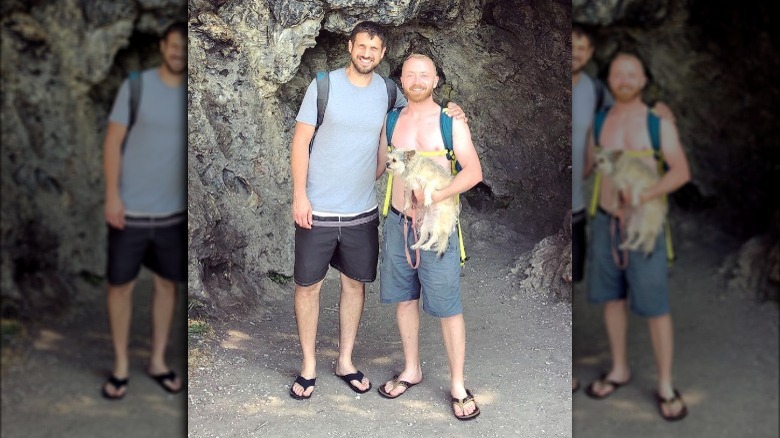 If you're like us, when you watch a new HGTV show you want to know all about its hosts. And, when the series' stars are roughly the same age, you may wonder if they're a couple. Well, it turns out that Keith Bynum and Evan Thomas of "Bargain Block" are, in fact, very much a couple. As noted by PrideSource, the two met via online dating site Match.com while they both lived in Colorado and have been going strong ever since. Though it's unclear whether they are married or not, the couple does not appear to have any children — except, that is, for their dog, Belle.
While you might think that both living and working with your significant other could present a problem, for this pair the arrangement has actually been good for their relationship. "This has been one of the best experiences, because you really get to know somebody in this type of environment," Bynum shared with PrideSource. "It's about finding a respectful balance." Added Thomas, "We joke about being worried we have become co-dependent being around each other so much, but overall it's a great relationship and we are very fortunate." We love to see it.
How did Bargain Block's Keith Bynum and Evan Thomas end up in Detroit?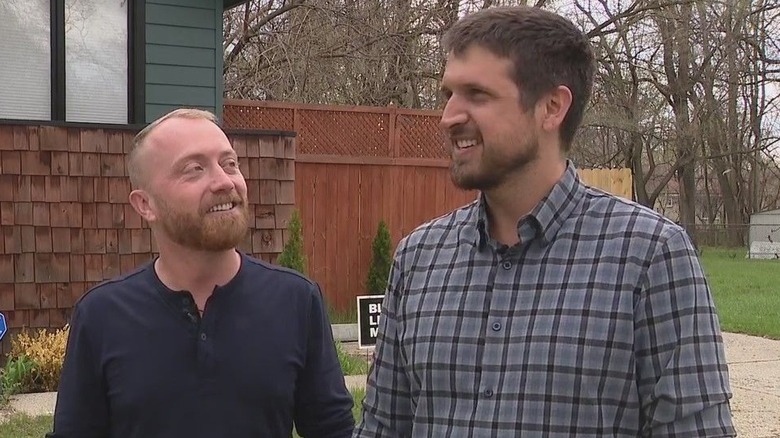 Neither Keith Bynum nor Evan Thomas of HGTV's "Bargain Block" is originally from Detroit, Michigan. So, where are they from, and how did they find themselves in this city? According to an interview the pair did with The Detroit News, Bynum is originally from Texas, while Thomas hails from South Dakota. They were each living in Colorado, where Thomas was attending graduate school, when they met and later partnered together in renovating homes.
However, Bynum decided to look into other markets that would be better-suited for their business, as he told EstateEnvy. Detroit, Michigan first landed on Bynum's radar after hearing that a friend of his "had a good amount of success" flipping houses there. Additionally, the city's "really cool energy" and art scene appealed to him. As he told The Detroit News, "For the art community and creatives, Detroit is a mecca."
In January 2017, Bynum flew to Detroit, where he bought a house for $12,000. "A house in Denver in similar condition would be 20 times that amount," he explained (via EstateEnvy). So, after a bit of "convincing," Thomas agreed to join his partner and venture out to this new city.
You can call this Bargain Block star "Doctor"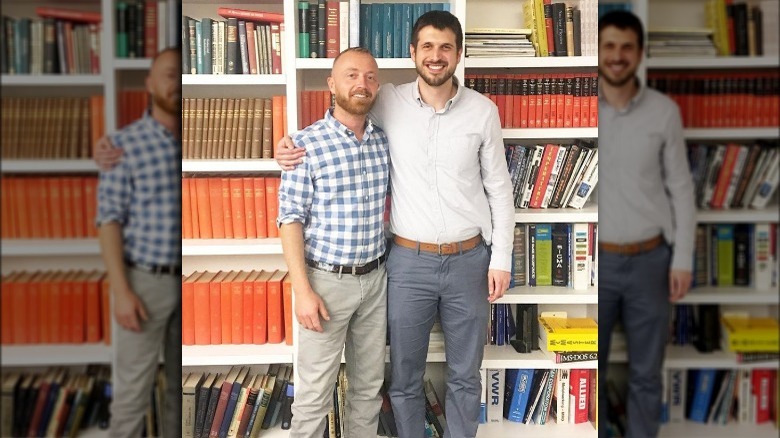 He may be the carpenter on HGTV's "Bargain Block," but this is a relatively new career for Evan Thomas. According to his bio on his website with partner Keith Bynum, Thomas actually holds a PhD from the University of Colorado at Boulder. Yes, this HGTV star is actually "Doctor"! "Congratulations DOCTOR Thomas," Bynum captioned a pic of him and the newly-minted doctor on Instagram at the time.
Not only is Thomas super smart, he's also super modest. In an interview with EstateEnvy, he shared only that he has "a degree in physics." So, how did he go from scholar to carpenter/HGTV star? "I had just finished graduate school, and I was sort of at a crossroads," he revealed to the outlet. "I could try and get a job with my degree or start this business with Keith in Michigan."
Obviously, we know which path Thomas followed. However, he still puts his physics degree to good use in his current work. His "analytical and research experience" comes in handy to ensure their renovation projects are finished on time and on budget (via Nine Design & Homes).
This Bargain Block host is a serial entrepreneur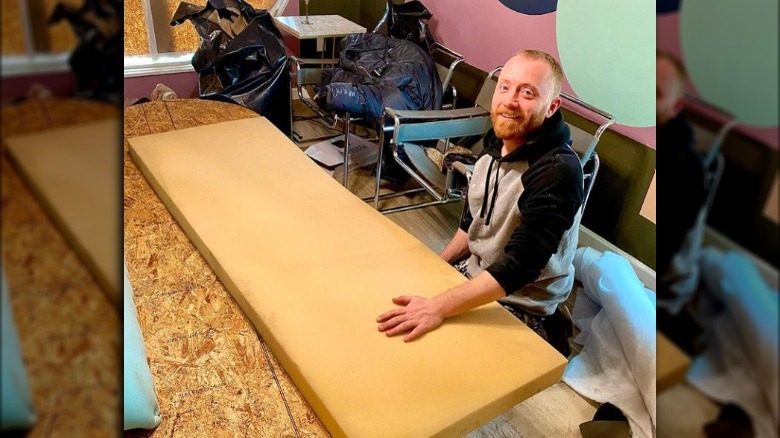 Though his partner holds a PhD, "Bargain Block" designer Keith Bynum's background is also pretty impressive. The artist's bio on his website with partner Evan Thomas reveals that Bynum started his first business at only 14 years old — and that this business "went on to become a nationally recognized retail and manufacturing chain." Apparently, he's just as modest as his partner, which must be why the two of them work so well together.
Like Thomas, Bynum also uses his academic background in his work; he studied entrepreneurship at Texas Tech University, where he received his MBA (via TheCinemaholic). However, although Bynum's business skills are keen, he couldn't quite let go of the creator in him. After selling his successful business, he began doing carpentry and woodworking and selling his work online. What a way to combine both his passions for business and design!
This Bargain Block host is no stranger to HGTV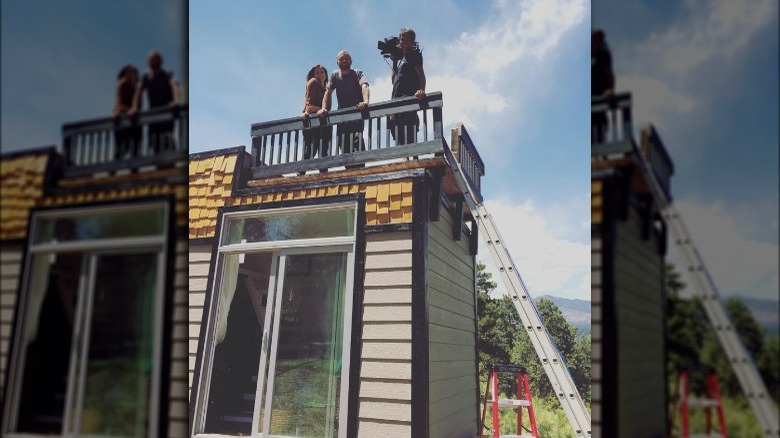 Keith Bynum of "Bargain Block" admitted to via PrideSource that "the TV journey has been a long and winding road." Though you probably never saw the hosts of "Bargain Block" on HGTV before their series premiered, one half of this Detroit, Michigan house-flipping team actually appeared on HGTV before. While Bynum and Evan Thomas were renovating houses in Denver, Colorado, a friend of Bynum's asked for his help in building a tiny house for HGTV's "Tiny Paradise."
It's all about connections, not coincidences, however. Bynum's experience on "Tiny Paradise" "exposed [him] to a few production companies that followed [his] work for the next few years," his partner, Thomas explained to PrideSource. Though the two weren't initially certain about doing television, ultimately they were convinced. HGTV wanted the production team to produce a pilot in 2019 and then ordered an entire season of "Bargain Block." We're certainly glad they did!
The Bargain Block cast and crew received a warm welcome from the Detroit community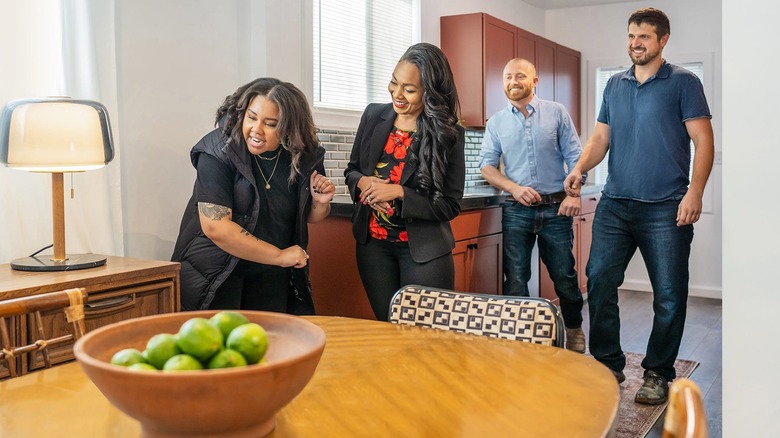 Launching their business in a new city, Keith Bynum and Evan Thomas had no idea how they would be received by the Detroit, Michigan community. "Neither of us had ever been to Michigan before we moved here," Bynum told PrideSource. Soon after they arrived, however, they realized they had little to worry about — the neighbors were grateful for their support in helping revitalize their community. "Never one time has so much as an eyebrow been raised," noted Bynum, "which was sort of shocking and not our experience in other parts of the country."
This reference is a nod to the duo's previous experience renovating homes in Denver, Colorado. There, "construction was looked at as a nuisance," Bynum told The Detroit News. "Here, people were excited about the neighborhood transforming," he said, adding, "Every neighbor — and there have been a lot — we've met in the city has been kind and amazing."
From Bynum's Instagram page, it's clear the pair has gained fans outside of Detroit as well, with one user commenting, "What a great series! Different styles and not just the same style for every house." We think so, too!
Giving their homes a distinct "personality" makes Bargain Block unique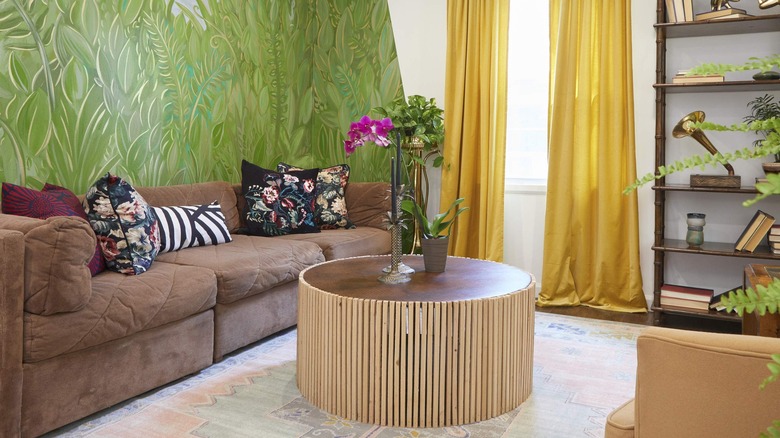 There are quite a few things about "Bargain Block" that make it stand out from other home renovation shows. But it's hard to ignore the fact that the finished homes we see on "Bargain Block" are not the usual cookie-cutter looks we typically find. Not that there's anything wrong with that — while it's important that the properties' designs appeal to the masses, it's refreshing to find renovated homes that feel fully customized.
At the end of each "Bargain Block" episode, prospective homebuyers tour fully-customized homes that feature a unique theme. And these homes are not just staged; the furniture and decor you see is included in the price of the house. This includes items like retro pieces and decorative items from the guys, themselves, as well as custom art pieces that designer Keith Bynum incorporates in each home (via PrideSource). "I hate the idea of duplicating designs because each house has so much personality and charm and each has a very unique energy," Bynum explained. "So I try to custom tailor each one. It's the most fun putting them back together and seeing renewed life in the house and the neighborhood."
The Bargain Block team renovates homes that first-time homebuyers can afford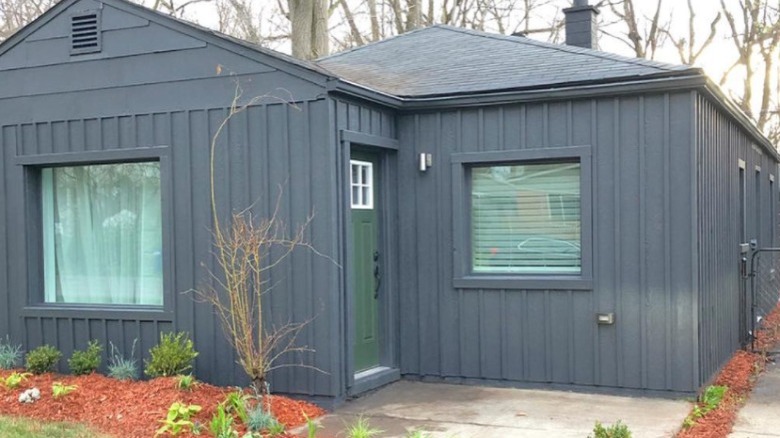 We all have watched episodes of HGTV shows where we admire the designs but know we could never afford such a place ourselves. However, the "Bargain Block" team renovates and designs their properties with a specific audience in mind: first-time homebuyers. According to The Detroit News, Keith Bynum and Evan Thomas focus on smaller, more affordable homes. They give each house a unique, fun design that typically appeals to new homeowners and list the completed properties for a maximum of $100,000.
Detroit, Michigan-based real estate agent Shea Hicks-Whitfield, who was born and raised in the city, is the perfect partner for the guys who are Detroit newbies. "She's incredibly well-connected, and she's really the perfect person for our demographic of first-time homebuyers," Bynum said to EstateEnvy. "She just has an infectious energy. She brought us an amazing amount of people to help build this business."
Hicks-Whitfield loves what the guys are doing for these neighborhoods and the opportunities it presents to homebuyers. "It provides the perfect opportunity for a first-time buyer because the homes are still affordable to purchase within a neighborhood where they were raised or maybe their grandparents live" (via HGTV).
This is how the Bargain Block duo purchase homes at such low prices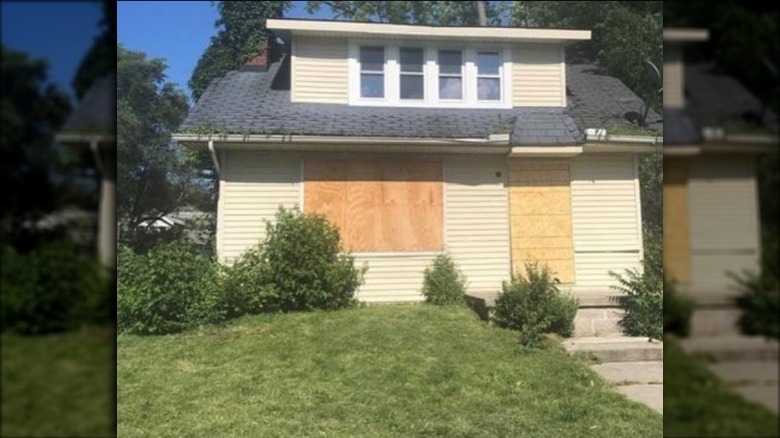 If you're like the rest of us, you probably watch "Bargain Block" and wonder how it's possible to purchase a house for $1,000. It turns out that Keith Bynum and Evan Thomas find these affordable fixer-uppers from the Detroit Landbank, which makes it possible to purchase a house for as low as $1,000 — as long as you're willing to put in a little sweat equity, that is (via EstateEnvy).
This presented Bynum and Thomas the perfect opportunity for their business, with the two mapping out a plan. "The strategy was to go in and buy as many houses as we could in a single area," Bynum explained to EstateEnvy. Since the start, the pair has flipped approximately 25 homes in Detroit, Michigan, most of them situated in two Northwest Detroit neighborhoods — and the guys are nowhere near finished yet.
Bargain Block stars Evan Thomas and Keith Bynum run their own design firm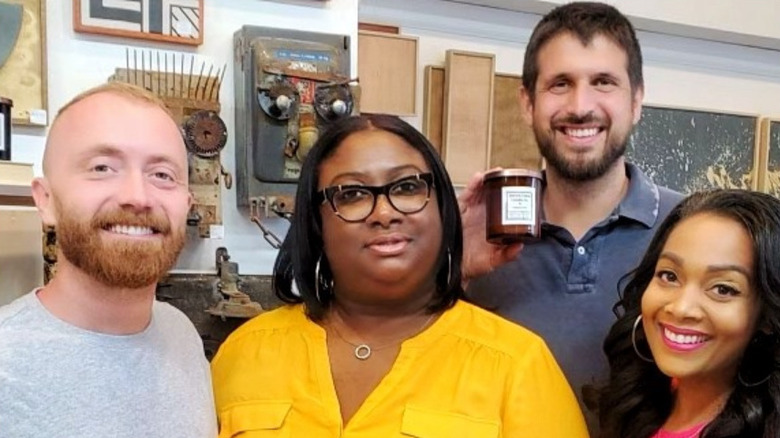 There's more to the work that Keith Bynum and Evan Thomas do than just what you see on "Bargain Block." The home renovation experts also run their own design firm called Nine Design & Homes. Their business philosophy is centered on their passion for "elevated, affordable style." "We combine handmade, vintage and repurposed pieces to create a space that is distinctly yours," reads the Nine Design homepage. "We are committed to the revitalization of Detroit one home and one client at a time."
Though the team's primary focus is on renovating and selling homes in their target neighborhoods of Detroit, Michigan, a section of their website is devoted to designing for clients. They encourage homeowners to contact them for a design consultation to learn how the team can "create a home that fits your lifestyle."
In May 2021, Bynum shared with his Instagram followers an exciting new business development: He finally has a warehouse to store all of his creations. "Finally having a warehouse space to create new things has been a long journey but we're finally there," he wrote. "I've practically moved in." Very cool!
This is how you can purchase original furniture and art from the Bargain Block duo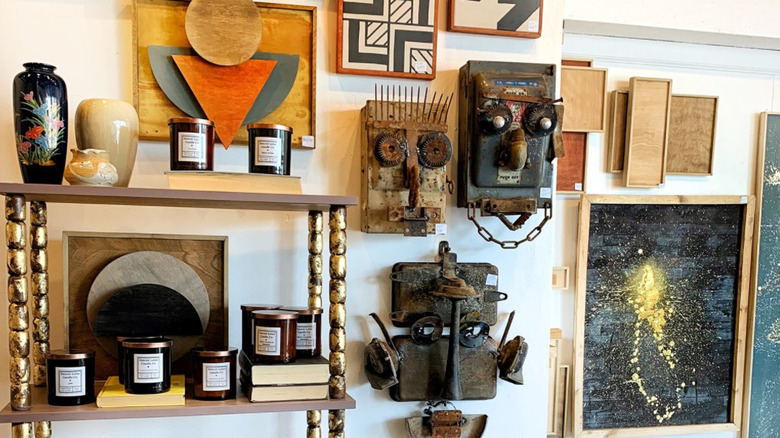 On "Bargain Block," Keith Bynum has created some really unique art pieces for the homes he and his partner, Evan Thomas, renovate in Detroit, Michigan. Well, if you love Bynum's creations, it turns out that you can actually have them for yourself. The website for the guys' design firm, Nine Design & Homes, features his handmade art and decorative items available for sale. From wall hangings to side tables to paintings, you're sure to find a piece that suits your style.
In addition to offering original art and decor for sale online through their website, it appears that Thomas and Bynum have also opened their own brick-and-mortar furniture store in Detroit called Nine Furniture & Design. Not only that, but it also looks like the store offers handmade pieces from other artists as well. "We're also going to keep bringing new products to you each week, like these amazing candles from Detroit Lotus Candle! She's a local, entrepreneur & a friend of Shea!" a May 28, 2021 post from the store's Facebook page reads. And, yes, that's the same Shea who appears alongside the guys on "Bargain Block."
Bargain Block realtor Shea Hicks-Whitfield sometimes gives the guys a reality check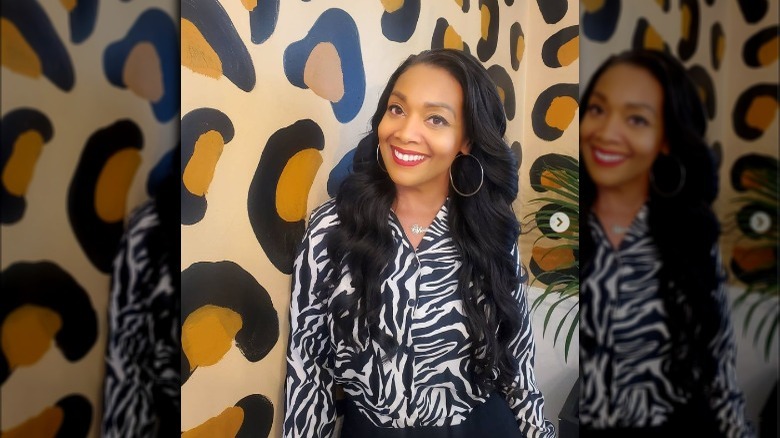 We know from watching "Bargain Block" that artist and designer Keith Bynum will sometimes get a little carried away with his ideas (like the animal-print painted dining room wall featured in one episode, remember that?).
Although Detroit, Michigan real estate expert Shea Hicks-Whitfield loves the craftsmanship that Bynum and partner Evan Thomas bring to each property, she sometimes has to keep them in check. "[Keith] puts so much thought and love into these homes compared to an average flipper," she told HGTV. "I have to remind [Keith] that we are attempting to flip the home so you don't want to go too extreme with the design because you want to appeal to the masses," she continued, adding, "but then again you only need that one buyer to fall in love with the home and make it their home."
It seems that Hicks-Whitfield, a Detroit native, is the guys' perfect partner. "She's incredibly well-connected, and she's really the perfect person for our demographic of first-time homebuyers," Bynum shared with EstateEnvy. "She just has an infectious energy. She brought us an amazing amount of people to help build this business." Sounds like the perfect partnership!
The Bargain Block guys don't let obstacles stand in their way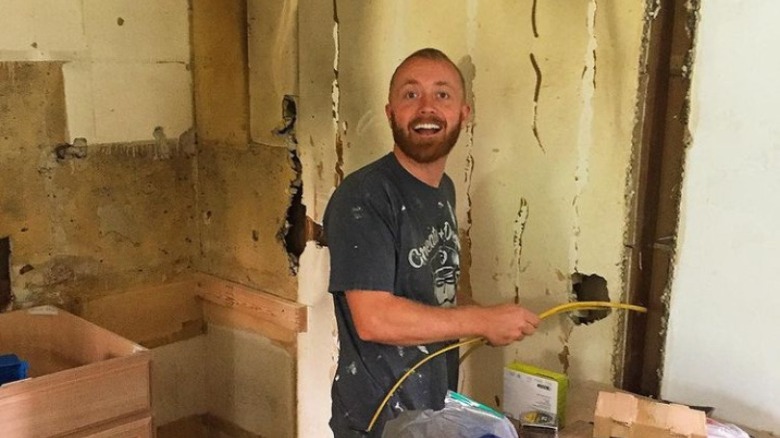 Although "Bargain Block" did not make its HGTV debut until April 2021, the series' stars Keith Bynum and Evan Thomas began filming episodes in early 2020. However, the COVID-19 pandemic halted their plans. "We got about four or five weeks in before we shut down for several months," Bynum shared with EstateEnvy. "We had all these projects going, and we couldn't touch them."
With their business and new TV series at a standstill, what did the guys do to "stay afloat"? They switched to restoring old campers for the time being. Later, when filming resumed, they even put their newfound skills to good use for the show: On an episode that aired in May 2021 titled "Farmhouse and Schoolhouse," Bynum and Thomas worked on a property that came with an unexpected surprise in the backyard: an old camper. Though some flippers would see this as a negative, the "Bargain Block" team saw it as an added "perk" — a possible guesthouse or on-site rental apartment. "It'll be a really fun addition to a house like this," Bynum told Realtor.com.
Leave it to this creative duo to make the best of an unexpected situation!
The Bargain Block guys reveal what living in the homes they rehab is really like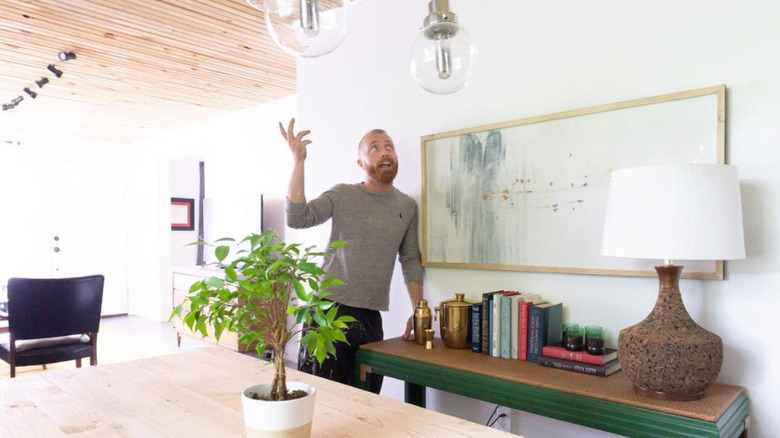 As house flippers, Keith Bynum and Evan Thomas of HGTV's "Bargain Block" "have seen it all" (via The Detroit News). In one house they remodeled, for instance, they found a family of squirrels making the attic their home. "I was convinced we had ghosts for a bit with that one," Bynum revealed.
In the beginning, Bynum told Thomas that living in the houses they renovate wouldn't be that bad. However, when the two arrived, they realized that wasn't quite the case. "The bathroom was not functional at all," Bynum described to EstateEnvy. "The kitchen had like a half-inch layer of grease over every surface. And in that grease were roach bodies."
All this aside, with all the time the duo spends in the houses they renovate, Bynum confessed that he tends to become attached to the properties. "I kind of personify the houses," he explained to PrideSource, admitting that he can relate to the feeling of being down and out and needing some support. "They just need someone to believe in them again," he added.
Fortunately, for this HGTV pair, viewers seem to believe in them as well. And we, personally, can't wait to see what they do next!
Source: Read Full Article