Um, Pretty Sure Blac Chyna's Trolling Khloé Kardashian for Claiming She Could "Demolish" Kourtney in a Fight
In case you woke up having no idea what day this is, hello, it's Monday! And over the weekend there was some Kardashian drama that we all need to catch up on immediately. As you've probably noticed because Kris Jenner is doing the most with KUWTK this season, Kourtney and Kim just got into a massive physical fight while Khloé sat there looking shook and cleaning makeup stains off her wall. It was truly the best of times, the worst of times, and the most Kardashian of times.
And while Khloé wasn't involved in the actual fight, she did hop on Twitter and say "I would demolish Kourt's ass lol don't play. I'm 5'10". She's 5 feet on a good day."
I would demolish Kourts ass lol don't play. I'm 5'10". She's 5 feet on a good day #KUWTK
Um, sure. But meanwhile, Chyna hopped on Instagram stories and casually wrote "what about 5'2?' which fans are assuming is in response to Khloé's tweet:
And yes, social media is all worked up:
Chyna said she's 5'2 now what's good khloe 😭
Nobody's noticing that Blac Chyna asked Khloe for a fight
blac chyna wants to fight khloé??? for what exactly? pic.twitter.com/cjZ81XwNPq
As a reminder before we all move on with our lives, Chyna isn't exactly on good terms with the Kardashians thanks to being involved in a custody dispute with Rob over their daughter Dream. According to TMZ, the pair currently have joint legal and physical custody of Dream, but are both hoping for primary custody.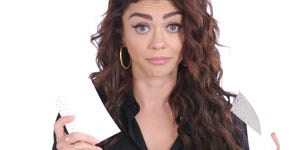 Source: Read Full Article