Valerie Bertinelli Revealed The Rudest Celebrity Shes Ever Met
Valerie Bertinelli has been America's sweetheart since the 1970s when she starred as Barbara Cooper on the CBS sitcom "One Day at a Time." The wholesome actress threw fans a curveball when she married bad boy rocker Eddie Van Halen in 1981. The two stars were married for more than 25 years and had one child together, a son named Wolfgang Van Halen, before divorcing in 2007. But even after their split, they remained on friendly terms.
Bertinelli has a reputation for being one of the friendliest — and most relatable — stars on TV. The former teen TV sweetheart, who went on to star in the series "Touched by an Angel" and "Hot in Cleveland," shared her weight struggles as a spokesperson for Jenny Craig. 
Since 2015, Bertinelli has been showing off her cooking skills on the Food Network series "Valerie's Home Cooking," per IMDb. On the show, she chats it up with celebrity guests such as Betty White, Ross Mathews, and "The Bachelor" alum Colton Underwood. But there's one celeb Bertinelli will probably never invite on her show — because she thinks she's the rudest ever.
Valerie Bertinelli said Christina Aguilera is the rudest celebrity she's ever encountered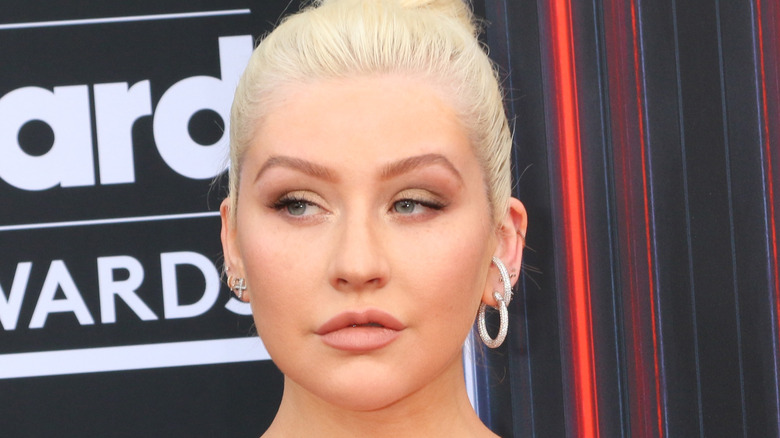 With more than 45 years in show business and a rock star connection, Valerie Bertinelli has crossed paths with a long list of celebrities. But there is one A-lister who apparently snubbed her. During an interview on Bravo's "Watch What Happens Live with Andy Cohen," Bertinelli dished that pop superstar Christina Aguilera once gave her the cold shoulder. The incident took place at a Van Halen concert. "I was a fan at that time," Bertinelli told Cohen. "And I went up to her because she was at a Van Halen concert, and I said, 'Oh my God, I think you're a beautiful singer' … And she just went like, 'Yeah, whatever.' She gave me the cold shoulder, and I thought, 'B***h, I'm a fan. You can't be nice to me?"
Bertinelli added that while she has not run into the "Genie in a Bottle" singer again, she has "heard" that she hasn't gotten any nicer. That also wasn't the first time Bertinelli addressed the incident. In a 2008 radio interview, she revealed she met Aguilera and that the singer was "so mean" to her, via the Daily Mail. Bertinelli added that the singer was "too young to be blowing people off."
Aguilera seemed to respond to Bertinelli's comments about her with a shady social media post. Shortly after Bertinelli's "WWHL" appearance, Aguilera shared a photo of her recording new music and captioned it, "In more important news…" 
Valerie Bertinelli has a negative opinion of another singer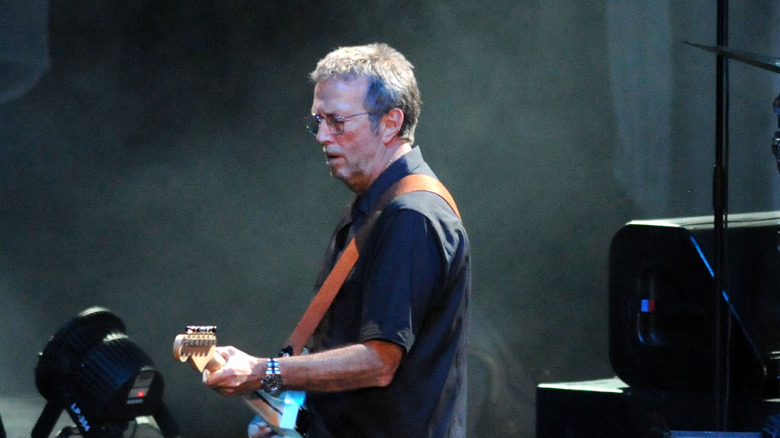 While Valerie Bertinelli may no longer be an Xtina fan, she has also dubbed another singer as a real jerk. After rock legend Eric Clapton recently declared that he will not play at venues where proof of COVID-19 vaccination is required, Bertinelli fired back on social media, according to Guitar. The actress shared a throwback photo of her and Eddie Van Halen hanging out with Clapton back in the day. Bertinelli captioned the pic of Clapton with, "Once a d**k, always a d**k."
Bertinelli didn't elaborate further, but Guitar noted that Clapton made headlines in 1976 for a racist stage rant during a show in Birmingham, England, when he famously declared that England is "a white country" and used the phrase "Keep Britain White." Clapton has since apologized for the racist outburst and admitted it didn't make sense given that he has many Black friends in his life, per The Daily Beast.
But the "Cocaine" singer doesn't seem to be backing down on his COVID stance. Clapton recently released an anti-vax song titled "This Has Gotta Stop," per TMZ. Bertinelli, on the other hand, took to Twitter last year to note that "There are two viruses in this country": COVID-19 and "systematic racism."
Source: Read Full Article