Victoria Beckham *Finally* Smiled in a Photo, and David Beckham Made Fun of Her For It
Perhaps, one of the coolest things about Victoria Beckham—you know, besides the fact that she's married to David Beckham, literally the hottest soccer player on planet Earth—is the fact that she rarely ever smiles. It's been part of Victoria's image forever, pretty much since she was Posh Spice! But now, Victoria's son Cruz is making it a point to tell the world that yes, on occasion she has the ability to flash her pearly whites. And like a true husband that loves cracking jokes, David's making fun of Victoria for smiling on Instagram.
"Apparently my mum does smile 😃❤️," Cruz captioned his post, which his momma hit the Like button on.
In the comments, David jokingly wrote, "How white are mums @victoriabeckham teeth ? 🦷 it's Ross from friends 😂." Victoria has yet to respond or like the comment, and TBH, I wouldn't expect her to anytime soon.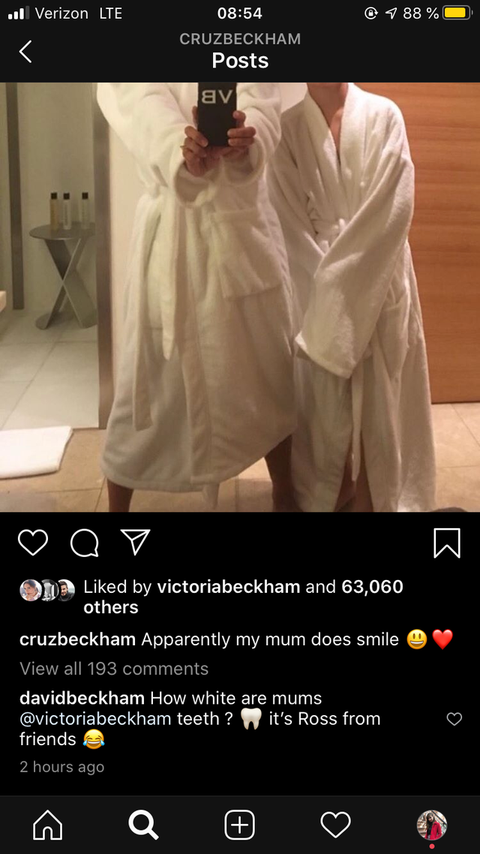 And if that lil Friends reference went right over your head, David's talking about the one where Ross decided to get his teeth whitened.
In case you're wondering why Victoria's usually reluctant to smile, she actually revealed that it wasn't to simply look cool—it was more of a self-confidence issue. "I want to be honest," she said in an interview with Glamour UK last year. "In the past, I've probably hidden behind my armor—the not smiling publicly, for instance. There's less of that now."
"There's something really liberating about embracing who I am at 45 years old and owning it, feeling confident, feeling content," she added. "Doing beauty has really helped with that—it's been very liberating. I want to spread the word that everybody should feel like the best version of themselves. To look after what you have. I want to tell people to own who you are. Yes, we—and I—have wrinkles, and that's okay!"
Glad to hear that Posh feels more confident these days!

Source: Read Full Article