Was Tupac Shakur Single When He Died?
Tupac Shakur is an iconic artist and is considered by many people to be one of the greatest rappers that ever lived.
The level of his artistry was impossible to deny even during his lifetime, and he received critical acclaim for his work in music as well as for his acting projects. Shakur's tragic death in 1996 has remained the subject of intense speculation to this day, and fans still relish learning everything that they can about the game-changing rapper.
Shakur's romances have become legendary as well — although many Shakur super fans might be surprised to learn whom he was dating the year that he passed away. 
How did Tupac Shakur become famous?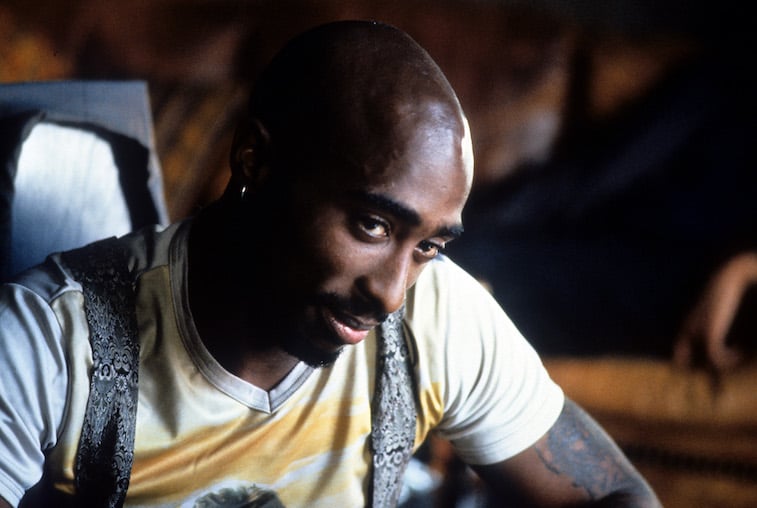 Tupac Shakur was born in New York City in 1971. Shakur got involved with art at an early age and even attended art school for a time. He befriended up and coming actress Jada Pinkett (now known as Jada Pinkett Smith) and the two remained friends until Shakur's death.
In the late '80s, Shakur began exploring his musical abilities and in 1991, Shakur released his debut album, 2Pacalypse Now. 
Shakur's music was controversial from the beginning, featuring themes of police brutality, oppression, unjust social policies in government, and discrimination against African-Americans.
Shakur's second album, which he released in 1993, was an even bigger hit than the first and made Shakur a bonafide superstar. Shakur was consistently the subject of controversy throughout his career, beyond the music that he released. In 1995, Shakur served a sentence for sexual assault.
However, his time in jail did little to quell his incredible popularity, and his fans never stopped supporting his right to speak out about causes that mattered to him.
Who did Tupac Shakur date?
Tupac Shakur's personal life was often in the headlines. One of his earliest known relationships was with the superstar Madonna. The two dated in 1993 for nearly a year, although they kept their romance intensely private.
In fact, Madonna didn't speak out about their relationship until years after Shakur was killed, admitting that the rapper was hesitant to be linked to her when they were dating due to the effect that it could have had on his image.
In 1994, Shakur began dating Keisha Morris. The two got married in April 1995, during the time that Shakur was incarcerated. Their romance proved to be short and sweet, and they split up only five months after Shakur was released from prison.
Following his split from Morris, Shakur was rumored to have dated a few different women, from Whitney Houston to model Heather Hunter. 
Was Tupac Shakur dating anyone when he died?
Tupac Shakur would have undoubtedly gone on to do incredible things with his life. In the short time that he was active in entertainment, the rapper and actor made an impression that reverberates to this day.
Sadly, his light was snuffed out all too soon when, in September 1996, Shakur was shot and killed in a Las Vegas drive-by shooting. The details of his death remain scarce, and his killer has never been identified. 
Shakur left behind thousands of grieving fans, as well as a fiancé. Shakur and Kidada Jones, the daughter of Quincy Jones and Peggy Lipton, started dating in early 1996 and just a few months prior to Shakur's untimely death, the two had gotten engaged.
Jones was reportedly the person to last speak to Shakur in the hospital before he succumbed to death, and even today, she claims that the rapper was the "love of her life." 
Although his death will always remain suspicious, Tupac Shakur left an indelible impression on pop culture. Stay tuned to Showbiz Cheat Sheet for all the latest entertainment news!
Source: Read Full Article