A Beginner's Guide to Some of Rolex's Most Intriguing Submariner Variants Pt. 1
Collecting watches can get complicated. It only gets worse when looking at models with a long lineage and multiple updates. The longer time passes, things like service/Franken parts, fakes, and DIY jobs can find their way into a specific reference you're after. And it only gets foggier if the brand you're dealing with has a century-old history.
When it comes to references and variants, there are few that can match the esoteric nature of Rolex and its Submariner. Rolex is not only the most customized and faked watch brand but its actual watches have gone through so many tweaks throughout the years that it has given rise to exclusive naming within the watch community for certain references. You really start going down the rabbit hole when you factor in outsourced movements, supplier changes, dial fonts, and even how for example, there was this small window in production where the recipe for UV protection (lack of) and lacquer composition somehow starting birthing a generation of discolored dials and bezels.
While not so much a guide for the collector that's already bought them all, new watch enthusiasts that are looking to dive deeper into the world of Rolex will want to check out some of these earlier references as sort of the progenitors of some to the modern Rolex watches that are quickly appreciating in today's market. Heck, you may even find some of these pieces whimsical and interesting. We are again joined by Paul Altieri of Bob's Watches to go through some of the variations and jargon that's present in his collection of vintage Rolex watches.
Let's start with the Rolex 6200 pictured above. Known as the "Big Crown," this watch is a legend in vintage Rolex collecting circles. This incredible example, from Paul Altieri's private collection, dates back to 1956 and is considered by many Rolex fans to be the ultimate grail watch. This rare watch is also notable because of its rare 3, 6, 9 dial and no hash bezel. What is even more unique about this watch is what it is missing. In addition to the lack of the traditional "Submariner" label at the bottom of the dial, this early model did not come with any crown guards. This watch was also the first sub to have Mercedes-style hands and sees "BREVET" on the crown just under the coronet.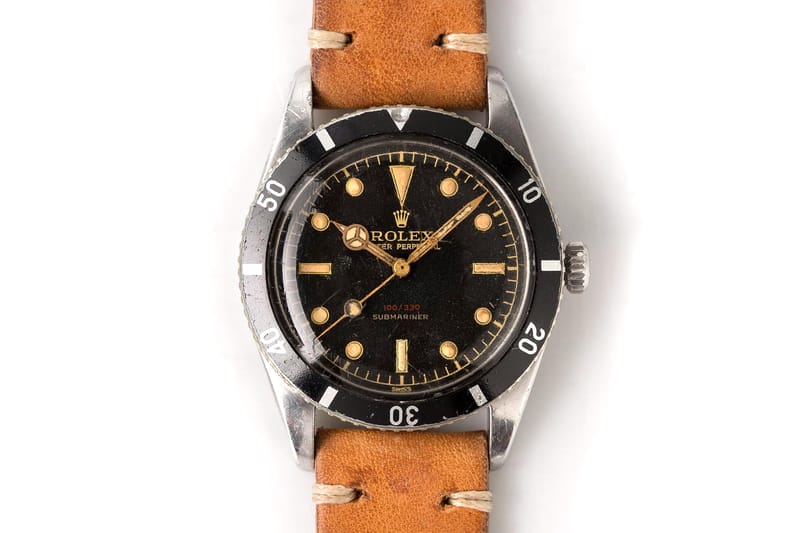 6538/6 "Red Depth"
Another rare vintage Rolex Submariner worth taking a look at is the reference 6538/6. If this watch looks familiar to you, it is because it shares a lot of similarities with the $1 million USD dollar Submariner that sold at Christie's. This watch is a little different for a few reasons. First, this watch features a depth rating of 100m/300f instead of the 200m/660f like the one from Christie's (and Sean Connery in Dr. No). Additionally, the bezel on the 6538/6 is actually present on this watch and the patina on the hands and hour markers match perfectly. And, although this watch shares the same lack of crown guards as the 6200 model mentioned above, this reference has a significantly smaller crown.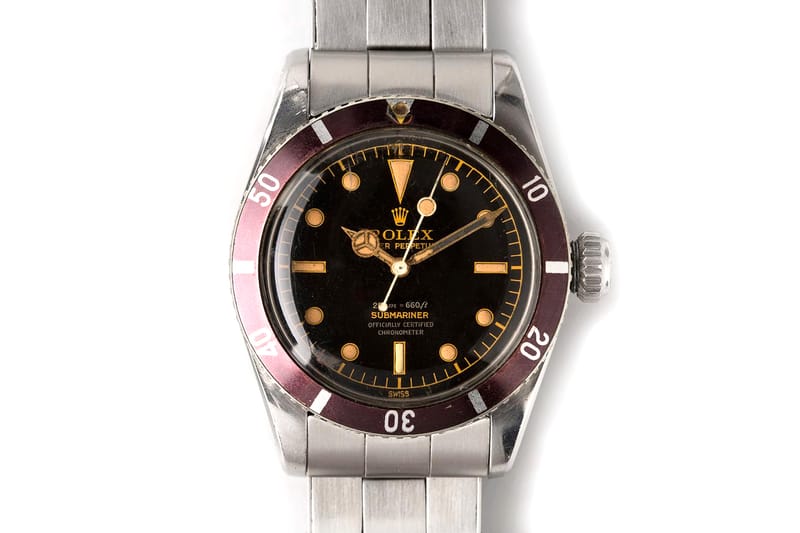 6538 "Gilt + Faded Bezel"
Remember the watch that sold at Christie's for $1.1 million USD? It was a beat-up vintage 6538 with an amazing backstory. Considering that the watch sold at Christie's has been through the wringer, this watch above is in pristine condition. The first thing that catches your eye is the faded bezel with hash marks. The bezel has faded from a solid black color to an almost plum or wine purple. The next things your eyes should wander towards are the gilt letters on the Submariner. Gilt dials were one of the first types from Rolex. They are known for their warmer golden-colored markings which look antique against the gloss-black surface. The word "Submariner" is also written in gold, and the watch has a beautiful creamy patina.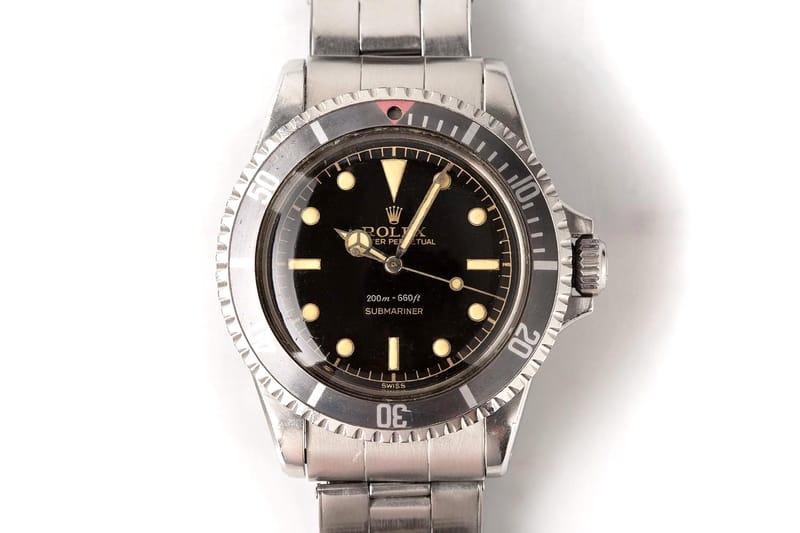 5512 "Square Crown Guards"
The Vintage Rolex Submariner ref. 5512 with square crown guards is without a doubt on any collector's wish list. To date, there are only a dozen or so known to still exist so finding one won't be easy. When square crown guards were first introduced in the early '60s, customers complained about how clumsy they were and how they made it difficult to wind the crown. So what did Rolex do? It redesigned the newer production models with pointed crown guards to make it easier to change the time. Between the boxy crown guards and the gilt lettering featured on this ultra-rare Submariner, this watch is something even the most discerning of collectors would love to own.
5513 "Tiffany & Co. + Maxi"
What many people don't know is that Rolex and Tiffany & Co. have a fair amount of history together. On this watch, you'll notice the co-branded signage on the dial. What makes this watch even more remarkable is the "Maxi I Dial." The "Maxi Dial" refers to the large lume plots you see featured on this watch. Initially produced from 1962 up until 1990, the Submariner 5513 is the quintessential Rolex dive watch. Since these watches are no longer in production, they are obviously only available in the used Rolex market. Because the 5513 was in production for so long, this watch is especially susceptible to replication and forgery.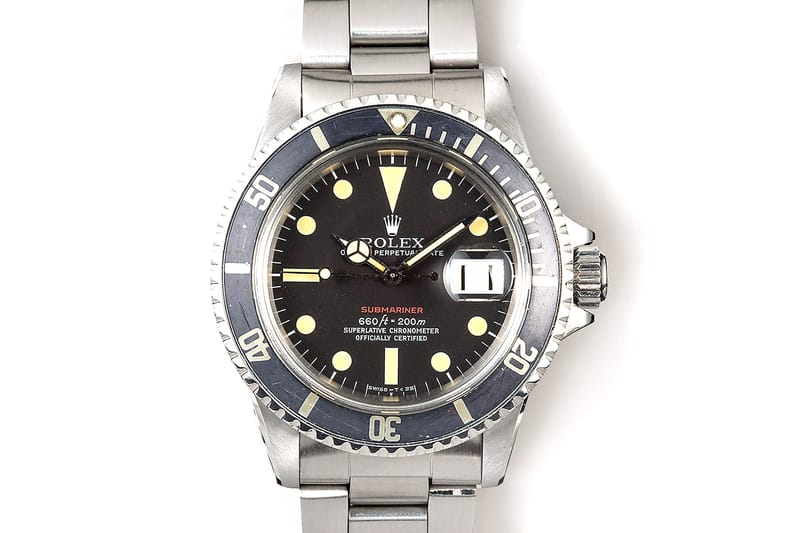 1680 "Red Sub/Single Red + Mark V"
This is a Red Submariner, circa 1971, and it displays all the makings of the Mark V dial — it displays the "feet first" as opposed to meters first on the line, the "6" is "Open," and the depth rating is very thin. All these attributes are correct and matched with the serial number. The tritium has patinated to a beautiful creamy yellow color.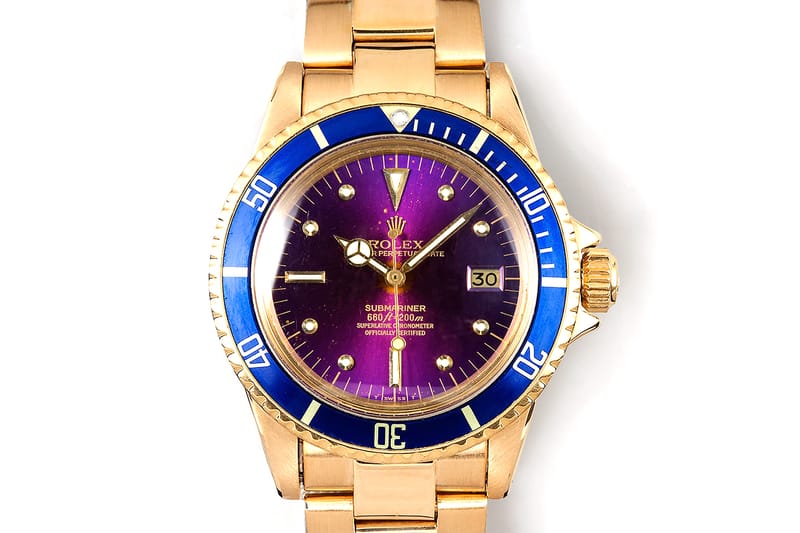 1680 "18k YG Tropical"
Here is a vintage Rolex Submariner Circa 1978 ref. 1680 in 18k yellow gold. While the dial was originally blue, time along with a little help from the sun has aged and turned the dial "tropical." While some consider this damage to the watch, there is a load of collectors that enjoy this type of patina and added character to the watch. This dial went from a rich metallic blue to purple with spotting. Both the blue and the black dial versions of this watch have been found in grey, orange, and brown tropical variants. If you look carefully at Paul's version, you'll also note that the font on the depth rating is different than the normal Submariner.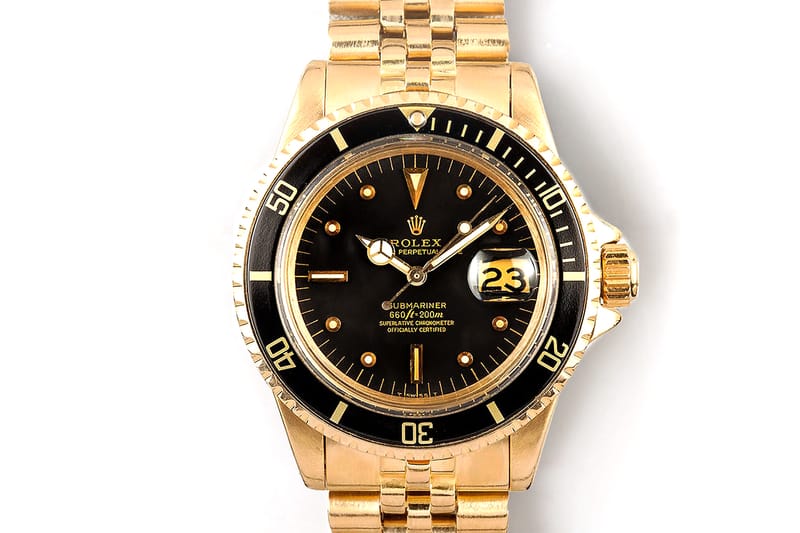 1680 "18k YG Nipple Dial + Jubilee Bracelet"
The "nipple" comes from the uniquely-shaped hour markers for these dressier versions of the dive watch. This black dial Submariner is from 1968, and what makes this watch special is the unusual 18k gold Jubilee bracelet that it came with.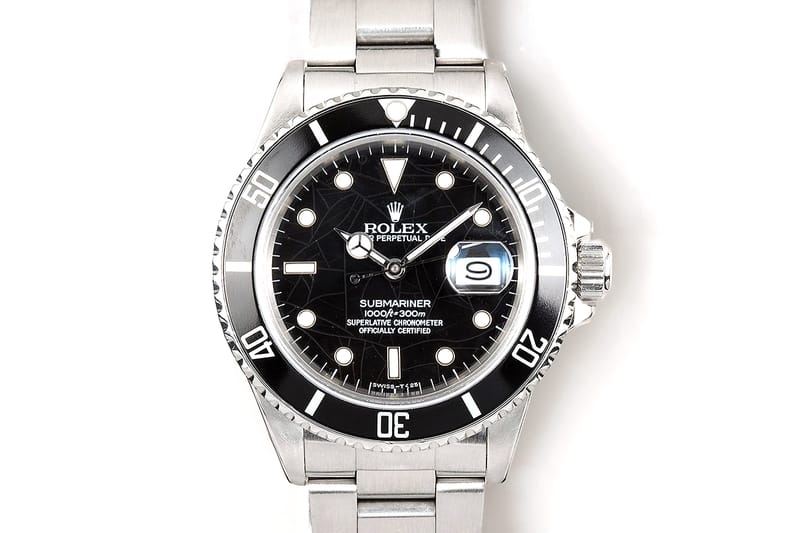 16800 "Spider Dial (look close)"
Yeah, yeah, not another needless use of the term "wabi-sabi." But, this is exactly what it is. The first time I came across one of these, I was sure I would get a discount, and while some dealers do not touch these with a 1,000ft/300m pole, there are dealers like Grey and Patina that celebrate its quirkiness. A lot of these cracked or "spider" dials have already been serviced as you can only imagine the horror in the late '70s when owners' Subs started falling apart. I've always wanted one but never had the courage to pull the trigger. Even though I've never seen an example of a spider dial where an entire section of a crack has fallen off, the thought stays in the back of my mind. I was offered one at a very sweet price from an owner who couldn't be bothered to "fix" his, and looking back, I should have snatched it up. This unique pattern came when Rolex started testing out different materials to make the watches look more luxurious. In this process, they changed to glossy dials from a matte dial. Since Rolex did not perfect its lacquer finish, there are a handful of vintage Submariners with the cracking dial, which produced its nickname. Bob's Watches does a great job and covering these imperfect dials here.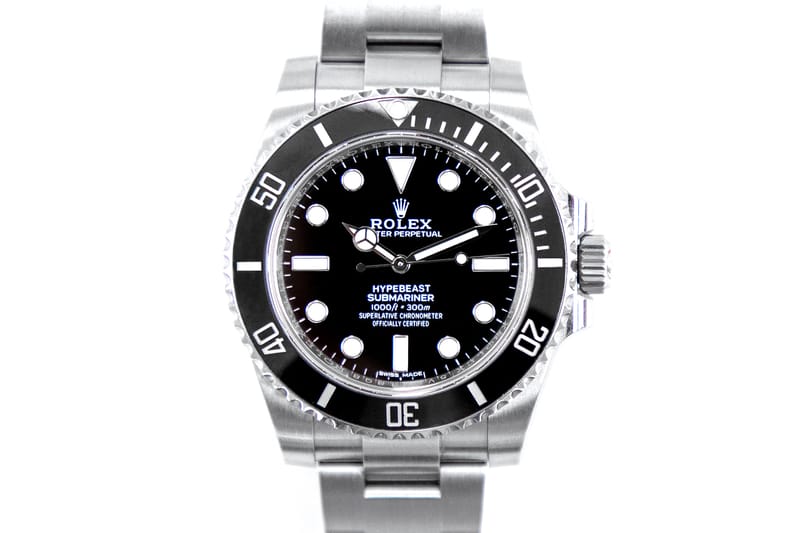 14060 "Custom"
Not exactly an official particular release from the watch brand, but Rolex watches are one of the most customized watches on the globe — even Supreme put out that infamous Sub back in 2013. Purists hate them, and while I will admit they are hit-or-miss, I've come to appreciate the work of quality custom watches. My first introduction was via Bamford Watch Department, and it was at a time when a lot of customizers were blacking out their watches with personalized dial printing. The whole world of customization has elevated to such great heights with advanced materials, precious metals, and of course, diamonds, rubies, sapphires, and emeralds. Other household names include Mad Paris, Blaken, and DiW. For a more advanced level of customization, down to the movement, Artisans de Genève are the ones to call.
In other watch news, Audemars Piguet releases three new iced-out versions of the Royal Oak "Jumbo" Extra-Thin.
Source: Read Full Article