A Health Care Workers Union Found A Supplier With 39 Million Masks For Doctors And Nurses Fighting The Coronavirus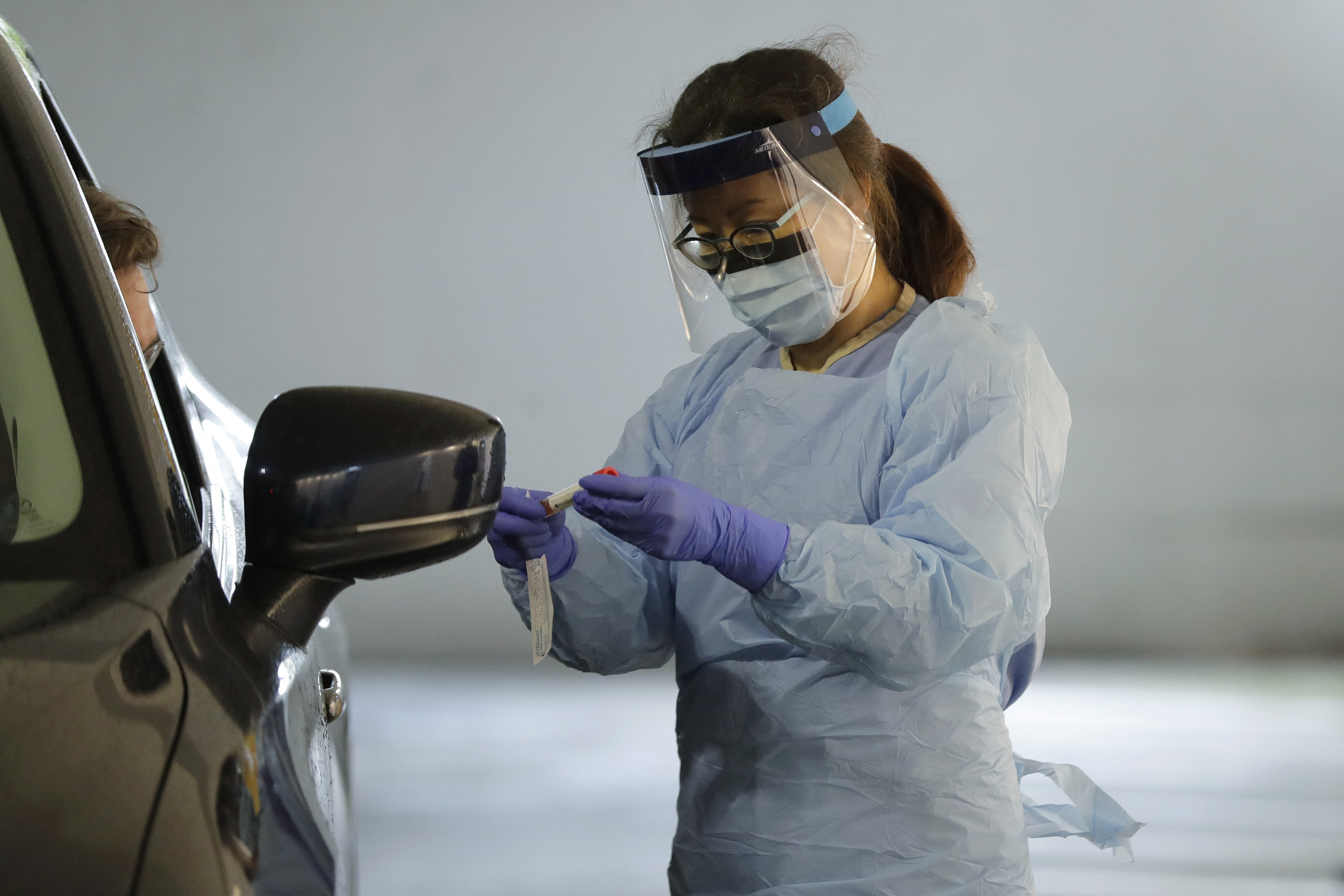 A nurse at a drive-up COVID-19 testing station wears personal protective equipment in Seattle, March 13.
The journalists at BuzzFeed News are proud to bring you trustworthy and relevant reporting about the coronavirus. To help keep this news free, become a member and sign up for our newsletter, Outbreak Today.
A union representing health care workers has found a supplier to provide 39 million masks for desperately under-resourced hospitals in New York and California as medical staff struggle to treat the influx of people who have COVID-19, the disease caused by the novel coronavirus.
The Service Employees International Union's United Healthcare Workers West started looking for vendors who could supply masks and other protective equipment five days ago, after "pleas from frontline health care workers that they need more protection and feel unsafe on the job," they said in a statement on Thursday. Union staff tracked down the supplier with 39 million masks available, along with another who they say can make 20 million masks per week. The union also found another who can deliver millions of face shields.
SEIU-UHW spokesperson Steve Trossman told BuzzFeed News he had no idea why the supplier had such a large quantity of masks on hand. He declined to name the company, but it has warehouses in Pennsylvania and Georgia.
"There was nothing magical about it. We just rolled up our sleeves and tried anybody who we thought might have a supply," Trossman said. "It really was old fashioned elbow grease."
The news comes as doctors and nurses fear for their own safety, as well as their ability to continue treating patients effectively when they don't have access to protective equipment like masks and face shields. At some hospitals, staff members are being asked to reuse masks not designed to last longer than a few hours.
The union represents 97,000 people who work in California hospitals.
"We knew that they were running out of equipment," Trossman said. "They were worried and they were scared, and they wanted to protect themselves and their families when they went home."
Overall the union represents 2 million members — including hospital, home care, and nursing home workers. It said it is focusing mainly on providing the supplies to hospitals, both unionized and nonunionized, in New York and California for now, but it hopes to expand its reach as it continues to search for suppliers.
The masks will cost states, counties, and hospitals that need them $5 apiece, with the union connecting hospital procurement officers directly with the suppliers — the union isn't making a profit from the supplies. They said the state of California, the Greater New York Hospital Association, and health care giant Kaiser Permanente, as well as Los Angeles and Santa Clara counties, were among the groups who are already buying masks through the suppliers the union found.
As union leaders said they were happy to find the much-needed supplies, they also called on the federal government to do more to coordinate supplies at a national level.
"While we are pleased with these initial results, we recognize they are stopgap measures in light of the estimated 3.5 billion masks that could be needed during this pandemic," Dave Regan, president of SEIU-United Healthcare Workers West, said in a statement. "We urgently need the federal government to step in and drive a coordinated national response to the PPE shortage."
More on this
Medical Workers Need Masks So A Grassroots Army Is Checking Basements, Garages, And WarehousesKen Bensinger · March 20, 2020
"We Are Desperate": 10 Nurses And Doctors Explain What It's Like To Fight The Coronavirus Without Enough Face MasksZahra Hirji · March 18, 2020
These Doctors And Nurses Say Their Colleagues Fighting The Coronavirus In The US Are Getting Sick And Dying — And No One Is Keeping TrackZahra Hirji · 2 hours ago
Nidhi Prakash is a reporter for BuzzFeed News and is based in Washington, DC.

Contact Nidhi Prakash at [email protected]

Got a confidential tip? Submit it here.
Source: Read Full Article