Babyface Says Whitney Houston Predicted Brandy Would Be The Next Big Thing
Brandy has made it no secret that Whitney Houston is her musical idol. Her 2012 album Two Eleven was in Houston's honor as Brandy chose the album title as the day is both her birthday and the day of Houston's death. Brandy also had a tribute song to Houston on her debut album and the two worked together on television and music projects.
As it turns out, the admiration went both ways as Babyface revealed that Houston tapped Brandy to be the next big thing. The superproducer says that Houston thought Brandy's talent matched hers. 
Whitney Houston once told Babyface that Brandy would be as big as her one day
Babyface took fans down memory lane by sharing behind the scenes moments of producing the iconic Waiting to Exhale Soundtrack. He wrote, produced, and arranged all songs on the album except one and worked closely with Houston to select the artists who would be featured on the all female-led soundtrack. Houston played an intricate part in the recording process and was an adviser to the artists when needed. But, Babyface says that she was most fond of Brandy.
Babyface revealed that he was the one who suggested that Brandy be featured on the soundtrack and was happy when Houston agreed. He said that Brandy had one of the best voices he'd ever heard. 
"Both Whitney and I, we sat down and talked about it and Whitney was like, 'This girl can sing, this girl gon' be me one day," he said. "She [Brandy] had so much soul and so much rhythm – it was unbelievable."
He was even more impressed with Brandy when she recorded the song. "She came in there ready, she was prepared. That little girl got behind that microphone and the background she did, she must have done it in three seconds," he explained.
He noted that he believes that Brandy is underrated and underappreciated. Without Brandy, Babyface says that the soundtrack would have missed that special touch.
Brandy's song, "Sittin' Up In My Room," reached number two on the Billboard Hot 100 and was one of five singles on the soundtrack to be released as a single.
Brandy and Whitney Houston worked together on 'Cinderella' and had a close relationship until Houston's death
The Waiting to Exhale soundtrack was not the only time Brandy would work with her longtime idol. The pair joined forces when Houston handpicked Brandy to star in 1997 made for television movie Rodgers & Hammerstein's Cinderella. It would mark the first time an African American starred as a Disney princess. Houston played the role of Brandy's fairy godmother. 
The film shattered ratings when it aired in November 1997 on ABC. Over 60 million viewers watched the movie, making it one of the most-watched television musical in history. ABC re-aired the film two years later on Valentine's Day 1999 and attracted an additional 15 million viewers. 
Brandy spoke with PopSugar in 2016 about what it was like to work with Houston on the film.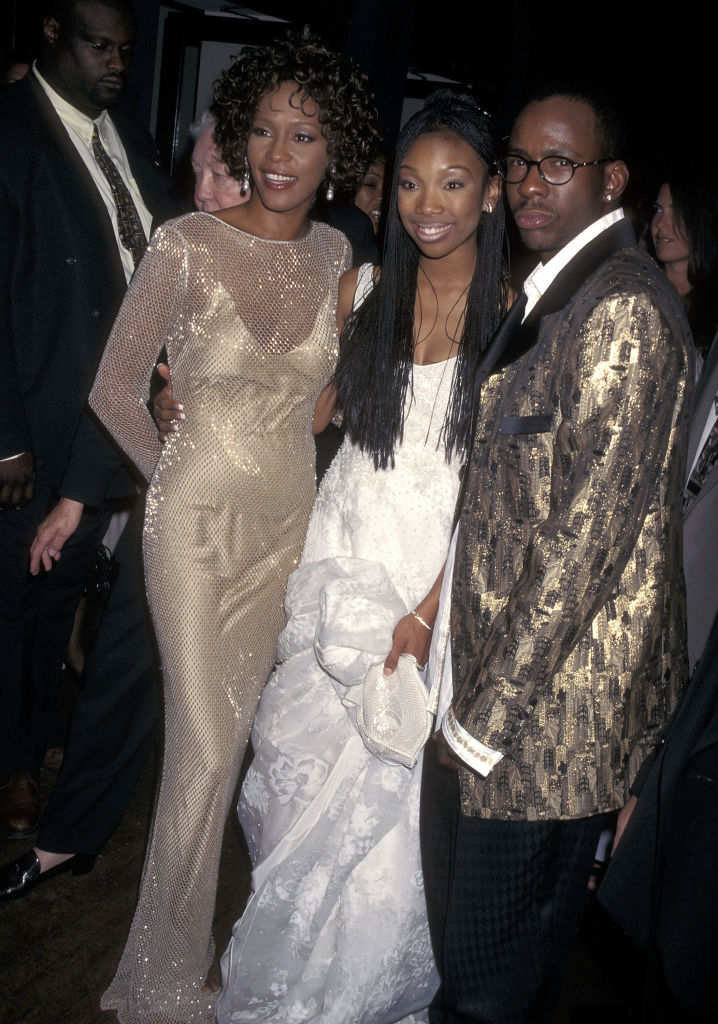 I was just so honored to play the role of Cinderella, and then the bonus of working with my favorite person in the whole world. I just couldn't believe it. I dreamt of meeting her, but never in a million, thousand light-years would I dream that I was going to work with her and sing with her and laugh with her. It was like I was Cinderella as Cinderella.
Their friendship continued beyond their work projects. Their families were also close, and Brandy's brother Ray J dated Houston after her divorce from Bobby Brown.
Source: Read Full Article