Dogs, kids, lawnmowers: noisy new reality as hosts work at home
"You can often tell from a politician's facial reaction if they're uncomfortable with a question," says 2GB morning host Ray Hadley. "If they bring an adviser into the studio and the politician says something they weren't supposed to, you can practically see the colour draining from the adviser's face." (Nine Entertainment owns 2GB and this masthead.)
Like many broadcasters, Hadley is now working remotely and conducting all interviews over the phone as the population acts to help slow the spread of coronavirus.
2GB morning host Ray Hadley is broadcasting from a hotel in suburban Sydney to help slow the spread of coronavirus.Credit:2GB
"I've been doing outside broadcasts [as a live sports caller] for 35 years, so it's not foreign to me," says Hadley, who is operating from a suburban Sydney hotel until necessary equipment is installed inside his house. "I miss having guests in the studio and even though we tell our listeners we're in another location, they probably can't hear the difference."
Social distancing has forced Hadley and fiance Sophie Baird to postpone their wedding until at least September.
"The venue we'd booked and the people making our cake and desserts are all losing money," Hadley says. "We've left the deposits with them and said, 'When we finally do have our wedding, you'll get the job.'"
In mid-March, the members of Nova's Fitzy & Wippa show – including hosts Ryan Fitzgerald and Michael Wipfli, announcer Sarah McGilvray, journalist Matt de Groot and producer Tom Ivey – self-isolated for 14 days after potential exposure to the virus through a guest. All recently tested negative, and while Fitzgerald and Ivey are back in Nova's Sydney studios, the others continue to work from home.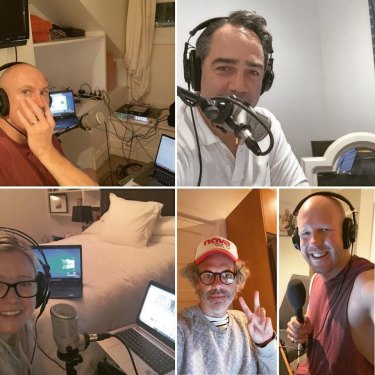 Nova's Fitzy & Wippa team, clockwise from top left: Ryan Fitzgerald, Michael Wipfli, Matt de Groot, Tom Ivey, Sarah McGilvray.Credit:Nova
"Tom produced the show from his Toyota hatchback outside his house because he didn't want to wake his kids," Fitzgerald says. "It's tough not being able to see each other but we've developed little techniques like taking a deep breath in an interview if we want to ask the next question."
Lawnmowers, dogs and screaming toddlers are among the noises Fitzgerald has heard while speaking with listeners on air. "And I've had ships blowing their horns outside my house," he says. "Everyone understands because we're all in the same boat."
Most presenters at ABC Radio Melbourne, in contrast, are still working from the broadcaster's Southbank headquarters.
Richelle Hunt co-hosts ABC's Victorian Conversation Hour program.Credit:Richelle Hunt
"Because ABC is officially deemed an essential service, we knew we'd have to keep doing our jobs no matter what," says station manager Dina Rosendorff. "We've had an unprecedented volume of talkback calls which [requires studio facilities] to keep the quality high."
All programs now alternate between two studios, allowing cleaners to disinfect each one between shifts. External guests are banned and meetings can only be held on phone or video platforms. Every host has their own microphone sock and headphones, which they sterilise inside UV light boxes, and all have set up temporary studios inside their homes so they can broadcast remotely at short notice.
Richelle Hunt, already accustomed to the physical separation from her Conversation Hour co-host Warwick Long, who is based in Shepparton, is choosing to work from her Melbourne house.
"People are understandably panicked but that makes it easier for misinformation to spread," Hunt says. "Our job is to remain calm and break down the facts."
Giving listeners a respite from relentless bad news, she adds, is vital.
"We're all hearing so many stories of kindness and generosity," Hunt says. "Someone drove an elderly woman home from the supermarket and then gave her a jar of honey; others are checking on their neighbours and doing their shopping for them.
"It's so heartening to see that community spirit shine through."
Source: Read Full Article