'Gibraltar? Are you f***ing joking?' Life on board boxing's bubble boat
It is 25 degrees on a cloudless Thursday afternoon in the Gibraltar Botanical Gardens and Dillian Whyte is wearing leather gloves and a hoodie.
He has just stared down the Russian Alexander Povetkin on a concrete jetty which divides a shimmering, rock-skirted pond full of koi carp.
Afterwards the Brixton heavyweight will return to his room on the Sunborn, 'the world's first five-star super yacht', which has provided by far the strangest setting since Covid-19 forced boxing into bubbles.
This week, a boxing ring has been erected in the top left-hand corner of the boat's upper deck beside a swimming pool where Matchroom-branded beach balls bob. The Rock of Gibraltar provides the stunning backdrop.
"The boat's alright," Whyte says. "It's just like being in a Travelodge. I don't think 'wow! What a beautiful view'. I'm here to do a job.
Read more
A lost generation of future footballers
Lewis Hamilton 'being used' by Black Lives Matter, claims Bernie Ecclestone
Rio Ferdinand identifies Frank Lampard's key mistake that led to Chelsea sacking
'It's nice that it's just the norm for us': Life in the most gender equal sport on the planet
"I don't wake up, go outside and sit on the balcony and start tanning. My mindset is just thinking about war, damage and destruction. I'm not sitting here thinking 'oh my God, wow, this is amazing'."
Before the pandemic, this boat and the casino that sits on its second floor was a popular attraction for visitors to this tiny slice of British territory, with its bizarre combination of ancient fortifications and Marks & Spencer.
Independent Rugby Newsletter
Live Rugby union coverage direct to your inbox every week
Read our privacy notice
Independent Rugby Newsletter
Live Rugby union coverage direct to your inbox every week
Read our privacy notice
When Whyte's promoter Eddie Hearn first mentioned Gibraltar as a potential destination for the fight, nobody really believed him. Although his company has a history of bringing darts and pool tournaments to the country, a boxing bubble here during a global pandemic seemed like a stretch.
But when Portugal, the scene of Whyte's training camp, was placed on the red list, a return to the UK would have 'destroyed' his preparation. "Ten days quarantine in a government hotel would have finished my whole camp," he said. "That would have been like not training for 10 days. I would've come in out of shape, too heavy, rusty and stuck in a hotel. It would have been terrible."
So instead, earlier this month, the decision was made to come to Gibraltar and the wheels were set in motion for what Hearn has described as arguably the most awkward promotion of his career.
"When Dillian suggested Gibraltar I said: 'are you f***ing joking?' Hearn said.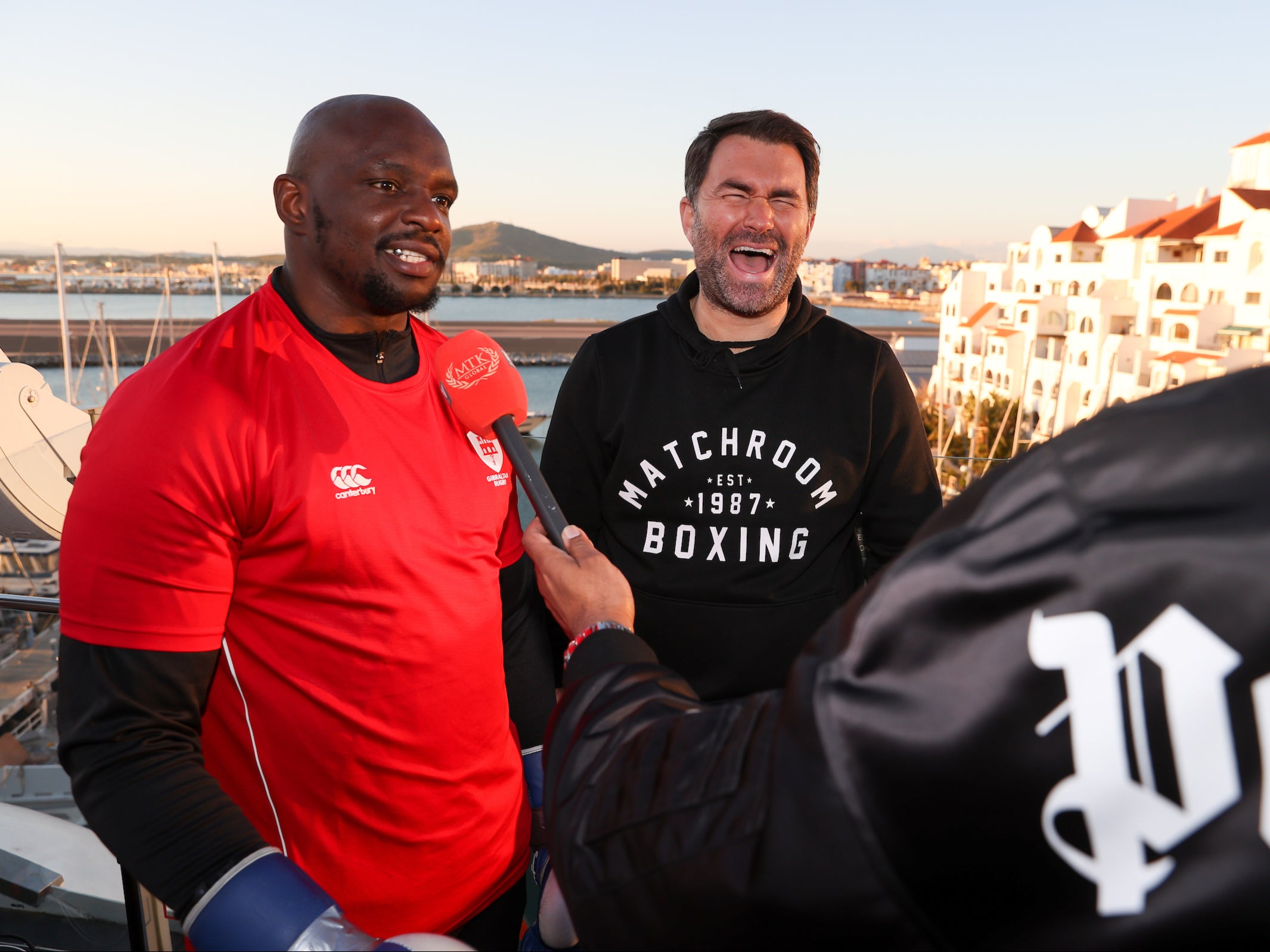 "At first Gibraltar said they wouldn't be ready but their vaccination programme was so successful and their numbers dropped so quickly that they said that they would love to do it."
What it does mean is a significant pay cut for Whyte whose overall purse will be hit by the cost of a scarcely believable operation to get this fight on just three weeks after the decision was made to come here.
While Whyte and his team drove across from Portugal at the weekend, everyone else involved in the promotion, from boxers, trainers, managers and staff, had to be brought over from London. This meant a test on Tuesday morning and a day of quarantine in a London hotel.
Once negatives were returned, a fleet of three coaches carrying close to 200 passengers, including Povetkin, headed north for a private terminal in Stansted Airport to board a jumbo jet chartered by Matchroom themselves. Hearn addressed the cabin during the flight and promised an unforgettable fight-week.
Those on board were then bussed to the £143m Sunborn, where the best of the 189 rooms on board fetch £2,000 a night. Naturally, Whyte is in one of them. Povetkin and his team, incidentally, are staying at an on-shore hotel so that the two heavyweights do not find themselves awkwardly breaking bread together during fight week. "You don't really want to be having breakfast next to the bloke you're going to fight at the weekend," Hearn said.
The stakes could not be higher for Whyte, poleaxed by the Russian in the fifth round of their first meeting on an August night in Eddie Hearn's back garden last year. Another defeat to Povetkin here would make any route to a world title shot even more painful than it already looks.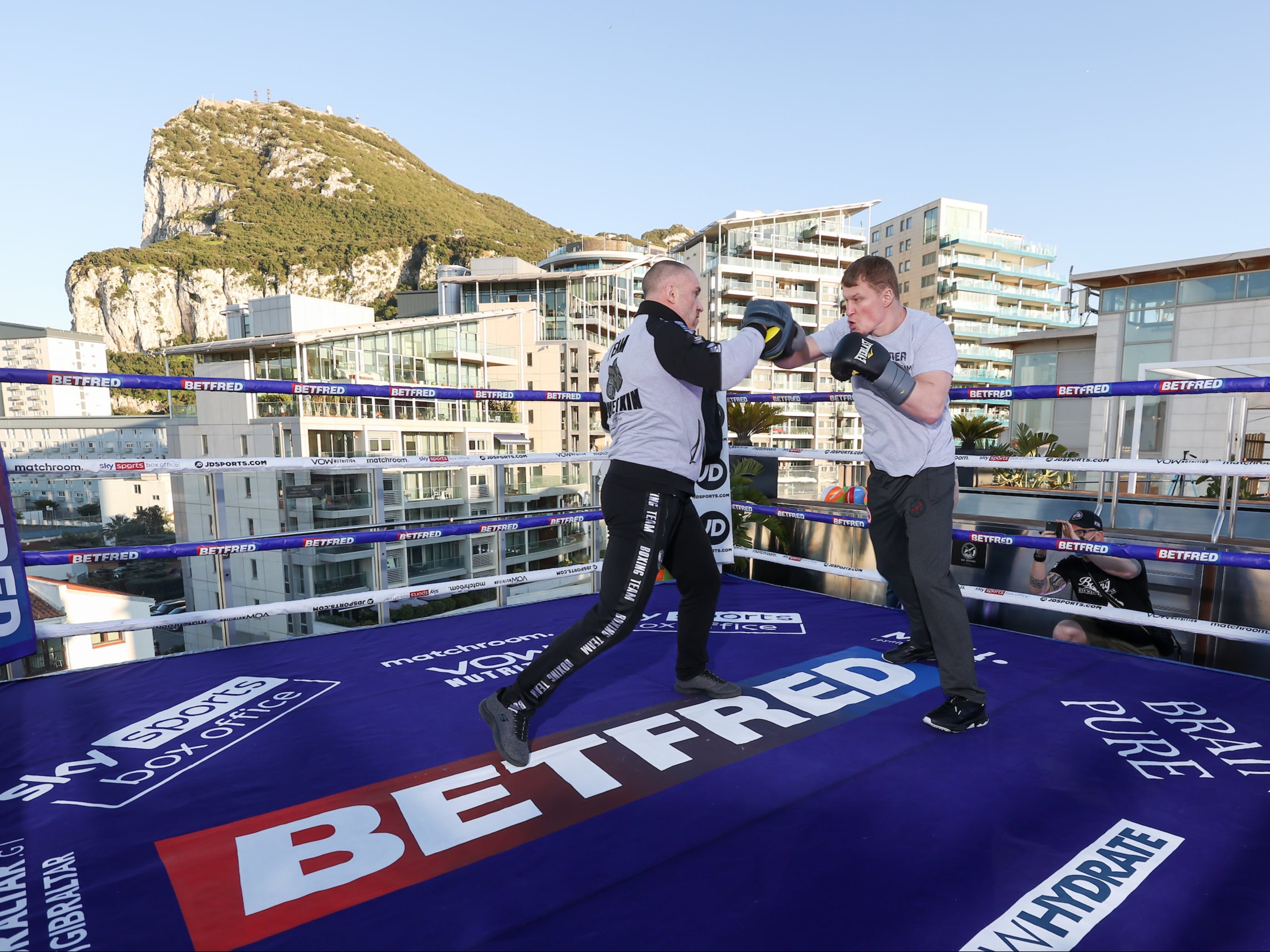 Due to the success of Gibraltar's vaccination process, labelled Operation Freedom by the government, there will be 500 fans in the Europa Point Sports Complex on Saturday night. Even though 90 per cent of Gibraltan people have now had at least one of their jabs, anyone with a ticket will be tested twice before they are allowed in.
Meanwhile, those staying on the Sunborn hoping to fly back to the UK on Sunday's chartered flight must return a negative test before boarding the plane. They must then quarantine at home for five days before returning a second negative test. It has been some operation.
"We looked at Jersey, the Isle of Man, anywhere in the world, and then Gibraltar which is only a few hours drive from his base in Portugal," Hearn said from the top deck of the boat.
"It's ridiculous but now we are here we will never forget and it is better than being in the Wembley bubble and everyone being pissed off and miserable.
"Overall it has cost the show another £250,000. Dillian will make less to do it here because of the costs.
"But he has said this fight is not about the money, he knows he has to win and if he doesn't, the money is irrelevant."
Source: Read Full Article