Hey, Your Weekend Sex Horoscope's Here
What's happening: Tonight, Mercury enters Aries, then tomorrow, the speedy planet forms a supportive sextile to Saturn, planet of structure. Flash forward to Tuesday, and the Sun forms a harsh square aspect to Pluto, the planet of destruction and transformation. On Wednesday, the Sun forms another square, but this time it's to buoyant Jupiter, the planet of luck, abundance, and growth.
Btw, with all that's going on rn, remember that you can flirt and sext from a distance—if you're social distancing solo, now's the time to get a bit creative.
What that means:
Aries
With Mercury in your sign, you're feeling more confident about speaking your mind. If there's someone cute you've been wanting to hit up, now's the time to go for it! Instead of swan-diving into their DMs, use Saturday's Saturnian influence to think of the perfect words to knock your crush's socks off. For the boo'd up Aries out there, you gotta watch out this week. The Pluto drama on Tuesday is not a pleasant transit, TBH—it signifies a profound transformation in your life happening after some sort of major conflict. This can be bad if your relationship is already on thin ice–I'll be real with you, breakups can easily happen when Pluto gets involved. Even if you're in a totally secure relationship with the LOYL, watch out for a big fight. Try to restrain yourself from striking back during a disagreement—focus on compromising and patience. Not your strong suit, we know, but it's all the more important for that.
Taurus
NGL, Taurus, this isn't the most fun weekend for you. You're feeling thirstier than ever (probs because your love life is drier than the damn Mojave Desert), but thanks to the Sun and Mercury hanging out in Aries, you're having a hard time feeling heard or even noticed by others. You're taking care of your own needs this weekend, but things look a little brighter during the week. The Sun/Pluto square is a harsh transit, but it can actually be productive if you play your cards right. Your deepest thoughts and feelings are coming up, and you're feeling more compelled than ever to speak on them. Maybe you're reaaaaally into someone, or you want to upgrade your current relationship (think getting engaged or Zooming with their parents)—you can use this transit to start those important conversations and create a positive, constructive transformation in your love life. But if the feelings bubbling up are jealousy, resentment, or anything else nasty, there could be some huge arguments between you and bae.
Gemini
This is a great weekend for you to connect with others, Gemini. You're feeling supes popular (you're the star of your many group chats), and if you're single and ready to mingle, it's a great time to open up your fav apps and start swiping. There's some remarkable cosmic action happening in your chart's zones of intimacy and social circles this week, too. You might hit up a new match and realize that you're unbelievably into them, right from the jump. If you're hardcore crushing on someone in your squad, this astro-weather compels you to tell your friend how you feel. If they feel the same way, this week can mark the start of an exciting new romance.
Cancer
This week is bringing all the drama to your love life, Cancer, and there's a significant transformation occurring. It might feel like a catastrophe—but not in the way you might think. This is a good time to DTR with someone you've been seeing for a while, approach your crush, or tell your current partner you want to level up your relationship. Those are the kinds of transformations that can happen with this week's astro-weather, but only if you're willing to make the first move. You love to stay hidden away in your shell, but if you push past your anxiety, hesitance, and fear of rejection, you can make a remarkable change to your relationship this week.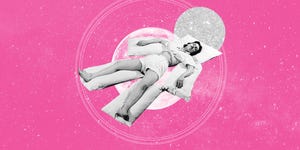 Leo
With this week's wild astro-weather, keep in mind that you have to take the bad with the good. In the realms of love and sex, expect some significant changes to take place. Mercury in Aries is helping you feel eager to speak your mind, and its supportive sextile with structured Saturn in your chart's relationships zone allows you to initiate important convos—like, "What are we?" or, "What do you think about marriage, or having kids, or moving in together?" On the other hand, circumstances outside of your love life are really getting wild, especially on Tuesday and Wednesday. There's chaos happening at work, your daily routine is really not working for you, and all the stress and frustration is almost guaranteed to push you into having a temper tantrum (if not an all-out emotional meltdown)! This weekend can be great for you, Leo, so focus on the positive when the rest of the world is trying to get you down later this week.
Virgo
This weekend finds you suddenly feeling intense. You're looking deeply into every person you see, every conversation you have, and every situation you encounter, even if they're totally insignificant,. You can start important convos with your crush/boo this weekend and have a remarkably intimate connection—which can happen in the bedroom, JSYK—but you really risk overthinking the whole thing if you're not careful! Maybe after you have an ~intimate moment~ with someone, they seem to be acting a little "off," or they take a while to text you back. Try to calm down, be sensible, and realize that there might not be some deeper, hidden meaning to their actions. Maybe they're just busy, or they're just in a funk that has nothing to do with you. It's okay to accept things on a surface level, Virgo.
Libra
More than any other sign, the upcoming week's astro-weather is aiming its influence at all of your one-on-one relationships—AKA the kind of connection you share with your S.O. or your crush. First, Mercury in Aries is a three-week long transit starting tonight that shifts your focus primarily to your relationships, so you're talking to your boo more than anyone else right now. Saturday's Saturn transit allows for productive, reasonable conversations to occur re: your love life, so any time spent with bae is time well spent! It's not really a sexy transit, but it does supports your ability to strengthen your relationship, whether it's through deep conversations, spending quality time together, or having a supes romantic roll in the hay—or maybe all three! Right afterwards, on Tuesday and Wednesday, your innermost feelings suddenly become nuclear-powered and flare up more than they have in like, forever. Despite the great weekend you just had, any underlying feelings of inequity, jealousy, or resentment towards your partner are making themselves unignorable and you feel like you have to act on them! Don't pop off on your boo, try to gather your thoughts and approach them calmly to talk things out. You're the sign of compromise, Libra, so do your thing and please try to avoid a blowout argument.
Scorpio
Life is pretty GD wild for you right now, Scorpio. Your daily routine is all sorts of crazy, you're never not busy, and even if you're working from home right now, your job is still managing to take over your life! Unfortunately, that trend is continuing this week. The good news is that Venus is still in Gemini, activating your chart's zone of intimacy. When you're connecting with your partner or your crush, it feels way deeper. In bed, you're feeling a sense of entanglement with the other person, and you're able to connect on a soul-level. Those small, precious moments with your S.O. or crush are so important rn. Even if it's just sending a few heart emojis you send to your crush, these experiences have way more depth.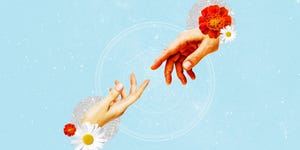 Sagittarius
This upcoming astro-weather is bright and fun for you—like fireworks! But the potential for it all to blow up and get way out of hand is pretty high, JSYK. Aries season and Mercury in Aries are both illuminating your chart's zone of romance, sex, and fun (yay!). Getting lucky and feeling love in the air is a given—but the Pluto drama happening during the week can make your love life explosive. If you get lucky and match with a total dreamboat, have fun sexting or sending a few risqué Snapchats. Maybe you're feeling so hot-and-bothered that you want to pounce on your boo all the time–but respect their boundaries and make sure they're in the mood before climbing them like a tree. You can have lots of fun this week, but try to have safe fun, capisce?
Capricorn
This week's a crazy one, Capricorn. Intense Pluto and expansive Jupiter are in your sign, streamlining a pretty wild energy to the Sun in Aries—this reflects as you acting more over-the-top. You're coming on very strongly rn. This can be great if you're able to use this energy it to confidently approach your crush or be open about a serious topic with your S.O., but you're also liable to come off as someone who doesn't respect others' boundaries. You're feeling a ton of feels right now, Capricorn, which isn't how you usually are, but don't let that override your sense of courtesy. You're only going to push your crush or S.O. away if you don't pay attention to their needs, too.
Aquarius
This weekend finds you sending and receiving way more information than usual, Aquarius. You're feeling super chatty, your squad's group chat is blowing up, you have hella hotties sliding into your DMs… you get the point. This weekend is a spectacular time for making new matches and flirting like crazy. Take advantage of it! The only thing to watch out for is moving way too quickly. The astro-drama happening on Tuesday and Wednesday means you're very ready to speak your mind and you might not remember to think before opening your mouth. You might open up and overshare to someone new way too quickly, or even accidentally drop the "l" word on your first FaceTime date! Try to remember that patience is key this week, Aquarius.
Pisces
You're being called to focus on what you want vs. what you need over the next week, Pisces. This weekend, you're pretty much guaranteed to not get lucky, but that gives you time to center yourself and think long and hard about your love life. Is your relationship balanced? Are you and your partner giving/receiving equally? If you're single, are you approaching people who are truly good for you, or is your crush super fun but ultimately not the best influence? You can send some hot sexts with hot new matches this week, sure, but before you do, stop to consider if you're really interested. Focus on taking care of youand finding a crush who really makes you feel good—even when you're sharing memes instead of sexy pics.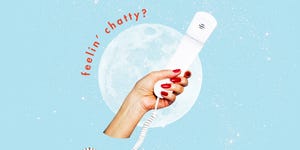 Source: Read Full Article