Kesha's Selfcare Routine Includes a Butt Beauty Treatment
Controversial singer Kesha might have first made waves in the music industry for her party-anthem songs. But, these days, Kesha better known as a women's rights activist, as well as a serious artist.
After a quick rise to fame, Kesha experienced a number of ups and downs before she was able to settle into her role as a high-profile performer.
These days, Kesha is in a stable, happy relationship, and is the founder of her very own beauty line. She is also currently in quarantine, waiting out the effects of the COVID-19 pandemic.
Recently, the singer opened up about her quarantine self-care routine, and it included one truly surprising beauty product.
How did Kesha become famous?
RELATED: Celebrities Who Have Dabbled in Witchcraft and the Occult
Kesha rose to fame in 2009, after being featured on the popular song "Right Round" by Flo Rida. Kesha quickly released hit singles of her own, including the wildly successful songs "Tik Tok," "Your Love Is My Drug," and "Timber." With her wild makeup and outrageous costumes, Kesha gained a reputation as a party girl, a wild child who was up for anything.
Beginning in 2014, Kesha began struggling with some serious personal issues, including an eating disorder. She also sued famed music producer Dr. Luke for sexual harassment, sexual assault and battery, and emotional abuse. The lawsuit dragged on for some time before eventually getting dismissed.
Still, the combination of the lawsuit and the health problems took a toll on Kesha's music career, and it took her several years to fully bounce back. However, bounce back she did, and in 2017, she came back in full force with the release of the hit single, "Praying."
What is Kesha's skincare and beauty routine?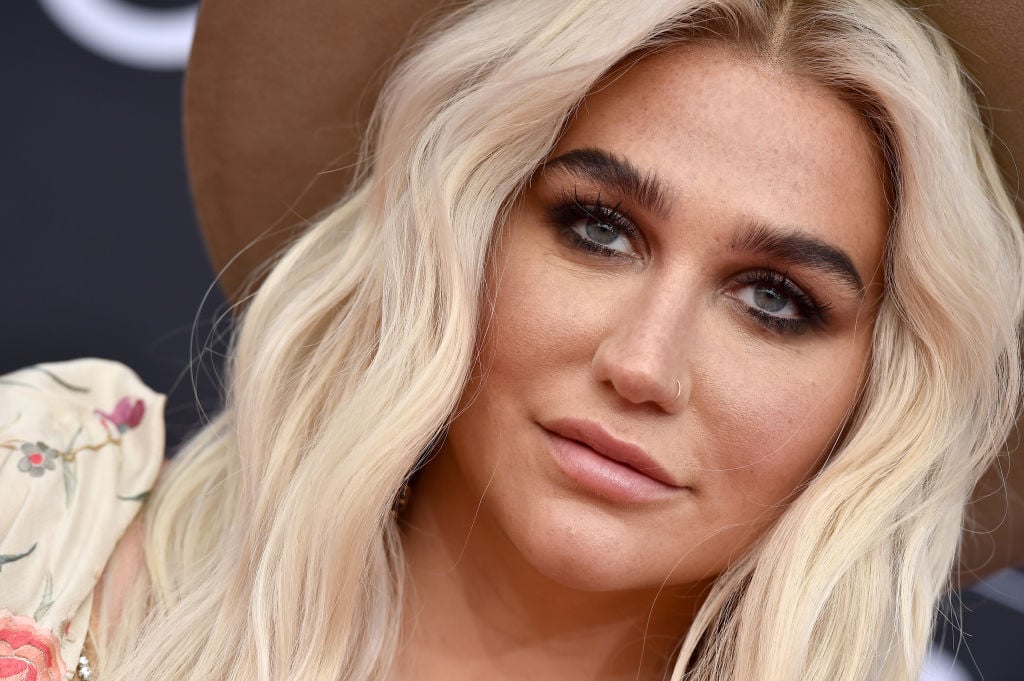 RELATED: Kate Middleton's Favorite Beauty Products Are Affordable and Accessible
While Kesha remains a force to be reckoned with in the music industry, she has also started to explore her other interests.
In early 2020, she launched her very own beauty line, Kesha Rose. With products like a rainbow beauty sponge and electric-hued eyeshadow, the line is as eclectic and innovative as Kesha herself. The line is also vegan and cruelty-free, in line with Kesha's own personal beliefs.
Although she loves outlandish makeup, like cobalt eyeliner and purple lipstick, Kesha prefers a pared-down skincare routine. She is a big fan of relaxing bubble baths and collagen masks and loves to use an ice roller on her face.
After exfoliating and treating her face, Kesha applies moisturizer to keep her skin looking smooth and healthy. The singer doesn't just use masks on her face, however, as she revealed in a recent interview.
Kesha admitted to using butt masks during the quarantine
RELATED: Halle Berry's Skincare Secret Is Her DIY Face Mask and It's Ridiculously Easy
Kesha has been in quarantine with her boyfriend, Brad Ashenfelter, for quite some time, and while it can get boring being stuck inside, she has found creative ways to pass the time. In addition to playing with makeup, Kesha admitted that she has been using sheet masks on her butt, designed exclusively by the brand Bawdy.
"It helps having someone put it on your butt, so that's another perk of being quarantined with my boyfriend. It's one of those things that, at the end of the night, brings me happiness," Kesha stated.
The artist revealed that finding little ways to perform self-care helps her to fight anxiety and depression, and enables her and her boyfriend to stay sane during a very trying time.
Kesha has also been experimenting with men's beard dye, using it on her eyebrows for a fresh new look. Certainly, even in quarantine, Kesha is finding ways to keep things interesting for her fans.
Source: Read Full Article