Lala Kent's Thoughts on Raquel After 'Bombshell' Confession, Sandoval's 'Narcissistic' Tears and More
"Vanderpump Rules" star Lala Kent drops by Andy Cohen's "Watch What Happens Live" after the explosive finale of their reunion show, which included a final confessional by Raquel Leviss taped six days after the reunion where she admitted she and Tom Sandoval lied about a lot.
Like the rest of America, Lala Kent was tuned in to the third and final part of the "Vanderpump Rules" reunion, which turned out to include a segment she wasn't a part of where Raquel Leviss finally came (more) clean about all the lies.
It was a shocking five-minute confessional taped six days after the reunion where Raquel admitted that she and Tom Sandoval had still been lying about the timeline of their affair, as well as other details like where, when and how often they'd had sex — it's so much worse!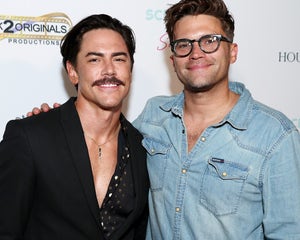 Schwartz Taking Break from Sandoval, Feels 'Exploited,' Talks Apparent 'Lack of Remorse'
"He's gonna kill me," Raquel said during the confessional, talking repeatedly about how Sandoval explained why they should lie about all these things (to not hurt his girlfriend Ariana), when it may have been so they didn't look like the kind of people who would have sex in Ariana's house while she was away at her grandmother's funeral (they did).
Unable to render YouTube Video.
Regardless of his reasons, this could be why there's speculation that Sandoval and Raquel — who both professed their love for one another during the actual reunion — are already dunzo.
When Andy Cohen asked Lala and her fellow guest, "Real Housewives of Orange County" star Tamra Judge if they thought the relationship could survive Raquel's confession, Tamra didn't think so. Lala's answer was a little different. "Well, I think he's completely moved on already," she said.
Still, that teary confession from Raquel does appear to have softened Lala just a teeny-tiny bit. She was savage during the reunion, but on "WWHL," she told Andy that she did feel a little better about Raquel. She also said she believes Sandoval was coaching her beforehand.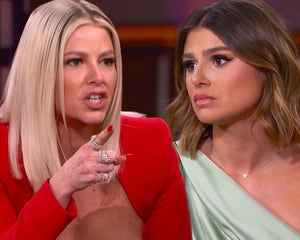 Ariana Madix Explodes on Raquel Leviss on Pump Rules Reunion: 'F— Yourself with a F—ing Cheese Grater'
At the same time, of Raquel, Lala said, "I there needs to be some work– a lot of work done. I don't know that reality TV is the space for her."
Tamra agreed, adding, "I worry about her mental health." At the same time, she thought it was a good thing that Raquel was crying ("was nice to see that"), as she'd been stone-faced through most of the reunion — while apologizing, getting attacked, everything.
As for Sandoval's tears, which were flowing a lot during the reunion, it seems that Andy thought there was sincerity there, but Lala wasn't buying it for a single moment.
"That was hysterical to watch because it reminded me of he-who's-name-we-shall-not-mention when he tried to cry for me and it was, like, this is so funny," she said. "He was being a narcissistic prick and trying to– it was mortifying."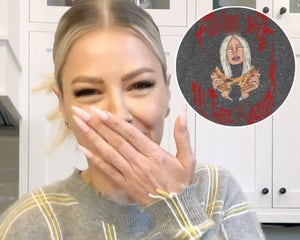 Ariana Madix Already Merchandising Tom Sandoval's Reunion Sex Diss Against Her
Unable to render YouTube Video.
Instead, Lala thinks that Sandoval is, as Tamra put it, touring with his band because he's "thriving off the attention, even if it's negative." At this, though, she said she gets it.
"Can you blame him, I mean we all are," she admitted. In fact, Lala was wearing her own "Send it to Darrell" sweatshirt, based on a throwaway line she said. She proudly proclaimed that four hours after she said it, the merch was available, and within a few hours it had paid for the down payment on her house.
"I don't think we should be thanking them," Lala said of Sandoval and Raquel, "but at the same time, we can't change it, so you might as well capitalize off of it."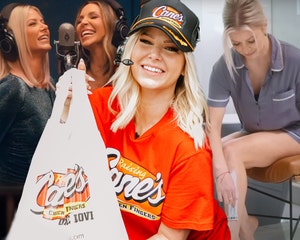 Ariana Madix's Money Moves After Scandoval
Ariana has certainly done so, following Lala's lead with a t-shirt made available almost the instant the reunion ended based on a horrific comment Sandoval made during the reunion about their sex life.
When Ariana said that she was one woman Sandoval was sleeping with after he'd started having sex with Raquel, he quipped, "Yeah, she kept her t-shirt on; it was really hot." There was no comment in this third hour that elicited a more disgusted response from everyone else there — so much so that Sandoval quickly apologized for making it.
But it's those exact types of moments that has Lala convinced his tears were more crocodile than sincere.
"Every time Sandoval would try to act like he was sorry about it, then he throws in a line like the t-shirt comment and it was just, like, it's not hitting," she told Andy. "Why don't you just say, I didn't care about you as much as I pretended to, and I'm sorry about that."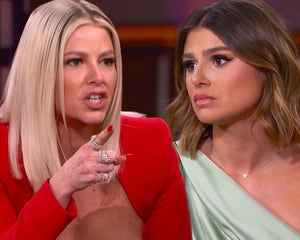 Ariana Madix Explodes on Raquel Leviss on Pump Rules Reunion: 'F— Yourself with a F—ing Cheese Grater'
Unable to render YouTube Video.
The t-shirt comment was the moment she said stuck with her the most from the entire reunion, which Andy said was an eight-hour affair. "That was really just, like, made me feel sick to my stomach," she said.
For Tamra, the moment she lost sympathy for Sandoval and Raquel was when they were having to make a swap of Raquel for Scheana Shay (because of Raquel's restraining order against Scheana). Sandoval joined her in the dressing room where they briefly laughed about one comment.
"That to me was like, you just lost me," Tamra said.
"That's what I mean," said Lala. "So wouldn't we all rather them just, like, be actually honest and stop pretending like you care? You don't care."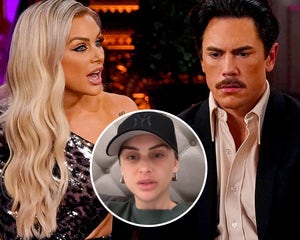 Lala Kent Fires Back at Tom Sandoval's IUD Comment: 'I'm Disgusted'
It was at this point that the "Pump Rules" watch party that was behind the bar ruined what could have been a meaningful answer. Tamra said she did like how honest Raquel was in that closing confessional.
"That's where I started–" Lala started to say, but then she was interrupted by one of the women behind the bar with a whole different topic that we absolutely did not care about more than what Lala was about to say here. Yes, she already said the confessional impacted her, but this was the moment of the night and you want to talk about "green light, green light"?
Actually, Lala had an interesting theory on that, as it's her believe that Sandoval said that to Schwartz not about Raquel coming out, but rather as a reminder to "stick to your script."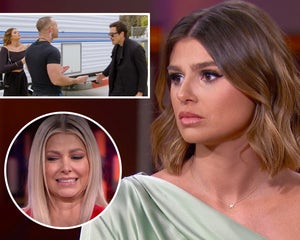 Raquel Leviss Called Out by Andy Cohen for 'Blaming' Affair on Ariana During Vanderpump Rules Reunion
Unable to render YouTube Video.
The hindsight of Raquel's confession makes it clear Sandoval had a narrative of lies he wanted to stick to — like him using the lie they'd only had sex once as part of his argument that it wasn't as bad as all that.
Actually, the hindsight of that confession makes us want to get them all back in the room together again with Andy so we can put Sandoval under the hot lights of a noir movie and tell him it's time to stop lying and just own his truth!
You can check out all the biggest moments from the final part of the "Vanderpump Rules" reunion — including all of Raquel's "bombshell" revelations six days later that Sandoval didn't want her to share (per her) — just below.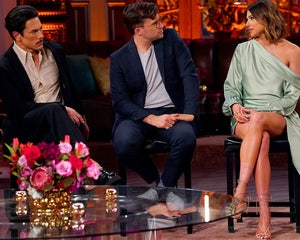 Vanderpump Rules Biggest Bombshells Come After Reunion When Raquel Finally Tells Truth
Source: Read Full Article