Lil Baby Says $5 Million Demand to Record Label Was Just a Joke
Lil Baby has been making headlines the past few years for his massive music success. Recently, however, the Atlanta rapper also made headlines because fans thought that there was a brewing dispute between him and his label, Quality Control.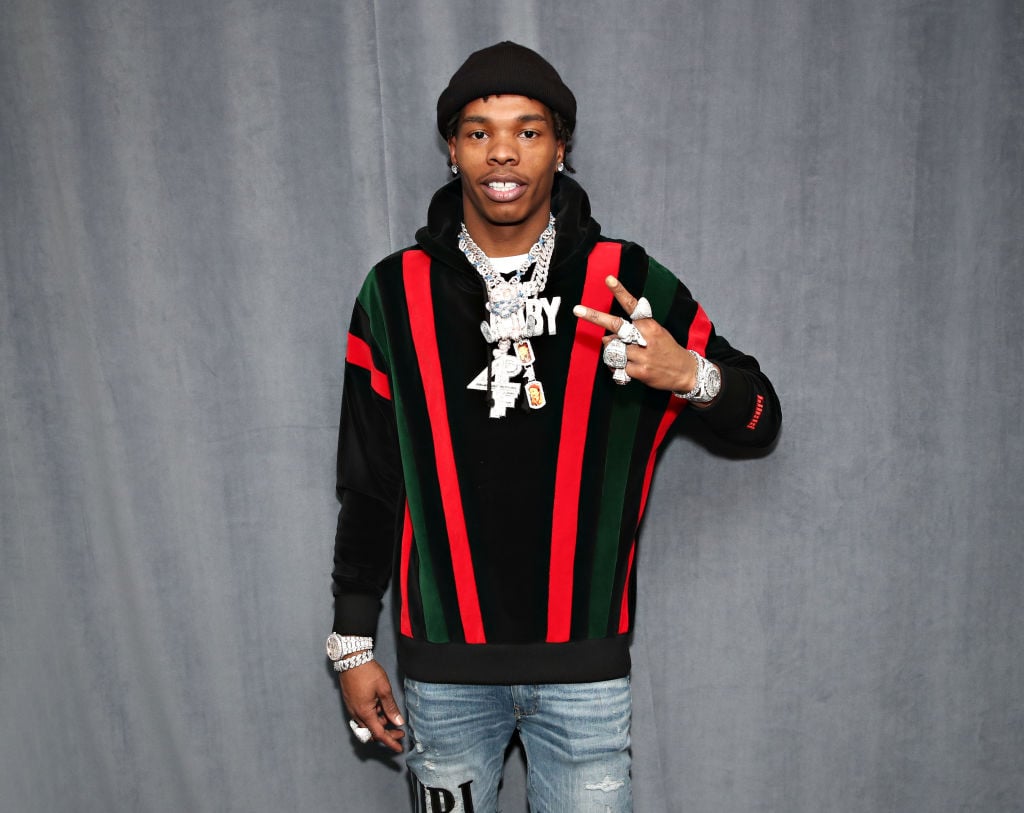 Lil Baby is one of the top rappers of today
Lil Baby is one of the popular hip-hop artists of the moment. The Atlanta rapper first signed with Quality Control in 2017 and began putting out several mixtapes. During this time frame, He put out songs with Lil Yachty and Young Thug. He also had a moderate hit his single, "My Dawg." It reached No. 71 on the Billboard Hot 100.
The rapper started to reach a lot of new heights in 2018 when he released the single "Yes Indeed," which featured Drake. The song garnered him a lot more attention and notoriety, reaching No. 6 on the Billboard Hot 100. The song was on his debut album, Harder than Ever, which was just one of three projects from Lil Baby in 2018. He also put out two mixtapes, Drip Harder (with Young Thug) and Street Gossip. Drip Harder included "Drip Too Hard," which made it to No. 4 on the Hot 100. Several other songs became hits, including "Close Friends."
While he didn't put out a project in 2019, Lil Baby was very active still, releasing songs like "Baby" (with DaBaby) and "Woah," which were huge hits. The latter was taken from his 2020 album, My Turn, which has been a massive success so far and hit No. 1 on the Billboard Top 200 albums chart. Almost every song from the album appeared on the Billboard Hot 100. A deluxe edition of the album was also released recently.
He says an ultimatum that he gave Quality Control was not serious
On Instagram live late last month, Lil Baby seemingly told his record label, Quality Control, to give him $5 million. If they didn't give it to him, he said he would go back to "hustling" on the streets.
During the live stream, he said, "It's either get on Instagram or go to the hood. You know what's up with me. I don't want to go to the hood, so I'd rather get on Instagram…I told my label the need to give me $5 million or I'm going to hustle, f**k it."
He continued, "I can't be sitting in no house. Give me $5 million or I'm doing what I do. I know my label cares about me. They don't want me out got d**n doing no bulls**t." He clarified that he was not talking about selling drugs when he meant "going to the hood."
Once people started tweeting about his Instagram live and media outlets began writing about it, Lil Baby took to Instagram, saying that it was all a joke and he wasn't serious.
On his Instagram story, he wrote, "Tell these people it was a joke!!! How many $5M's we done ran up? He tagged Quality Control CEO, Pierre "Pee" Thomas, in the story.
On his own Instagram page, Thomas said, "Too Many Times Idiots. Y'all MF's Love A Story. 'My Turn' Deluxe Come Out Friday. Go Run That Up."
Neither party has made another statement about it so we guess they just wanted to get folks talking during quarantine.
Source: Read Full Article