Rare Beauty Review: How Selena Gomez's Makeup Line Really Holds Up
Curious to shop Rare Beauty's products, but want to know what products from Selena Gomez's line are worth every penny? Read our honest review below.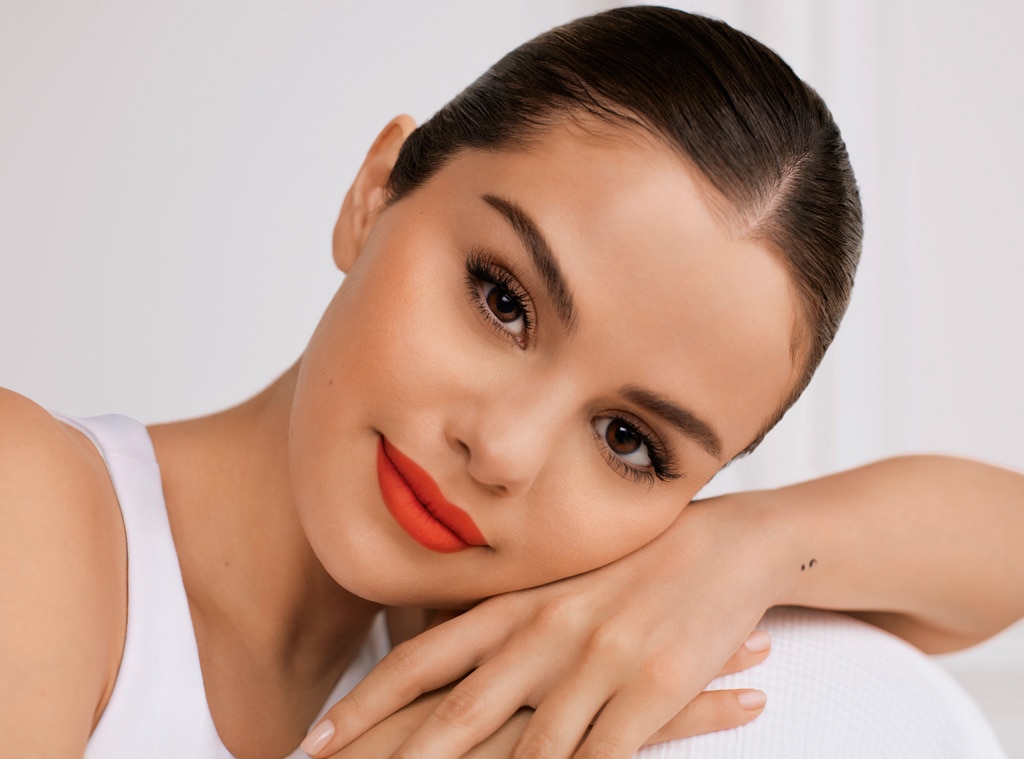 When you're ready, come and get it…
After much anticipation, Selena Gomez's Rare Beauty is finally hitting the market.
The 28-year-old star is hoping to make an impact in the beauty industry with her line's unique vision, which she recently explained highlights community and mental health just as much as it does the glam.
"I love imperfection," Selena said during a press conference with E! News and other reporters. "There's complete beauty in that."
For the pop star, diving into beauty meant far more to her than slapping her name on something. "It should be an accessory and it should be something you are proud of wearing—highlighting what makes you feel beautiful," she described, adding, "The whole reason why I wanted to create Rare was to kind of challenge the beauty space. I didn't want to be just a celebrity attaching her name to something because that's definitely not my style. I would feel very disingenuous."
As the singer put it, makeup is "such a crucial part of my life," however, she still believes in the cardinal rule that "less is more."
"I think when you are out and about in your home, I feel like that's your opportunity to be whoever you want to be," she shared. "The time has allowed me to really sit with things that may be uncomfortable and to learn so much about what's going on. I feel that it's something that I want to be beyond grand, and so, there's a little bit of everything for everyone."
For the brand's initial launch, fans can expect to shop from 12 product categories. From foundations, liquid blushes to brow pencils and more, Selena has your daily essentials covered.
But how does it all hold up?
Trending Stories
See Kim Kardashian Give Birth to Kylie Jenner in Kanye West Video
Captain Sandy Has "No Regrets" About Hannah's Firing
The Meaning Behind Kim Kardashian, Kylie Jenner's "Feel Me" Cameos
Luckily, E! News received the products ahead of Rare Beauty's release for review—and we have the honest details on which are the absolute must-haves and which you may want to think twice about splurging on.
Liquid Touch Weightless Foundation, $29:
First thing's first, Selena's foundation comes in 48 shades. As for the formula, it feels light and watery—almost like an elixir mixed in with color. Although the product is described as a weightless, medium-to-full coverage foundation, that's not exactly the case. For the first hour, the formula feels tacky and greasy. While it does cover blemishes and redness, the product is more light-to-medium in coverage. It's buildable, but less is definitely more—and a little goes a long way. After a couple of hours, the foundation eventually dries into a matte consistency. However, by the end of the day, it caked up in the T-Zone and left patches in areas that had dryness. Something to also note: The foundation comes with a wand instead of the typical pump.
Blot & Glow Touch-Up Kit, $26:
Because the foundation is like an elixir, it makes sense Selena would release a kit that helps combat shine. However, given it's expensive for what you get. For one, the powder-infused puff doesn't really release powder. While the product is unique and rare (no pun intended!) compared to what's on the market, it takes a lot of pounding to get a tiny amount on and by that time, you've already moved your foundation around. Unlike the puff, the blotting papers do the job, getting rid of excess oil and shine. But because these are sold separately, you'd get more bang for your buck just buying the blotting papers.
Liquid Touch Brightening Concealer, $19:
Like the foundation, the concealers come in 48 shades. Best of all? The shade names are exactly the same as the foundation, so you can easily find your match. The formula is nice and airy and goes on effortlessly. Similar to the foundation, this product covers redness, blemishes and dark circles. While its formula is up-to-par with the fan-favorite ColourPop No Filter Concealer and Charlotte Tilbury's Magic Away Liquid Concealer, Rare Beauty's product wipes away on its own by the end of the day. Plus, it creased under the eyes after a few hours of wear. (insert crying emojis.)
Always an Optimist Illuminating Primer, $26:
The primer lives up to its name because it does give the skin a subtle, yet gorgeous glow. But if you're looking for something that packs a little more punch, helps to minimize pores or offers hydration, this might not be for you. Something to keep in mind is that it's a gel primer, which is usually for people with oily or combo skin. Interestingly, though, the product description on Sephora claims it's targeted for people with dry skin concerns. But due to its gel-like consistency, it doesn't hold up for dry skin.
Always an Optimist 4-in-1 Mist, $24:
This is like a spa in a bottle. The blend of lotus, gardenia and white waterlily are the right amount of fragrance to help wake up your skin and boost your mood. Along with the natural scent, the formula is made with hydration in mind. Infused with Niacinamide and Squalane, these two ingredients keep the complexion looking and feeling hydrated.
Brow Harmony Pencil & Gel, $22:
Tens across the board! This eyebrow duo is giving other brands a run for its money. The triangular-shaped pencil allows you to fill in your brows with ease. Plus, it's ultra-pigmented and long-lasting, so you don't have to worry about all that hard work going to waste. Additionally, the brow gel locks everything in and gives it a boost of color. Since it's tinted, you can also use it on its own for a more natural finish. Whether you want bold brows or something subtle, this product will help you achieve your desired look. Bonus: It comes in eight shades.
Perfect Strokes Matte Liquid Liner, $19:
This liquid liner will give your hands a workout because it's weighty. Thanks to its heavy-duty packaging, you're guaranteed to go in with a steady hand as you draw on a precise winged line. Best of all? The jet-black ink dries quickly, so you won't see any random strokes on your lids. There is a downside, however. Despite claims that its smudge-proof, this only lasts for five hours before it loses some of its pigment.
Lip Soufflé Matte Cream Lipstick, $20:
A liquid lipstick that is comfortable, pigmented and fuss-free? Yes, please. Selena somehow found a way to give us a formula that glides on like butter, is rich with color and offers tons of nourishing hydration. The product is a mousse-like texture when first applied, and once it comes off—which it does if you eat or drink—it turns into a stain. Although it's unlike most liquid lipsticks on the market, which immediately dry down and stay put, these are soft and delightful. The flat wand also allows for precision and makes it easy to line your lips with its even edges. It's available in 12 shades, including a bright red (which Selena said was her go-to), a watermelon pink, a deep wine, nude mauve and more.
With Gratitude Dewy Lip Balm, $16:
Similar to the nourishing liquid lipsticks, the tinted lip balms are jam-packed with moisturizing ingredients such as shea butter, C12-15 Alkyl Ethylhexanoate and Tridecyl Trimellitate (try pronouncing those last two five times!). After just one swipe, the lips feel smooth, soft and nourished. Best of all, though, the touch of color adds oomph to your lips. Get it in eight shades.
Soft Pinch Liquid Blush, $20:
Blush can be hit or miss, but this one is up there with the greats like the Glossier Cloud Paint and Armani Beauty Neo Nude Liquid Blush. Selena's blushes are loaded with color and easily blend in with your foundation and concealer. For this, your fingers are the best tools. Be warned: Use sparingly because these are very pigmented. While a little goes a long way, however, it's buildable, so you can make your cheeks as flushed as you want. Find these in eight shades and two types of finishes: matte and dewy.
Positive Light Liquid Luminizer, $22:
Just like the liquid blushes, the luminizers are rich and colorful. Infused with light-reflecting pearls and hydrating properties, the formula gives you radiant skin. Again, fingers are the best tools because it's extremely pigmented and can make you go from a lit-from-within glow to a disco ball with the blink of an eye. These also come in eight shades, a gold (which is reminiscent of Fenty Beauty's Trophy Wife Highlighter), a rose gold, a deep bronze and more.
Take a closer look at each item on Sephora and Rare Beauty's websites. The line launches on Sept. 3 at midnight EST.
Source: Read Full Article