The MixtapE! Presents Beyoncé, Nicki Minaj and More New Music Musts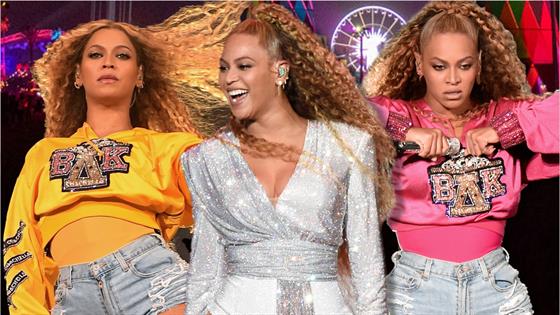 New music Fridays are a thrilling, yet daunting prospect for any music lover.
It's essentially a weekly holiday where fan-favorite artists and fresh faces alike drop their latest offerings for all the world to hear, flooding streaming services and digital retailers with an onslaught of aural goodies. But who has the time to sit there and listen to everything before updating their playlists? There's just too much good stuff! (And, if we're being honest, usually a few stinkers, too.)
As it turns out, we do. Welcome to The MixtapE!
We've done it. Not only did we make it through another week, but we've hung out and found ourselves in a new month, as well. And as we head into the month of May still uncertain when we may rejoin society once more, at least we've got some quality tunes to keep us company. The big music story of the week is Beyoncé deigning to grace us with her otherworldly presence—and next-level flow—on a brilliant reworking of fellow Houstonite Megan Thee Stallion's hit "Savage." But that's not all that's out there waiting to be discovered.
Hell, it isn't even the only high-profile remix to come out this week!
As always, we've spent some time listening to (nearly) all of the offerings out there this New Music Friday and returned in hand with our picks for the best of the best. Your soundtrack for the first weekend of May has officially arrived. You're welcome.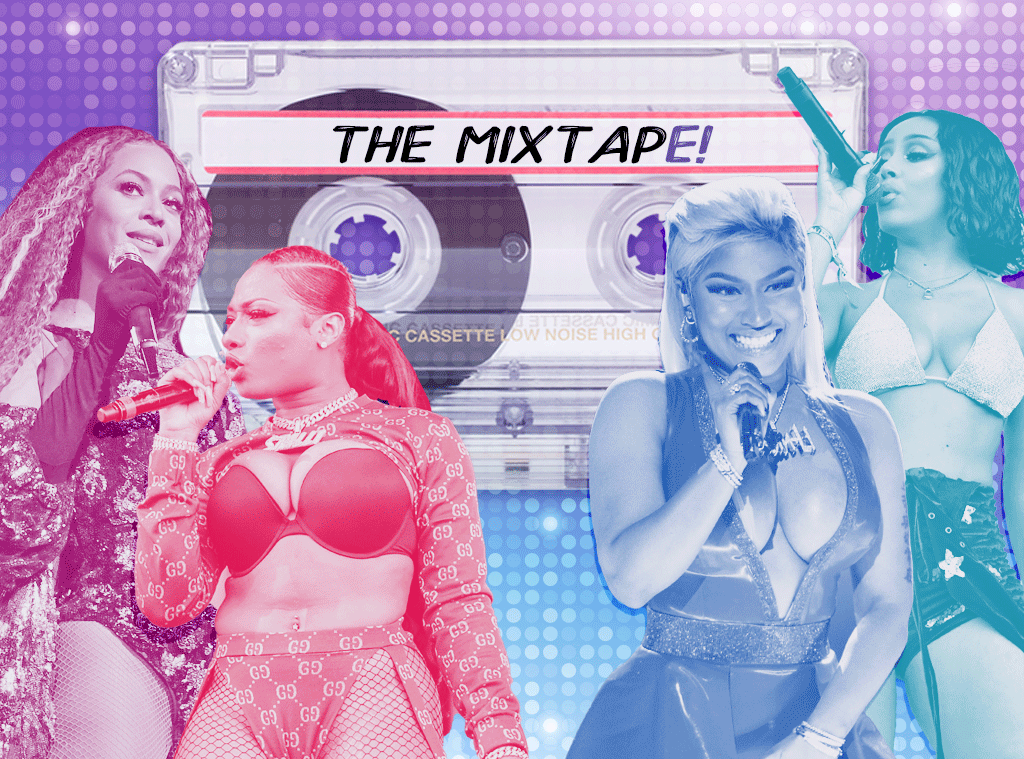 Getty Images/E! Illustration
Megan Thee Stallion feat. Beyoncé — "Savage Remix"
The unofficial queens of Houston link up for this rework of Meg's hit single off her excellent Suga EP released earlier this year, and Bey once again proves that her flow game is strong. Seriously, is there anything this woman can't do? This is A+ collab right here.
Dixie Chicks — "Julianna Calm Down"
The wait for the country icons' highly-anticipated new album Gaslighter may have gotten a little bit longer in light of the coronavirus pandemic—though, after 14 years, what's a few more months?—but Natalie Maines and Co. are offering up another track from the LP to hold us over in the meantime. Produced with Jack Antonoff and co-written with Julia Michaels, the track, named after Emily Strayer's daughter, is a potent message to young women looking for strength in toxic relationships that finds the group experimenting with their sonic landscape in thrilling new ways. ""Put on your best shoes, and strut the f–k around like you've got nothing to lose," Maines demands over an ever-propulsive beat. We can't help but fall in line.
HAIM — "I Know Alone"
Like the Dixie Chicks, the Haim sisters have also opted to push back their forthcoming album, Women in Music Pt. III, but they're still releasing new music to hold fans over while they wait. The synth-heavy track feels like a bit of a departure for the trio, but a welcome one. And the somber lyric, an exploration of loneliness and alienation, certainly hits a little harder in these social distancing times, but as Danielle Haim noted on Instagram, there's almost something slyly celebratory about it now. "Now with everything going on, 'alone' feels like a ritual," she wrote. "Only I know my own little secret routine on these days of being by myself and I almost take comfort in it. It's my own way of staying sane in my aloneness and it's really helping me get through this."
Glass Animals — "Dreamland"
On the title track from their forthcoming studio album, the English alt-pop outfit create a true aural dreamscape while laying the groundwork for the LP to come. "Each line asks a question that's explored in a later song," frontman Dave Bayley said in a statement. "The words here could be considered a table of contents for the album as a whole". While we'll have to wait until July for the payoff on the lyrical teases when the album drops, the track is more than worthy of getting lost in while we do.
Aluna — "Body Pump"
Aluna Francis, one-half of the UK-based electronic duo AlunaGeorge, is carving out her own path on this, her first solo release on Diplo's Mad Decent label. And what a debut she makes. The club-ready track proves that she doesn't need to share top-billing with anyone else as she dives head-first into the world of throbbing house music. "In the past when performing on the stages of my white male peers, I always felt like a visitor being one of the few Black women I could see, so it never fully occurred to me to claim dance music as my music, as an artist, even though it was at the heart of my connection to music," she said in a statement. "Then I looked at the history of dance music and saw how, for example, Chicago House, known as the invention of house music, was pioneered in the Black and Latino LGTBQ+ communities which gave me inspiration to stake my flag in the ground as a Black woman in dance music by taking control of production and songwriting with my own vibe."
NEEDTOBREATHE — "Hang On"
One of two new singles announcing the alt-rock band's seventh studio album—their first as a trio since guitarist Bo Reinheart announced he was leaving earlier this year—the nostalgic track is the sort of anthem we all need right about now. "So hang on to the light in your eyes and the feelings
/Hang on to your love-drunk original reasons," frontman Bear Reinheart implores in the song's final chorus. "'Cause all these things take time, these things, they take time/And all these things I've learned, it's never a straight line."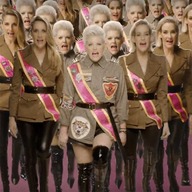 Read
Dixie Chicks Make a Musical Comeback With "Gaslighter"
Destiny Rogers — "Kickin' Pushin'"
The rising singer-songwriter has us excited for her forthcoming EP Great Escape with this excellent track, a pop/R&B hybrid that we won't be able to get out of our heads for weeks.
Darkstar — "Jam"
Announcing their latest album, the forthcoming Civic Jams, the English electronic duo have released this shoegazing and pleasantly mellow dance track that's, well, a jam. Perfect for the wee hours of the morning when you're still in the groove, but also ready to contemplate the meaning of life, too.
Salem — "It Gets Better"
This track from the pop upstart is like a love letter to the world during this wildly confusing time. "I heard it gets better/It won't hurt forever," she sings in the chorus of the sleek song. "I heard we'll get better/But we've gotta learn to fall apart /To learn to come together."
Bonus Tracks:
Queen & Adam Lambert — "You Are the Champions": The rock icons and their recent frontman come together with a reworked version of their classic track, re-recorded just for these times, with proceeds benefiting the COVID-19 Solidarity Response Fund for the World Health Organization (WHO), powered by the United Nations Foundation.
Brett Young — "Lady": An ode to his baby daughter Presley, this latest release from the country crooner will have you in your feels.
MOORE — "Mhmm": Spider-Man: Into the Spider-Verse star Shameik Moore restarts his music career with this sexy track that's dripping with swag.
Khruangbin — "Time (You and I)": The soulful and psychedelic Texas-based trio deliver some serious funk on this disco-inspired little stunner that finds the band breaking with tradition and incorporating some dreamy vocals for a change.
Highst feat. Arden Cho — "Breaking": The former Teen Wolf star lends her smooth vocals to this sweetly chill track from the up-and-coming artist.
Happy listening!
For the latest updates on the coronavirus pandemic and for tips on how to prevent the spread of COVID-19, please visit The Center for Disease Control and Prevention at https://www.cdc.gov.
Source: Read Full Article