Woman Who Found Husband Shot to Death After Alarming Text Message Claims Police 'Failed to Respond'
The first person to respond to the scene was the victim's wife, who reportedly found his dead body before police ever even arrived.
"911," "Send Please!"
Those were the last text messages Talija Campbell received from her husband, Qualin Campbell, last Friday — along with a photo of him inside his car with another man and his location (above right) — indicating Qualin was being held hostage.
Talija first reacted with shock — texting him, "What's wrong! What do you need me to do? Send me your location again" — before reportedly calling police. According to both Talija and her lawyer, however, authorities "failed to respond to the 911 call that could have saved his life."
Speaking with AP, Campbell claimed she called the Colorado Springs Police Department just after 1pm and told the dispatcher she believed her husband was being held hostage, before relaying his location and describing his car. She then repeated all that information to a second, local dispatcher, who allegedly told her they would check it out. Per the AP, Campbell felt there was "no sense of urgency," so she went to the location herself.
Mom of Missing Girl Arrested After Family Concern Leads Police to Charred Remains In Apartment
"I shouldn't have been the one there, the first person to respond," she told the outlet, saying she immediately recognized his car and saw him slumped inside next to another, yet-unidentified man. A graphic photo shared by her lawyer showed Qualin covered in blood after being shot in the abdomen; a gun reportedly lay in the lap of the man beside him. Campbell had no pulse.
Talija said her husband's uncle then called police again to report the shooting death. A police blotter confirms they were dispatched to the scene at 2:09pm to investigate, finding two deceased males at the location — which Talija's lawyer Harry Daniels says was less than a mile from CSPD HQ. "No law officers came until Campbell was found dead having bled out from a gunshot to the abdomen roughly an hour later," added Daniels in a release.
"The Colorado Springs Police Department and El Paso County can make all the excuses they want, but the facts are simple: This was a hostage situation where Qualin Campbell was begging for his life, his wife called 911, the police were less than a mile away but they never responded," he added. "Let's be clear. If the police don't respond to a hostage situation, none of us are safe."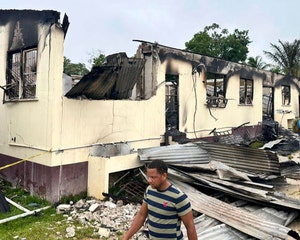 Girl Charged with Burning School, 19 Children Dead, After Phone Was Taken Away
"Anything that is currently available related to this ongoing investigation is on the blotter post related to this incident. We are not commenting on active investigations," a spokesperson for CSPD told KKTV. In said blotter, they also concluded "Currently, there are no threats to the community."
Talija, meanwhile, has started a GoFundMe to raise funds for her family, which includes her two daughters.
"Qualin was a loving husband, dedicated father, son, brother, and employee. Tragically, Qualin Campbell lost his life in a senseless act of violence," she wrote on the page. "Talija and Qualin share a beautiful love story and were married seven years. She and their two daughters relied on Qualin to provide for the family. His family are having to cope with the untimely and unexpected death of their husband, father and provider."
Saying he was "very active in his community," Talija also remembered Qualin as being "selfless" and having a "commitment to serving others" which was "unmatched." She concluded, "Qualin's family is devastated and will have to pull together to face this tragedy and deal with the emotional, physical and financial effects from him unexpectedly taken from them."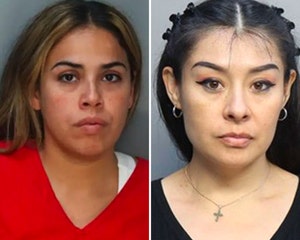 Florida Cop, Pregnant Woman Arrested After Joint Beatdown of Man Dating Them Both, Police Say
Source: Read Full Article