Your Cancer Monthly Horoscope for April
Add These Dates to Your G-Cal:
Welcome to April, Cancer! We're in the midst of Aries season and your focus is on work or your reputation. You may be up for a promotion or some extra attention at this time. You're made of magic and deserve the recognition, so keep going! An emotional speed bump arrives on April 3 as Mars and Saturn, two of the most difficult planets in the sky, meet in Aquarius. Frustration or pain may surface from your past. This energy is potent and asks you to channel it in a productive way. There is no rush to healing; remember that little steps move mountains. You're thinking about your friends on April 10 as Mercury, the planet of communication, enters Taurus. Spend more time with the groups that matter to you. You may be gearing up for some travel on April 19, as Jupiter, the planet of expansion, meets with Neptune, the planet of romance and spirituality. Your intuition is working on overdrive and you may feel called to expand your horizons at this time.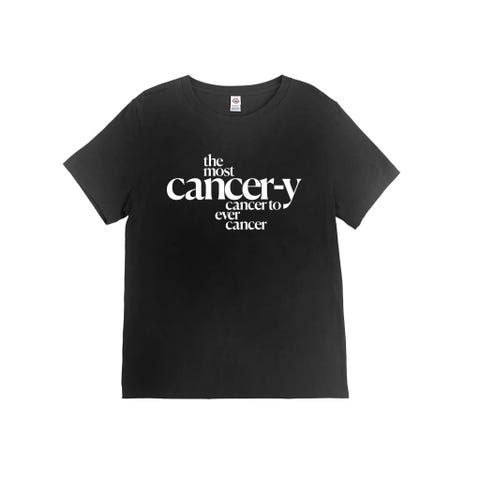 If you're in school, you may be putting in some extra work in a project. You may also feel more open to taking risks. Push yourself outside of your comfort zone. Expansion is key! The Full Moon in Libra on April 16 brings public and private matters to an apex. An emotional release may be taking place in your partnerships—so address any dynamics that aren't serving you. Everyone is feeling on edge, so keep that in mind before jumping to conclusions. The Sun enters Taurus on April 19, inviting you to focus on your hopes and dreams throughout Taurus season. Your social calendar may fill up quick and networking is extra beneficial right now.
On April 27, Venus, the planet of beauty and love, meets with Neptune, the planet of spirituality and dreams. A friendship may turn romantic quickly. This is a day for over-idealizing others, but you can channel this energy positively through creative projects—just be mindful of red flags. Stay grounded and don't get lost in the stars! You're ready for a break on April 29 when Mercury, the planet of communication, enters Gemini. You're retreating to your internal world and reflecting deeper on your spiritual practices.
The very next day on April 30, a solar eclipse in Taurus arrives. You may receive some unexpected news related to one of your longtime hopes and dreams, perhaps from a friend. Expect the unexpected! On the same day, Venus and Jupiter, the two luckiest planets in the sky, meet in Pisces. Your vision for the future expands. It may feel like clouds are clearing. You're ready to take a risk toward bringing your dreams to life!
Source: Read Full Article