Your First Tarot Card Reading of April Is Here
You don't need to know the difference between a three-card and a Celtic cross spread to get the most out of a tarot card reading. All you need: your Sun sign! Here's what I do: Shuffle my tarot deck and pull out the cards in order from Aries to Pisces plus one general card for everyone so that you can get specific advice around your personality. Let's go!
A GENERAL CARD FOR EVERYONE: JUDGMENT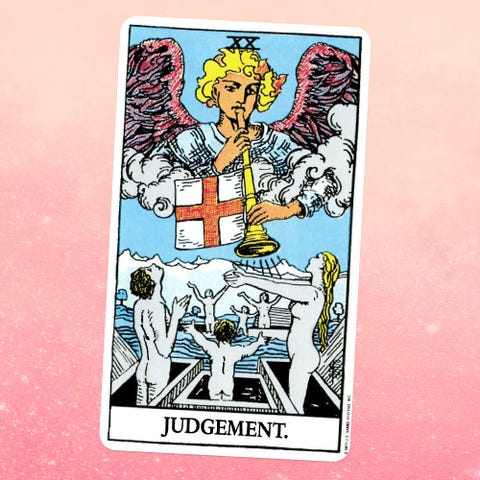 Judgment is a powerful ~turning point~ kind of card. It's a great omen for the start of a new season, especially spring, when we anticipate new growth. Judgment means we ALL get to start over this week, in whichever (or all) areas of life we choose. Process your year so far, take out a lesson, create a new plan, and act on it. It's that easy! Here's to better days ahead.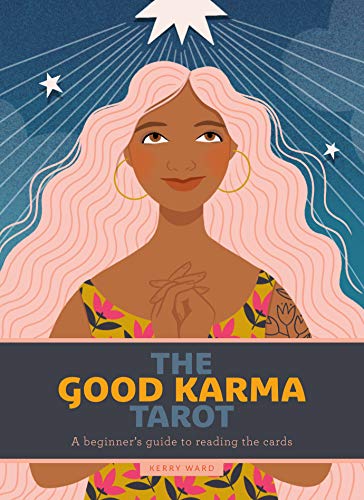 ARIES: THE HIEROPHANT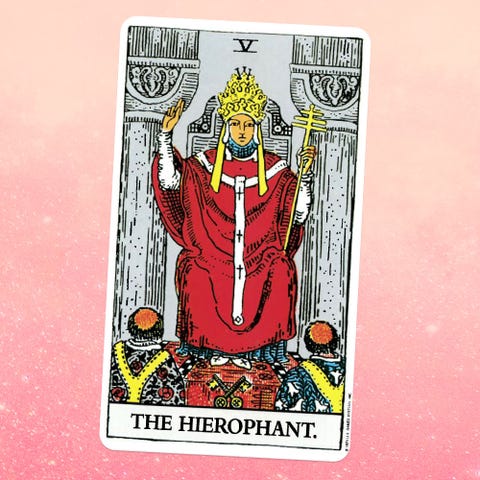 This is NOT a typical Aries card. The Hierophant is about authority, convention, tradition, and structures—all the invisible bonds that tie us to certain people or places or roles. Maybe you're questioning the things you thought you believed in, maybe you're changing, and maybe that means things around you need to change, too. Follow this thought process and see where you land.
TAURUS: KING OF CUPS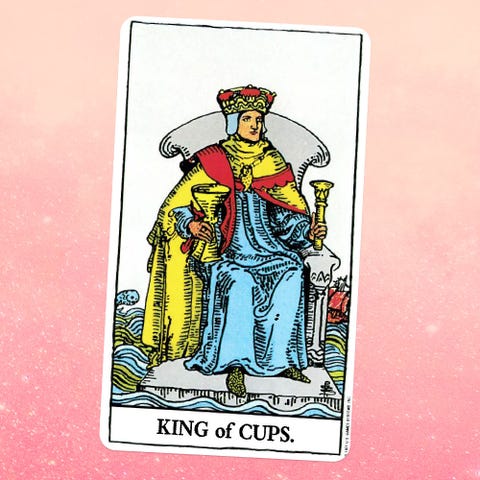 You're looking beyond your love life for passion in your world. Where do you invest your creative powers? What excites you? The King of Cups sees you recognizing that you need to focus on an area of your life that isn't your partner/crush. You want to feel inspired by more than just romance. Go find your niche.
GEMINI: QUEEN OF CUPS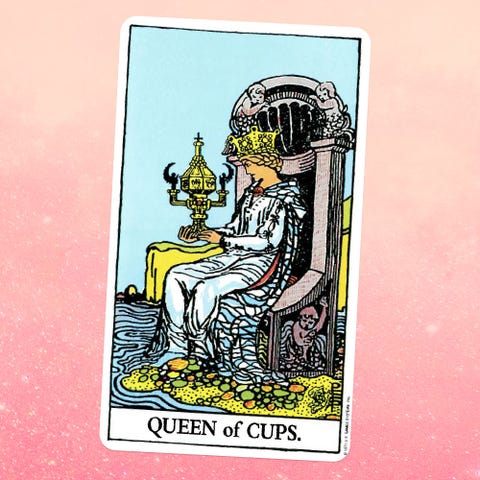 Gemmys don't really do ~feelings~. Ugh. Sorry Gem, but this week will feel emosh, and you've got to stick with it. The Queen of Cups asks you to get in touch with how you feel and figure out the root causes of those emotions. There is valuable self-awareness and wisdom to be found. So, face those feelings. Meditate, journal, take long walks, sit and daydream. The revelations will be enlightening.
CANCER: THREE OF COINS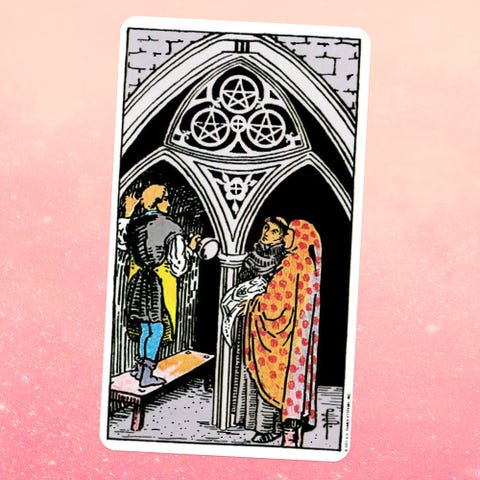 You're admired and respected, Cancer, and your recent career efforts have not gone unnoticed. Even better news: there's an opportunity just around the corner with your name on it! You just need to make sure you're visible and open to new offers, because one of them could lead to something shiny and rewarding. Make sure the people with influence in your world know where to find you! Expect good news soon. You deserve this.
LEO: SIX OF WANDS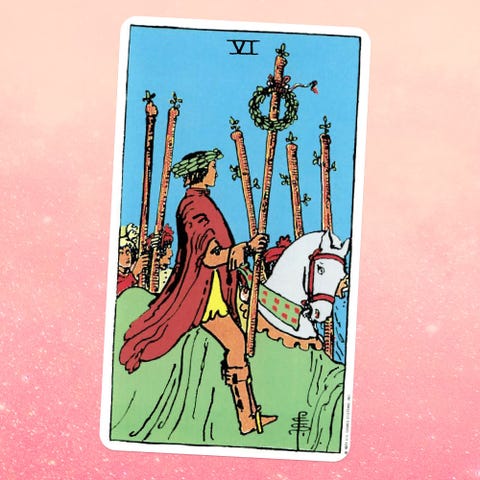 Everything you touch is turning to gold right now, Leo! How great is that? So, what do you want to spend this magical Six of Wands energy on? Choose a goal or idea that brings positive vibes into your life and focus on it wholeheartedly this week. With this card, you can go further, faster than you think is possible. You are on fire right now. Enjoy the powerful energy surging around you.
VIRGO: TEN OF CUPS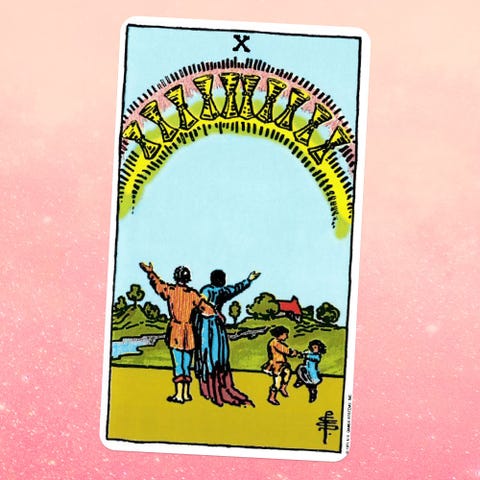 Happy relationships = happy Virgos, and I am pleased to share that the loving Ten of Cups graces your love life with positive vibes, intimacy, and genuine affection this week. If you're attached, then plan something super special for the two of you. And if you're single, look out for compassionate, creative water signs (Pisces, Scorpio, or Cancer). Invest in your love life this week, and you won't be disappointed. Your heart is about to beat a whole lot faster!
LIBRA: TWO OF WANDS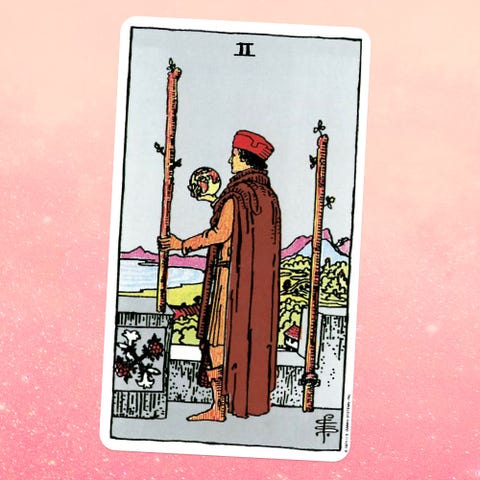 The Two of Wands is a procrastination card, and that's something you know ALL too well, Libra. Making decisions is not your strong suit. You spend longer deliberating than almost any other sign. You sleep on things, change your mind, sleep on them again, change it back. AAARGH. This week, set a deadline to make your final decision, and then do it. No looking back. Move on.
SCORPIO: SEVEN OF CUPS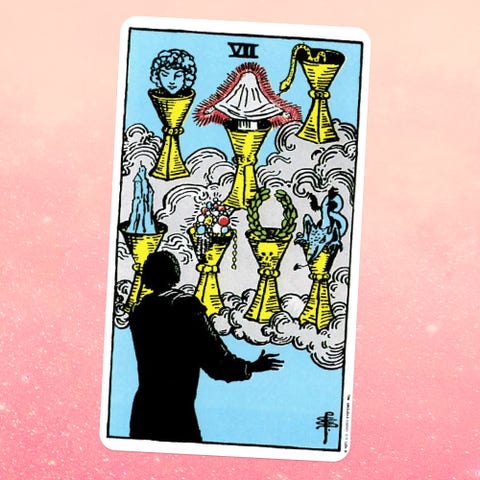 Your imagination is working overtime this week, Scorpio, with the creative Seven of Cups. You might seem quieter or a little withdrawn around other people, but that's just because there is just SO much going on inside your own head. Journaling is key. Write all of these thoughts and ideas down to clear space in your mind. Process your thoughts. Try to make sense of them. By the end of the week, I think you'll have had the most marvelous brainwave.
You're obsessed with all things astro. Same. Join Cosmo Unlocked for ~exclusive~ astro content.
SAGITTARIUS: SIX OF COINS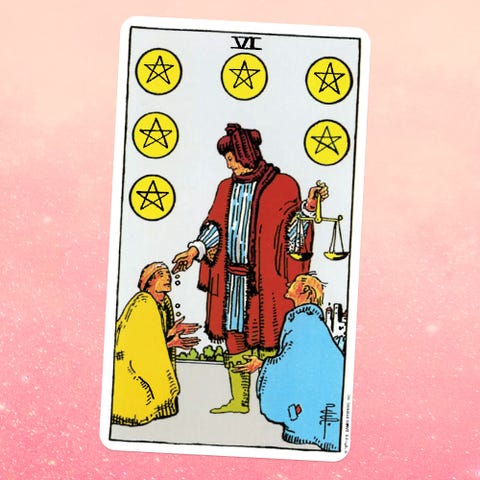 The Six of Coins is such a great card for you, because it's giving you permission to spend the week being spontaneous, kind, and affectionate to all your favorite people. Random acts of kindness, generous gestures, thoughtful compliments, offers of support—all are on your agenda this week. The Six of Coins is about putting good karma out into the world. The rewards WILL return to you down the line.
CAPRICORN: QUEEN OF SWORDS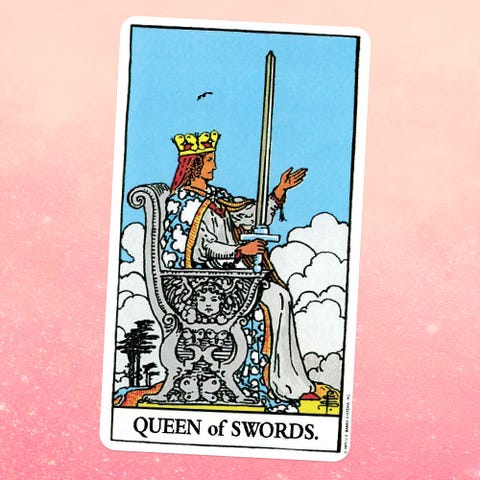 Solo projects and adventures are all good with you, Cap, because you're an independent worker. The Queen of Swords sees you striking out on a solo effort this week, and making progress. Invest your time and energy in something that only you can do. It'll fill you with confidence, and you may find some lucrative rewards. Go all in. Show them what you're capable of.
AQUARIUS: NINE OF SWORDS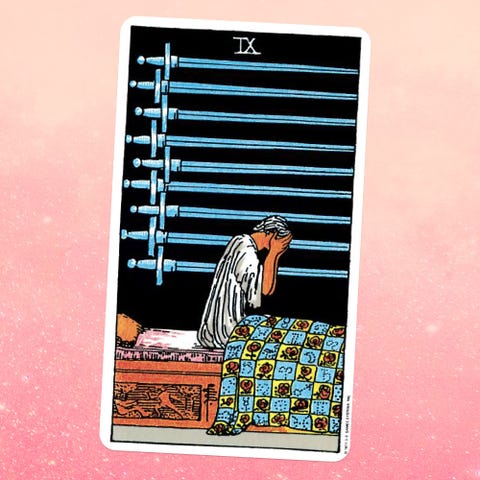 You're not one the zodiac's big worriers, but like us all, you do have your moments of panic or stress. This week, you're bottling something up, and it's growing out of proportion. The Nine of Swords asks you to talk this through with someone you trust before your worries get out of control. Your fears are mostly groundless. This will pass.
PISCES: FOUR OF SWORDS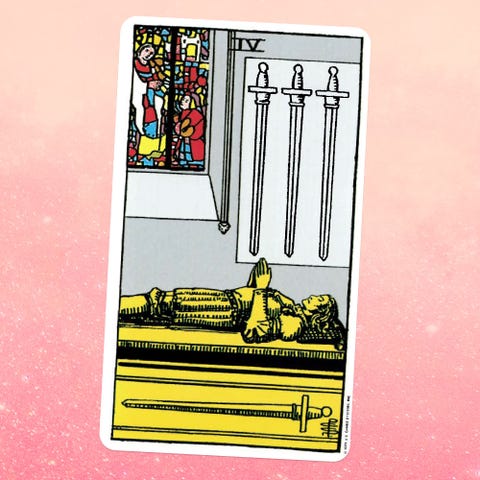 Take a time-out from whatever has stressing you out recently, even if it's just a brief mental vacation from overthinking it. The Four of Swords is like getting a sick note from the universe, telling you to chill. Whatever you think you need to be doing, trust me, it's probably not going to make a lot of difference (other than stressing you out even more). Go do something else, Pisces, and let this situation take care of itself. You've done what you can.
Source: Read Full Article