'90 Day Fiancé': Annie Suwan's Husband David Toborowsky Reveals Why He Wanted To Get a Cosmetic Procedure On 'What Now?'
Many stars of TLC's 90 Day Fiancé—from Larissa Lima to Anfisa Nava, Deavan Clegg, Paola Mayfield, Ashley Martson, and Darcey Silva—have had cosmetic procedures at one point or another.
Annie Suwan's husband, David Toborowsky, joined the ranks recently with a hair restoration procedure. The 51-year-old dad from Louisville, Kentucky, explained that he'd long harbored insecurities about his hair loss—and that he wanted to look good for his 27-year-old wife, who hails from Thailand.
The couple, who now lives in Scottsdale, Arizona, recently opened up about the procedure on an episode of TLC GO's digital-only series, 90 Day Fiancé: What Now.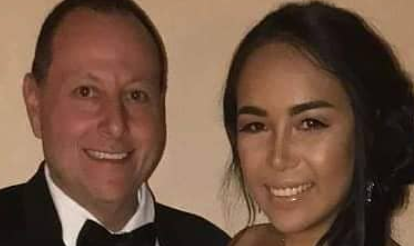 David opened up about his hair-related insecurities
While Annie and David struggled for quite some time with their finances—even living in an apartment above a storage unit at one point—they shared on 90 Day Fiancé: What Now that they're in a much better place now. David teaches at the college level online, in addition to working for a marketing firm. Meanwhile, Annie started a Thai cooking, catering, and lifestyle business.
During a grocery shopping trip for their newly-launched business,Annie jokingly held up a coconut and said it resembled her husband.
"About as much hair as I have, too," David joked good-naturedly."This is why I need the hair transplant. So I don't look like a monkey."
David revealed that, in part because they've found moresolid footing financially, he believed it was finally time to get a procedurehe'd been considering for years. Hair transplants often cost thousands ofdollars, so they had to save before he could address an insecurity that hadplagued him for quite some time.
"I'm glad that we're now in a better place, and I'm wantingto have hair restoration," David explained, "because I think it would help me inkind of feeling good about myself again. It's been an issue for me since I wasin the army and lost my hair."
Later, the 90 Day Fiancé star joked, "After the army, my hair started receding as fast as the water during the Ten Commandments."
Still, David had a few concerns. He wasn't sure theprocedure would ultimately go well—and he wondered if it would end up being awaste of time and money.
"I've been anxious about having the surgery," David admitted. "Can I really go through this? I'm afraid. Will I get there and say, 'I can't do it?' Anytime you have a procedure, a surgery—I'm scared. Is it worth it? I'm optimistic, but cautious."
Annie said she would support her husband no matter what
As for Annie, she was completely supportive of her husband's choice to get a hair transplant procedure. While the 27-year-old emphasized that she fully accepted him the way he was, she wanted him to do what made him happy.
"I don't know what is wrong with his hair," Annie told 90Day Fiancé producers. "But, you know what? It that makes him feel goodabout himself—you want, I will support you."
Later, as she tested out her new recipes for friends in advance of her cooking business' launch date, Annie said she was flattered that David wanted to look good for her. "I understand he's a lot older than me," she said. "But he wants to look good for me to impress me."
The '90 Day Fiancé' star ultimately said the procedure seemed to go well
At the end of the episode, David decided to go through with the procedure. His clinician explained that they'd be harvesting hair follicles from the sides and back of his head and implanting them into the front for a new look.
After what looked like a fairly painless procedure—with Annielooking on in support—David was excited about the potential outcome. "This is goingto be awesome when it grows out," the 90 Day Fiancé star said, addingjokingly: "I'm going to look like my baby picture again."
Since 90 Day Fiancé: What Now was filmed, viewers have noticed a difference in David's appearance on social media and during his appearances on 90 Day Fiancé: Pillow Talk. But while the initial results pleased him, it takes a certain amount of time for the end results to show up as hair grows out.
"The hair restoration went well," David said. "We'll seewhat the outcome is. I hope it was worth all the pain and scared moments that I'vehad. I'm hoping for the best."
Source: Read Full Article