'Below Deck Sailing Yacht': Flirting Scenes With Georgia Grobler Surprised Both Ciara Duggan and Paget Berry (Exclusive)
Below Deck Sailing Yacht viewers have watched endless flirting between Paget Berry and Georgia Grobler the entire season. While the flirting appears to be innocent, the fact that Berry's girlfriend, Ciara Duggan who also works on deck, makes the situation extremely complex.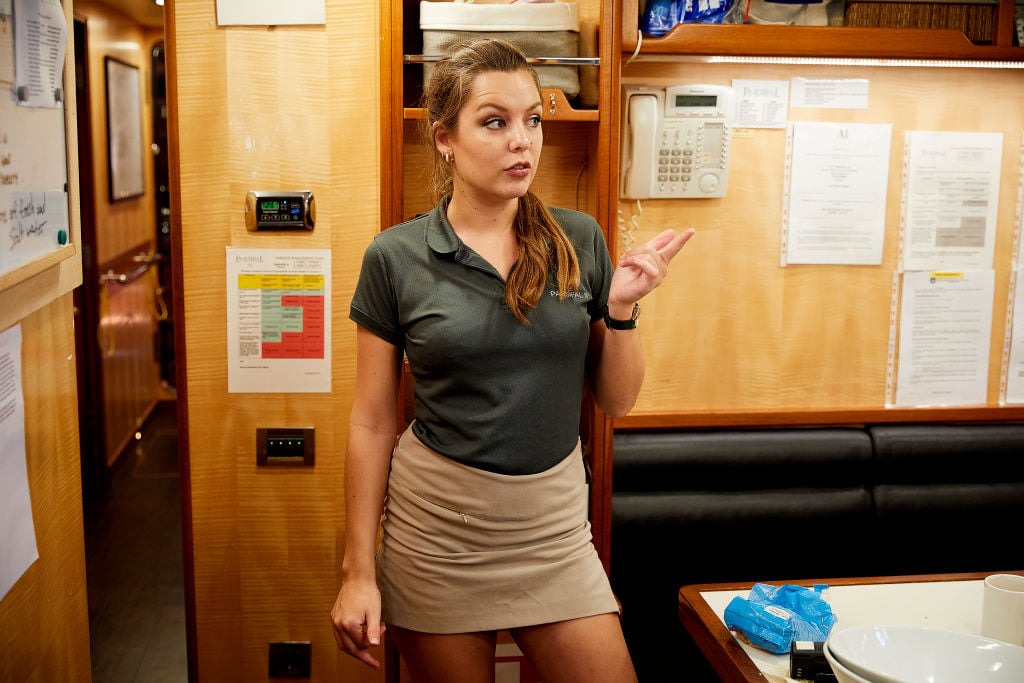 Berry and Duggan recently addressed scenes that captured Berry and Grobler's flirty exchanges. The couple insisted that it went no further than cracking jokes and banter. But Berry admits he was surprised when he watched his own behavior.
The couple spoke openly with Showbiz Cheat Sheet about Berry and Grobler's flirting and the moments that had Duggan whacking her boyfriend in the forehead.
Berry says even he is surprised with how flirty the two appear
Duggan and Berry do not blame editing but admit that reality television can put a mirror up to how you behave. "For me, I saw talking to Georgia completely as banter," Berry said. "And there were a few things she would say and I'd be like 'Awe Georiga that cut a bit close to the bone.' But I took it in stride. Like you're good fun, you're up for a laugh."
He adds that his relationship with Duggan was perfectly clear to everyone on the boat and his playful friendship with Grobler was going no further. "That was how I felt throughout the whole season," he said.
"But when I look back on it, I see it," he admitted. "Oh yeah, I pretty much shouldn't have said a few of those things. So I can see how it seems to people who don't know me. Or don't know me and Ciara or know my sense of humor. Especially with Georgia being from South Africa and me being English. We sort of have the same sense of humor which is sarcastic and very banterish. There were a few things I was like, 'Oh God that was good but oh no that was on TV!"
Duggan says she really wasn't jealous (but wondered what Berry was thinking)
Duggan's viewpoint of Berry and Grobler's relationship aligned with what her boyfriend shared too. She added that the couple has worked on numerous boats with a mixed crew and they've never had issues with cheating. "[Berry] had a female bosun on Parsifal before filming," Duggan shared. "And no issue with that. Plus the industry's small enough so if you f**k up, everyone's going to know."
She ended up watching the flirting scenes along with the viewers. "Most of the time when it was happening I wasn't there," she said. "I was working or I was on break. So when I saw it, of course, I was like, 'Paget you shouldn't have said that' or 'Oh Paget don't do that.' But I know how he is and I know how he interacts with people." She added that she never saw an issue with it, but if she suspected something it would have been apparent. "He's not good at lying and he's not good at hiding his emotions," she shared. "So if something was up, I would have known right away."
But still, "It was more like, 'Oh Paget why did you say that on TV?' And he was like, 'Oh I didn't realize it was going to come off that way I didn't mean it like that.'"
Below Deck Sailing Yacht is on Monday at 9/8c on Bravo.
Source: Read Full Article